It's a new day and a new dawn and a new year. 2014 is here and we have a brand new interview in a brand new format. After much discussion and to keep up with the times, we are re-formatting to a more formal interview posting. I've taken care of the bulk of the questions ahead of time. So you get all the madcap wit in one big package!


You still have the option of responding and adding any follow up questions though. anyway on with the show!

Our first spotlight of 2014 in our new format is a boy from the Midwest, Aaron Holmgreen aka Aaaronhall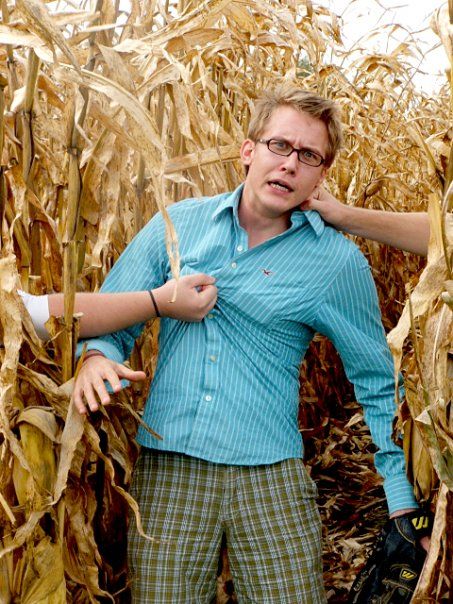 Aaron, while not the most prolific costumer, has premiered some of the most indelible and memorable comic book characters




And he plays well with others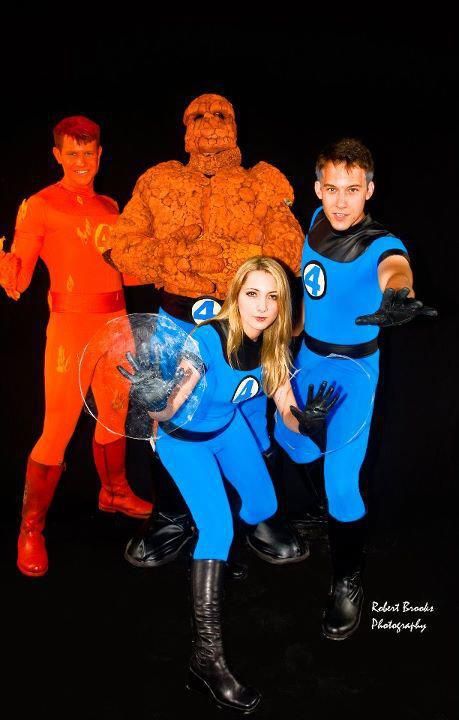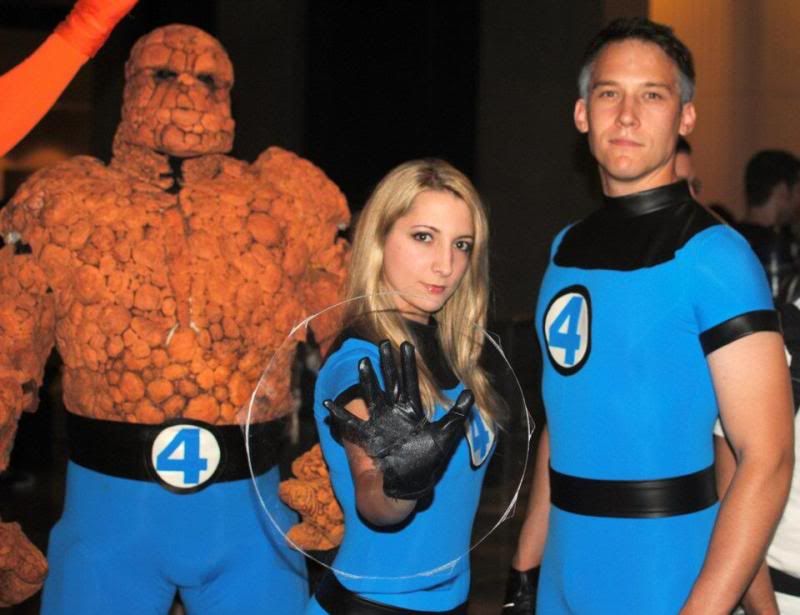 Oh and he seems to have a thing for a certain movie from the 80s




Aaron, let's begin


1)   Let's start with the easy question of what motivated you to get into costuming.
My motivations were purely to impress a girl who was heavily into costuming.  It might have half-impressed her for about two seconds...  so that didn't pan out, but it was the bridge to many new friends and wonderful experiences. I met a lot of very encouraging and enthusiastic people at my first Dragon*Con and they started assigning me costumes to wear the next year. Now I am motivated by a sense of brotherhood with my fellow costumers and a drive to portray characters that you don't often see at conventions
2)   One of your earlier costumes was Daily Bugle editor J Jonah Jameson. That was 1 of the first attempts at JJJ I've ever seen. It's a very convincing make-up job but a very unusual choice considering the bulk of your costumes are of the spandex variety. How did JJJ come about?
These would be great answers if you had asked me why I shot Ronald Reagan. I was trying to impress a girl. Again. A different girl. I had been collecting comics for a while, and knew that she really liked Spider-Man. It was near Halloween, and I didn't know how to make a Spider-Man costume. But I have a very expressive face, so why would I want to cover it up, anyway? I had a pretty funny Jameson impression worked out. So I grew out my pathetic facial hair for a month, shaved it into the JJJ 'stache, and colored it with mascara. I wore the costume out on Halloween to a bunch of parties. And that worked! It got her attention and she loved it. We dated for a couple of years.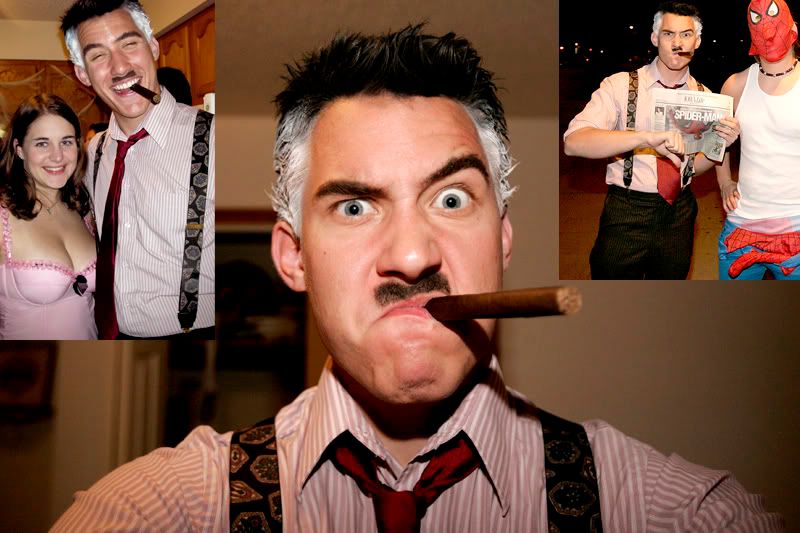 I had never paid attention to costuming outside of the Halloween costume contests in Wizard magazine up until that point. A few years later, Marvel had an online costume contest. I entered my Jameson costume because I felt it would stand out. All of the other entries were full length pictures of entire costumes, and mine was just a shot of me from the chest up. I ended up with third place out of hundreds of entrants, just from the face I was making, I suppose.
3)   2nd easy question. What's the ultimate dream costume-assuming unlimited budget. I ask this knowing you've done Kang the Conqueror and probably the best Yellowjacket out there.
I have a few dream costumes. I am planning something crazy for next year's Dragon*Con. My dream costume would be Vigo the Carpathian from Ghostbusters 2. Big, leather armor festooned with skulls. Think of how many Ghostbusters costumes you see at each con. Yet they hardly ever have actual Ghostbusters villains with them. They would love it and so would I.
4)   Speaking of Kang, that costume has made some excellent headway, making a number of contest finals. I imagine you had plenty of fun playing in that one during DragonCon.
That Kang costume almost kept me from going to Dragon*con two years ago! The costume was not ready in time, and I crawled under a table in my apartment and threw myself a little pity party. I got over it and had a great time. It WAS ready this year, though, and it was extremely fun to play around in. My favorite part might have been Kang getting some dopey DC characters booted from the Marvel shoot who had no business being there. I had to say something! I didn't wait two years to wear that costume just to have my class picture taken with Grifter.
5)   I think it would be great as well as important to let people know how the convention scene has evolved in your part of the country.  
The first convention I ever attended was WizardWorld Chicago. This was before the costumes, and I would just go to get comics signed and talk to creators. After a few years, one con had a pretty miserable line-up of guests. C2e2 started in downtown Chicago soon after that. It was much better organized than WizardWorld, and works better for my schedule, since WizardWorld is the month before D*C. There is also a convention in Des Moines, Iowa, near my hometown, called I*Con, which I admit I have never been to. I live in Iowa City now, but so does Phil Hester, so every time I see him around town it's my own personal mini-convention
6)   We all have our "moments" from costuming that become embedded in our consciousness and define our hobby for us. What are your most memorable incidents?
During a photo shoot for an Avengers battle scene at Dragon*Con, I was dressed as Yellowjacket. After trying to think of something heroic and daring to yell at the Red Skull, I ended up shouting "You're toast, bread-head!" There was a mixture of groans and laughter, but it was bliss for me. I felt so clever!  



Seeing the photo of my JJJ costume used for memes for the first time was meme-orable... SORRY
7)   Conversely what have been some of the worst?
I put my Elongated Man suit on incorrectly and the foot tore open right before a JLA photoshoot. My buddy Ned gave me a thick black sock to wear over it and I looked like a DOPE.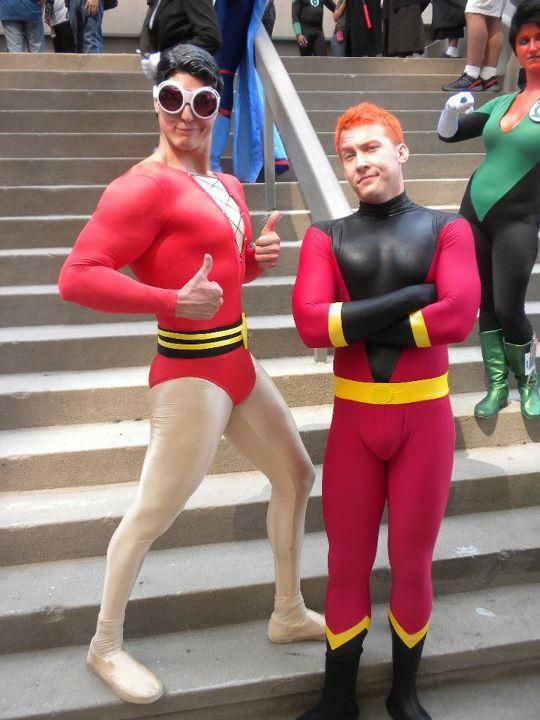 I also once saw someone dressed as Scarlet Witch have a seizure in the crowded lobby of a convention hall. When I got back to my hotel room I excitedly recounted what I had witnessed. It turned out to be the mother of one of the friends I was rooming with. I was quickly quite ashamed of my enthusiasm in telling him I saw his mom have a seizure...
8)   Now how about some obligatory insight into your personal history. What was your family life and childhood like?  
I grew up on thirty acres of farmland in central Iowa, with three brothers and one sister.  Whatever rural-ness it had retained dwindled each year as more developments sprang up. But I had a creek to play in, a huge cornfield that I would occasionally make mazes in or set fire to, and huge trees to climb. It is an old farm, though. The barn is like something out of a horror film. We have cats that live in it.
I spent a lot of time playing outside. I loved monsters and cartoons, and had many phases of fandom; Godzilla, the Three Stooges, but mostly Ghostbusters and comic books. My family life seems tame compared to a lot of people I know. Nothing bad ever really happened. I personally got in trouble a lot because I was a loud kid and was always trying to be funny. I hid under a chair when I was five and stabbed my brother in the foot with a pencil for some reason. I learned you just can't do that to people.
9)   To follow that up, what has been your education and professional background?  
I left high school with the intentions of being some sort of photographer. I was the 2003 Iowa High School Press Association Photographer of the Year. I went to the University of Iowa, and have been in and out of school for various reasons since then. Much of it was an indifference and lack of motivation to what I was doing.
After a few years of journalism courses and shooting photos for the college newspaper, I decided I wanted to drop photography, switch to an art major, and start drawing. That is my favorite thing to do now. I am working on a series of mini-comics about Slimer from Ghostbusters, and have a few original characters I have created which I am very proud of. I also draw mutated versions of Marvel superheroes called Ugly Marvels. My drawing skills were laughable when I made the change, but have progressed with much practice and experimentation. I'm almost finished with my degree and I keep getting better at drawing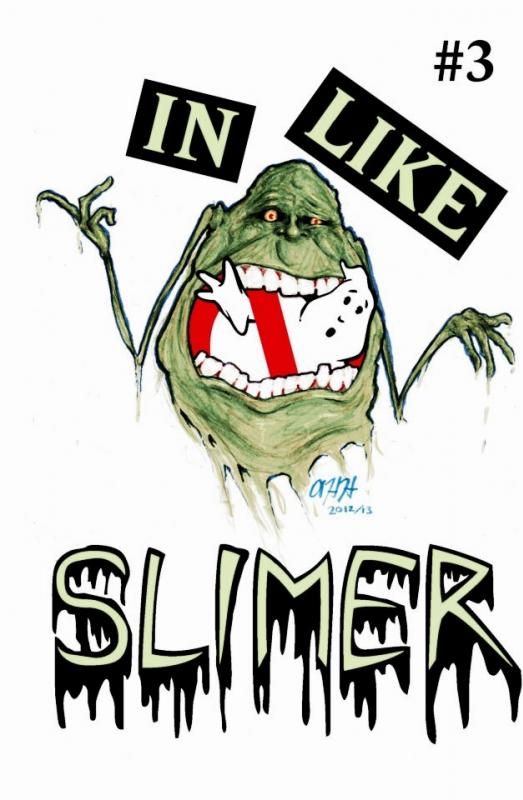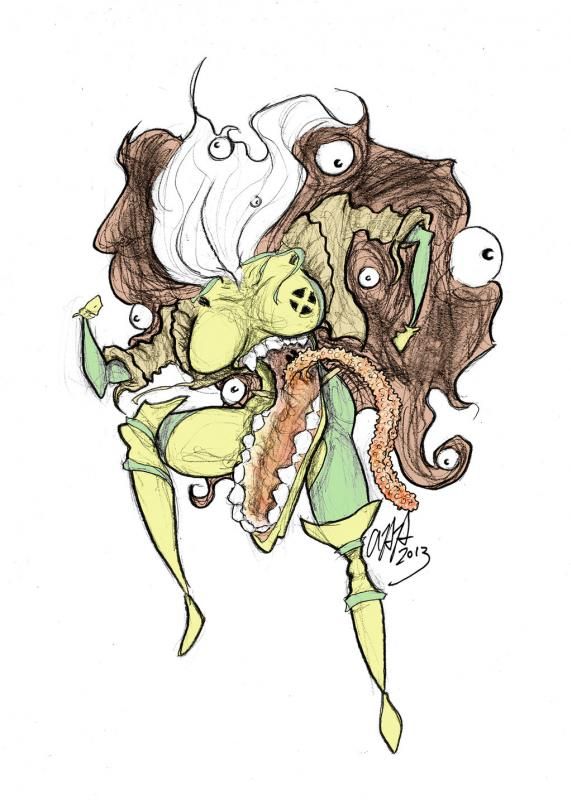 Of the many jobs I've held, photographing for the newspaper was my favorite. It paid the least, but I got access to a lot of people and events that I otherwise would not have. And it was a great opportunity to learn how to communicate and connect with all types of people
10)               What are your plans for your art degree?
For my art degree, I would love the opportunity to illustrate ANYTHING. Storyboarding, concept art, character design, children's books... I've taken my time doing mostly work for me, and not reaching out there to see if anyone else has an interest. So that is a change I've begun to make. I'd like to think I have versatility and am not just stuck in a particular style of art. I know where I feel at home, though. Most of my family members are teachers, but my older brother sells and shows his art in central Iowa and is doing well
11)               What has been the response of your family and co-workers to your nerdly hobbies J
My dad collects baseball cards, so he's a big nerd about that. If only comic books were the size of baseball cards... Having a large comic book collection is cool until you have to move and store them. I think that is the only time anyone ever gives me any grief for it. People also will contact me or tell me if they see either of the Ghostbusters movies on television. 'Hey Ghostbusters 2 is on Comedy Central and it made me think of you!' It's very sweet of them. They all seem to enjoy when I put on costumes or draw weird monsters
12)               Some of our members have said you are one of the funniest guys they've ever met, have you ever tried or considered trying stand-up?
I have considered doing stand-up a few times, and have gone so far as to outline the progression of jokes I would use. I don't write everything down that I should. I know I forgot two or three good jokes just in the last couple of weeks. I love going to open mic nights and observing. I have a bit planned where I confuse the term 'preemie babies' to mean 'premium babies.' I think that one is funny! Also, I mention that I recovered from SIDS when I was a baby. Silly stuff like that.
13)               What would you say is the goofiest/craziest thing you've ever done (or at least what you're willing to divulge J )
The craziest thing/stupidest thing I've ever done was get addicted to scratch-off lottery tickets for a year. But then I won and it wasn't as stupid/crazy anymore.  Pretty crazy, though. 
(Hmm. So that's how he can afford to commission such cool costumes
)
Okay for our standard special questions we ask all of our spotlights
14)               What is your favorite word?
My favorite word is 'Neat!' People think I am being sarcastic when I say a lot of things, especially that word. It's genuine, though I am imitating how Bill Murray says it in a scene from Ghostbusters II.
15)               What is your least favorite word?
I don't really like it when someone uses the phrase 'pet peeve.' Yuck!
16)               What turns you on creatively, spiritually or emotionally?
I draw a lot of inspiration from certain things. Good hygiene, that works for me! I love shaving my facial hair. Scraping my face with a razor sharp piece of metal is very zen and calming. A lot of confidence comes from feeling clean and prepared. I have a drive to make people laugh and smile. I really like good puns and wordplay. A groan can be just as good as a laugh to me.
17)                What turns you off?  
I don't care if it is going to kill you, me, or anyone else, but I think cigarettes are gross. Smoking can look pretty cool, though, so I will give it that.
I also don't like bullying, or people who derive pleasure from being nasty or mean-spirited. I used to think it was pretty great and did a lot of it myself, but it all comes back on you somehow. I think light-hearted teasing is good fun among friends, but there is enough self-doubt in many of us and I'd rather not add to anyone else's anymore.
18)               What is your favorite curse word? 
Swearing is cool, too. I do it a lot, but don't have any standard favorites. I had a book called Nuts to Nightingale when I was little. Its message was totally lost on me as a child. Now I realize it is basically about not swearing at people. The whole story is a poorly drawn bird saying Fuck You ("Nuts to you!") to a bunch of other poorly drawn animals. Then at the end, the other animals all play a joke on Nightingale and yell Fuck You in unison.
'Nuts!' is sort of a curse word in some context, right? My favorite curse word is 'Nuts!' You can say it around little kids and it's no big deal.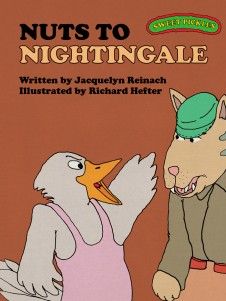 19)               What sound or noise do you love?
For my favorite sound, it is a tie between the synth fade-in and the sword-gleaming sound on Robert Palmer's ''Simply Irresistible".
20)               What sound or noise do you hate?
I hate the sound of my morning alarm! But that is sort of the point, right? It is a practical hatred.
21)               What profession other than your own would you like to attempt?
I would like to be a professional wrestler.  I loved watching Hulk Hogan and Jake the Snake when I was little. My dad would let me pin him and then I'd throw a rubber snake on him. I know it would be tough but I can't imagine anything more exciting. Wrestlers are great performers and they get a reaction you can't get anywhere else. It would take a lot of commitment, working out and proper training, but I'd be happy just to get through one match without killing myself.  
22)               What profession would you not like to do?
I would hate to be a rental property manager.
23)               If Heaven exists, what would you like to hear God ay when you arrive at the Pearly Gates?
I would like to be offered a match against Macho Man Randy Savage for the Heaven Wrestling Federation heavyweight championship. I don't win, though
And of course Frank's special bonus question
24)               If you were a type of liquor, what would it be and why?
I'd be Crystal Head Vodka! It is inside of a glass skull, and Dan Aykroyd is the founder. Dan Aykroyd is the # 1 person I would love to meet. And the vodka is so cool and silly, all at once. They filter it through diamonds and then put it in a skull. It sounds, no offense to Mr. Aykroyd, like something a 4th grader would come up with. But that'd be me, in liquor form