We're a bit late coming but we've got a great new interview and we're going to stretch over a bit into June

We present Caitlin Rhyne aka Catgreen aka Owner of Contagious Costuming.

I could say a bevy of flowery comments. Let's just say anyone who makes this is worth finding out more about.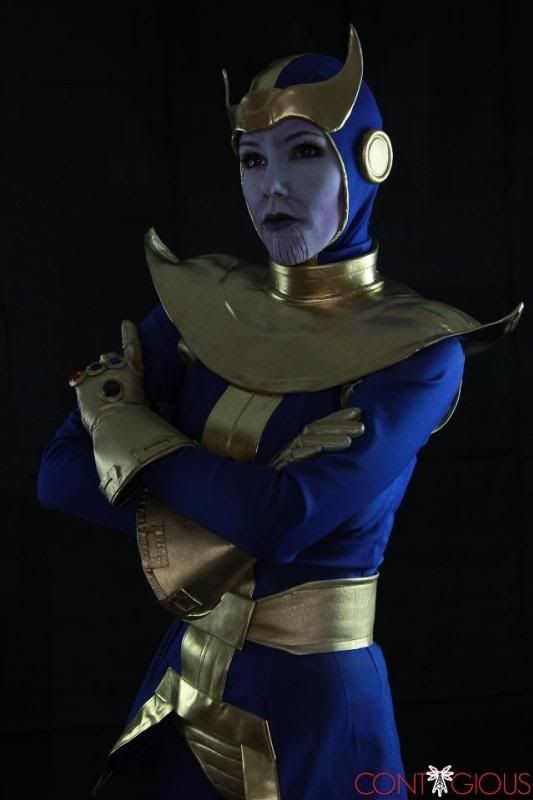 1)   Can you tell us how you got into comics and what got you into costuming?
One day several years ago, Mike flipped on a cheesy teen drama and told me I was allowed to yell at the television as much as I wanted.   After a few seasons of Smallville, I had a healthy love for Clark Kent (and an intense hatred towards Lana, but we won't go there right now…).  We took a visit to our local shop, Acme Comics, and Jermaine handed me the Infinite Crisis.  I loved that story enough to pull the long boxes out of storage!
Costuming came about nine months later when I attended my first Free Comic Book Day.   There were cosplayers there that seemed to be having so much fun!  When we decided to go to DragonCon after FCBD, it was a great opportunity to work on my developing sewing skills, so I made a few costumes for my friends.
Once we made it to the convention I realized what all the fuss was about.  It was overwhelming at first!  On Saturday, we were racing around trying to find the big DC photoshoot, totally lost, and stumbled onto the small groups- when I saw all that blonde up on the stairs, my newbie Power Girl was welcomed to the Supergirls with open arms.  It was such a great moment, I knew I wanted to be part of this awesome hobby.  So, thanks SCF!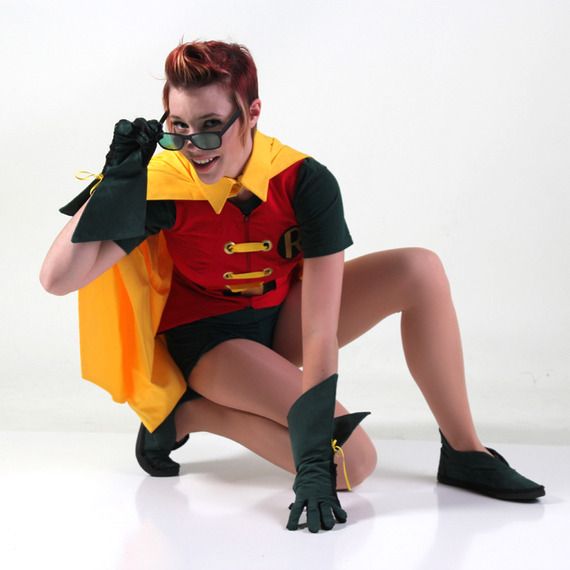 2)   Your boyfriend Mike is a talented photographer and videographer - how did you meet?
I met Mike through a group of friends that went to NC State.  He was from Greensboro but regularly worked with them on film projects.  We chatted casually online through Twitter and I always thought he was kinda cute but never did anything about it.  This particular group of friends was known for having lavish costume parties on the reg- theme lighting and decorations, open bar, a great DJ- they knew how to have a good time.  And *everyone* dressed up, even if it meant throwing a pair of kitty ears on with your LBD.

The party's theme was "Succubus, Sheiks, and Concubines" so I put together a veiled bellydance costume with gathered skirts in black and gold.  I had a great night dancing with my friends until this babe of a Templar Knight walked in.  I kissed him before saying hello (too forward?), and continued to have a fabulous evening.  He was one of the best dressed at the party, although maybe it wasn't the best idea to bring a real sword. ;-)   We went on our first real date the next week.   Hilarious foreshadowing to what ended up being a big part of our lives.


3)   Can you tell us more about your business Contagious Costuming?
I started producing and creating for Contagious Media Productions about five years ago shortly after meeting Mike.  We've made some great short films that have put me in some unusual styling situations. 

http://www.isitcontagious.com/videos/48/

I've been collaborating with him and his best friend Austin since the beginning- we're a great team and have made some really amazing things together.  After I started to polish my sewing skills, I began receiving requests for costumes and accessories from my friends.  When I saw my friend Kevin on the stage in full King Thor glory for the first time, things clicked.  It was so rewarding helping him bring that character to life- he had the beard and the swagger, he just needed a cape!  I'm really enjoying developing my style as a designer while bringing these amazing media icons to life.  Up next: fashion.

4)   What's your favorite convention and what are some of your favorite convention moments?
Last year was my first… but I'd have to say Heroescon.  The pace is laid back and there is such a lovely focus on the art.  It felt like more of a vacation then any others I've attended.  I'm eagerly awaiting the end of June!



My favorite con memory so far is the JLA/Avengers battle from last DragonCon.  Hilarious.  Epic.  More fun then possibly imaginable.  Bellechere was a great sport in our fight because I spent the majority of the time geeking out over how awesome everything was!  Getting to edit the footage later was also a huge treat- we had hours of entertainment combing over slow motion hero fights.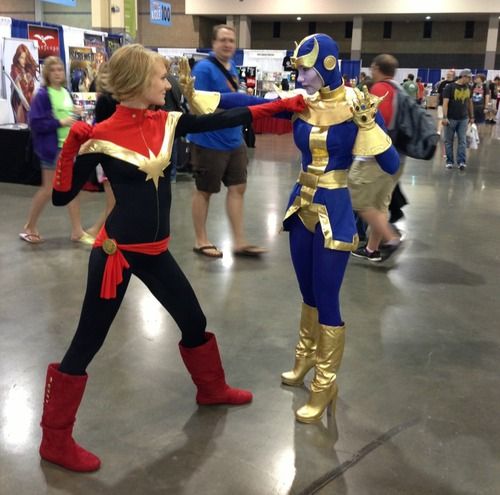 5)   What's your favorite costume you've ever made?  What are some of your dream costumes?  
I'd have to say my favorite costume so far was Hippolyta from last year.  The redesign for Fearless Defenders caught my eye right away- it was powerful and just the right kind of tacky.  The huge dreadlock wig was so fun to make, the armor turned out great, and I was proud of the foundation garment, my first real corset.  Wearing Hippolyta made me feel incredibly confident.  I hope she comes back in another book soon!
My biggest dream costume at this point is actually something for Mike to wear- Prince Robot IV from Saga.   I think it might be able to happen this year, maybe even for Heroescon.  I'd love to do something from GotG this year- I've been reading it and am in love (and cannot wait for the film!)  My end game dream costumes will be the original scifi space suits I design for our films some day.

6)   Where do you see cosplay going in the next 5 years?
I think technology will really become a focus in cosplay trends.  We are already seeing use of laser cutters and 3d printing- as the resolution gets finer and the material costs come down, we'll see even more.  Hackerspaces are popping up all over- I see a lot more crossover of craftsmen and tech nerds turning to cosplay as they get exposed to it for the first time through friends and media.  Devices like the raspberry pi and Arduino will become even easier to use and programs more accessible… I bet we see a lot more with lights and sound in the future.
7)   What are some of the problematic issues that you've faced as a female costumer?  If there was one thing you could change about our hobby, what would it be?
I've been really lucky in my encounters as a costumer.  My local comic shop is very female friendly, so any disrespect is NOT tolerated in any way.  My page has significantly more WIP shots and bulldog instagram posts then glamorous cosplay photographs so the people who follow and interact tend to be more into the craft then anything.  I haven't had any issues with the "fake nerd" crap that I couldn't shut up with a quip and a smile.   Confidence helps.  Hopefully people will continue to be cool.

One thing I could change- flavor of the week drama.  I'm mostly in it to make things, though.  Can't we just all get along?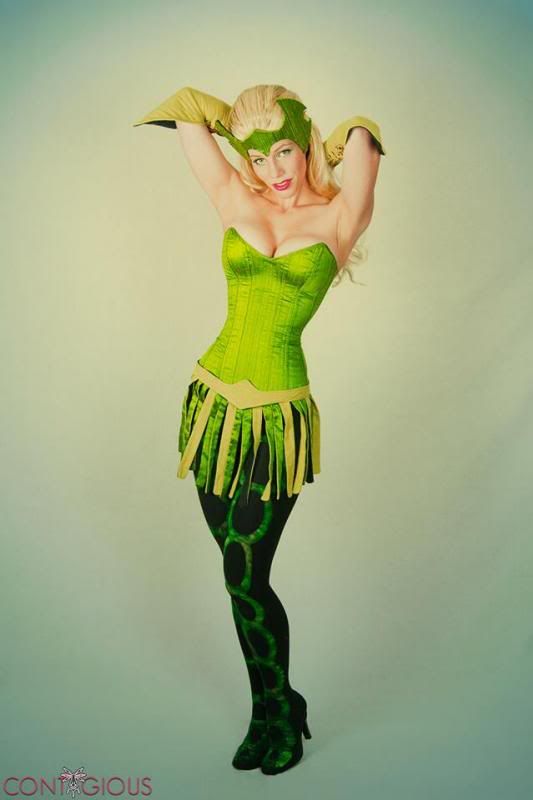 8)   Please tell us about your bulldog and show us some pictures
This is Macy!  She hates pretty much everything except naps and having her butt scratched.   She's my weird sidekick… a really chill, fat, little dog.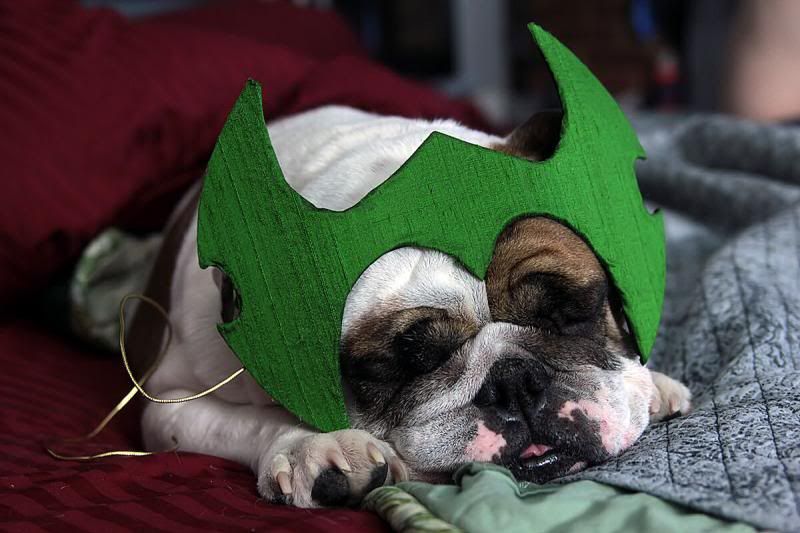 9)   What's your favorite alcoholic drink?
Cider!  And I work in an Irish pub, so I also drink whiskey by default.
10)               If you could be a character from one of your favorite novels, who would you be and why?
Quinn from "Fluke, or I Know Why the Winged Whale Sings" by Christopher Moore.   I strongly considered a career in Marine Biology- exploring the unknown looking for answers in the giant beasts in the deep ocean is the coolest.  Plus I imagine life would be cheekier if you were a Christopher Moore character
Okay for our standard special questions we ask all of our spotlights
11)               What is your favorite word?
Qualm. Try saying it…it has such a fun mouth feel.
12)               What is your least favorite word?
I'm not sure I have one. Maybe Worcestershire (as in the sauce).
13)     What turns you on creatively, spiritually or emotionally?
Learning- I get much more excited about projects where I get to figure out a new skill.  The frustration and failure part of the process makes mastering something that much more satisfying.
I also get incredibly inspired by media (something we all probably have in common in the SCF)
14)      What turns you off?  
Laziness, burnt popcorn, and when people still have a hard time understanding that nerds come in all shapes and sizes.
15)       What is your favorite curse word? 
I probably abuse "goddammit!" the most as an outburst but feel like "fuck" is much more useful in general conversation.
16)       What sound or noise do you love?
Bulldog snores and international dance music.
17)         What sound or noise do you hate?
The grinding noise right before your sewing machine explodes in error beeps.
18)         What profession other than your own would you like to attempt?
I'd love to be a production designer or set decorator for film or television and tell stories through art direction and background details.   
19)         What profession would you not like to do?
The kind where you sit inside all day... which covers quite a few.  I realized long ago that a business casual desk job was not going to mesh with my energy levels.  I'd much rather be able to stand up and create- or at least get to run around a busy hotel or restaurant.
20)         If Heaven exists, what would you like to hear God say when you arrive at the Pearly Gates?
A fist bump would be sufficient J . 
And of course our special bonus question
21)         Can you recount your most tantalizing piece of culinary ecstasy and why it was so.
My dad is a retired restauranteur.  He still carries the vibe of someone who spent years wearing a black tie in the service industry (and is the *best* to go out with.)  One family vacation he came back from a smoke break and mentioned booking reservations.  In the twenty minutes he was outside, my father managed to befriend the head chef of the nicest steakhouse at the Pallazzo.  We all shared a huge ribeye that melted in your mouth with several sides and appetizers that the chef selected after a quick conversation about our tastes.  After dessert I got to tour the huge kitchen with my sister and even got to see Mario Batali's private collection of cured meats… I've never felt so rockstar.   Dad makes sure to visit Chef John every time he goes back to Vegas

Now for something really sweet: