Someone is about to get a really great deal.  IMHO, they're about to get the best pair of costume wings
EVER
.  & 2 Great Costumes for the price of 1!
Picture which appeared in the AP News Wire Article (worldwide): "Where Throngs Boldly Go"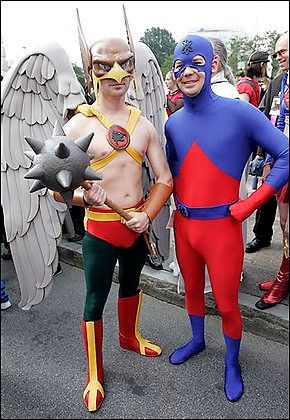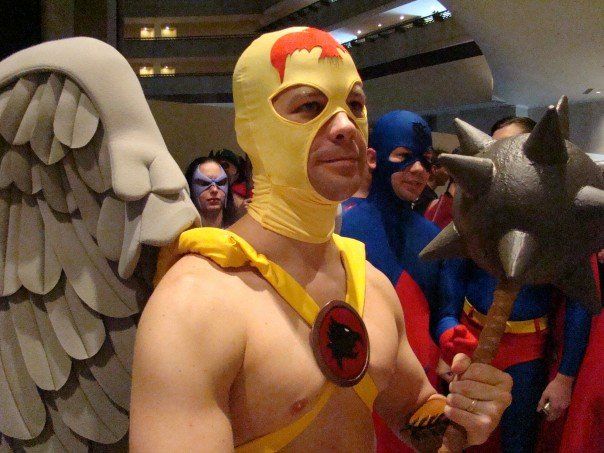 Here's a Breakdown of what you're going to get: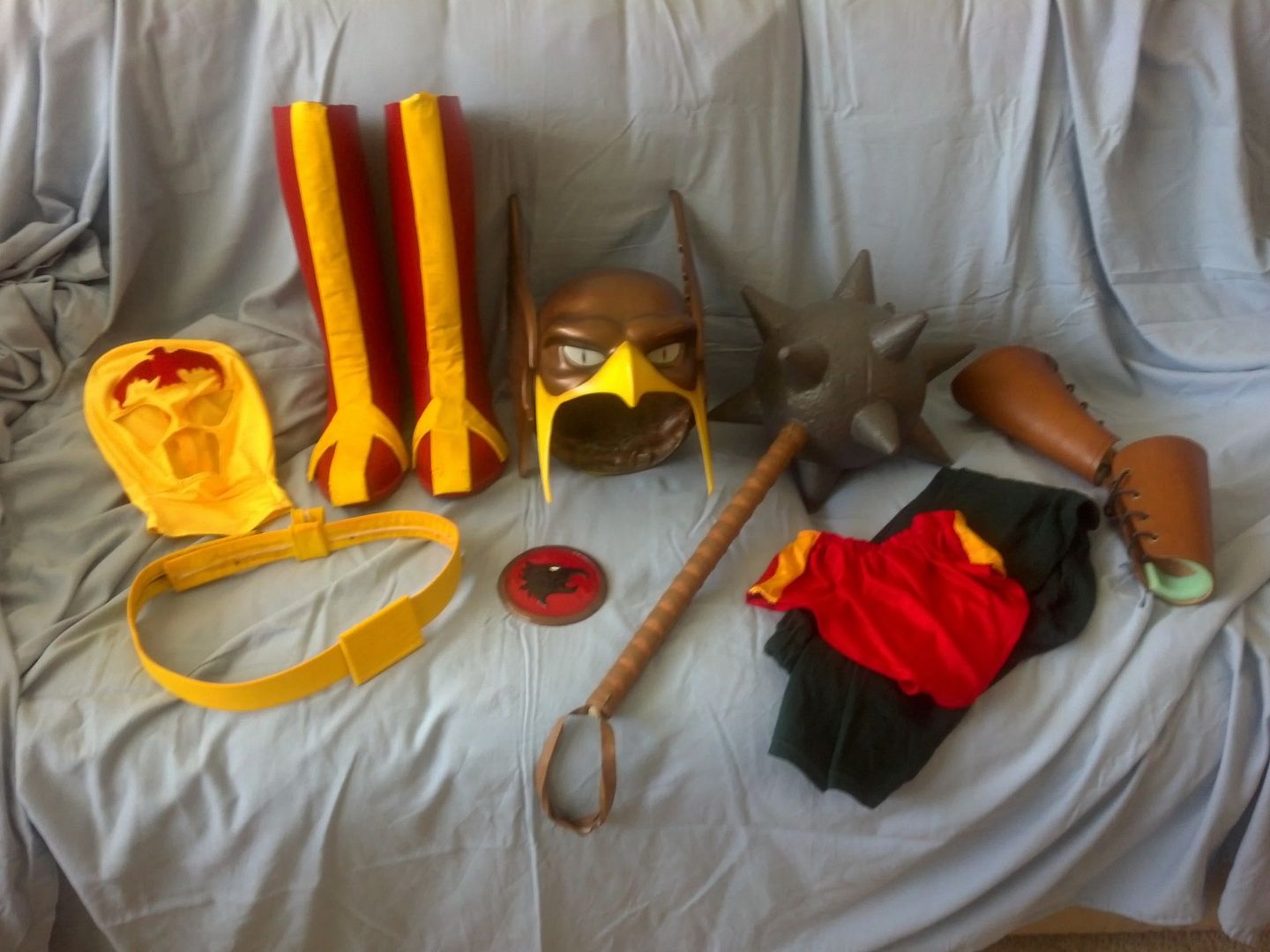 Resin Chest Symbol
: Made by Mike Schiffbauer, Dargonfyre Designs.  Simply put, it's beautiful. Estimated Value:
$40
Boots
: These are size 9 Equestrian riding boots, painted by me.  Yellow strip is Yellow Marine Vinyl.  These have some "battle wear," but like almost all wear on the costume, isn't noticeable in pictures. Estimated Value:
$30
Pants / Briefs / Belt
: Made by myself and Brian Parsley. Belt is covered in matching Yellow Marine Vinyl and includes "hook" to rest mace strap on.  Estimated Value:
$50
Bracers
: 100% Leather with leather laces.  Strip of foam added at interior wrist for comfort.  Estimated Value:
$20
"Original JSA Costume" Cloth Cowl
: Made by me, pictured above. Estimated Value:
$20
Helmet
: Original Sculpt by John Hays (no longer in business).
Will fit up to a size 22" Head only!
  You've already seen it up above, but I do want to point out that there are a couple of imperfections on the helmet, again - not noticeable in pictures.  First, there's a superficial crack in the paint in the front: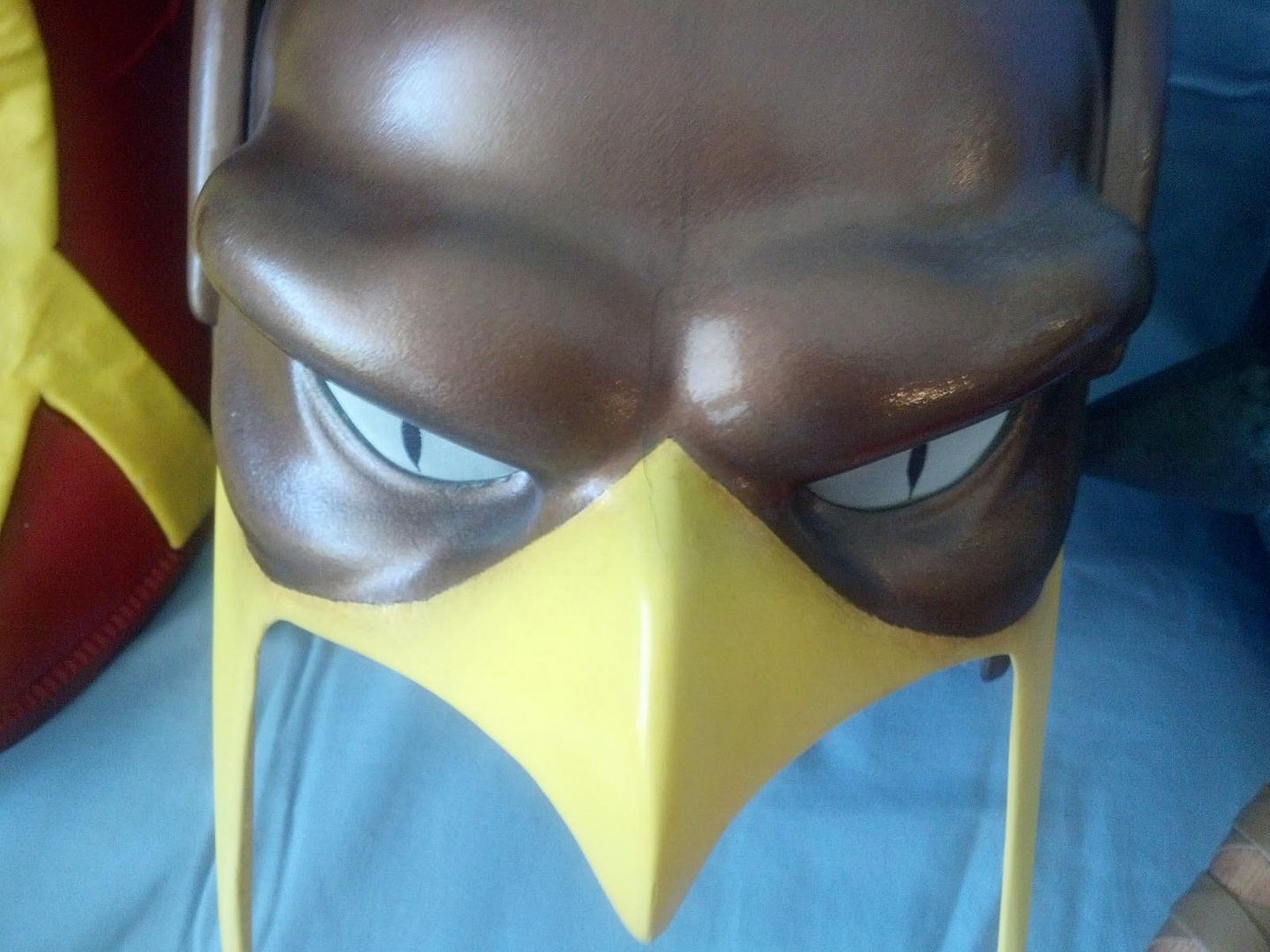 this is so slight it's really not worth fixing.  Second, the paint has worn slightly on the top where the original helmet was widened to modify it larger:
Since this is on the top of the helmet, it doesn't show up in pictures and again, isn't really worth fixing.  Estimated Value:
$220Mace
: Made by me from a wooden dowel, leather strapping, styrofoam, gesso and styrofoam paint.  The Styrofoam "head" of the mace was painted with several coats of gesso, a hardening acrylic paint.  Don't worry that it's styrofoam - this thing is solid.  Estimated Value:
$40
   Here it is today: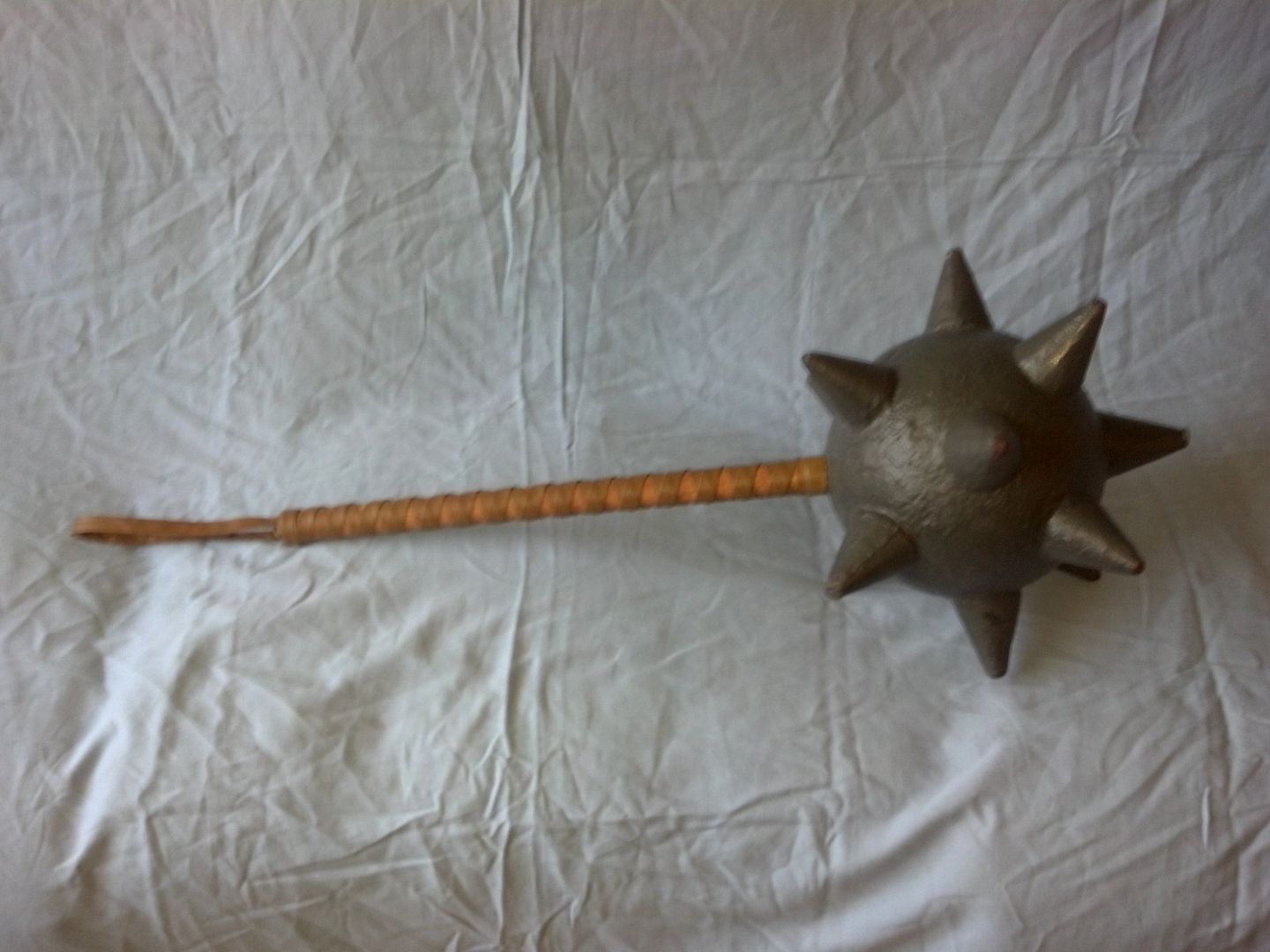 And to point out one imperfection, one of the tips (bottom) is slightly bent in, but - again - not noticeable in pictures:
Now....... the
BEST
part of the costume and what I'm sure most everyone is interested in - the Wings.  I bought these from a professional costume company, Irene Corey Designs, and they cost me
$990
.  (I had one professional costume maker tell me he wouldn't have charged anything less than $2,000 for wings like this.)  These are made of gray headliner foam and, in total - with the harness - only weigh about 7 pounds I would guess. 
You could easily and comfortably walk around in these all day
.  And let me tell you, from personal experience - these wings are an absolute
show stopper
.  When I wore this costume to DragonCon I literally had to resort to walking outside and around the hotels if I wanted to get anywhere.  I was just mobbed for pictures non-stop.  The wings are in the exact same condition as when I got them -
brand new
.  Since they're not real feathers, they'll never degrade and they'll stay in this condition - with proper care - forever.  Here's some shots of the wings while they were being made by Irene Corey Designs: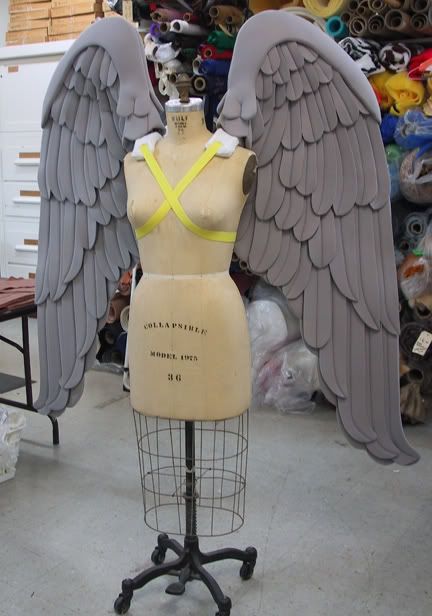 And here's the same wings today: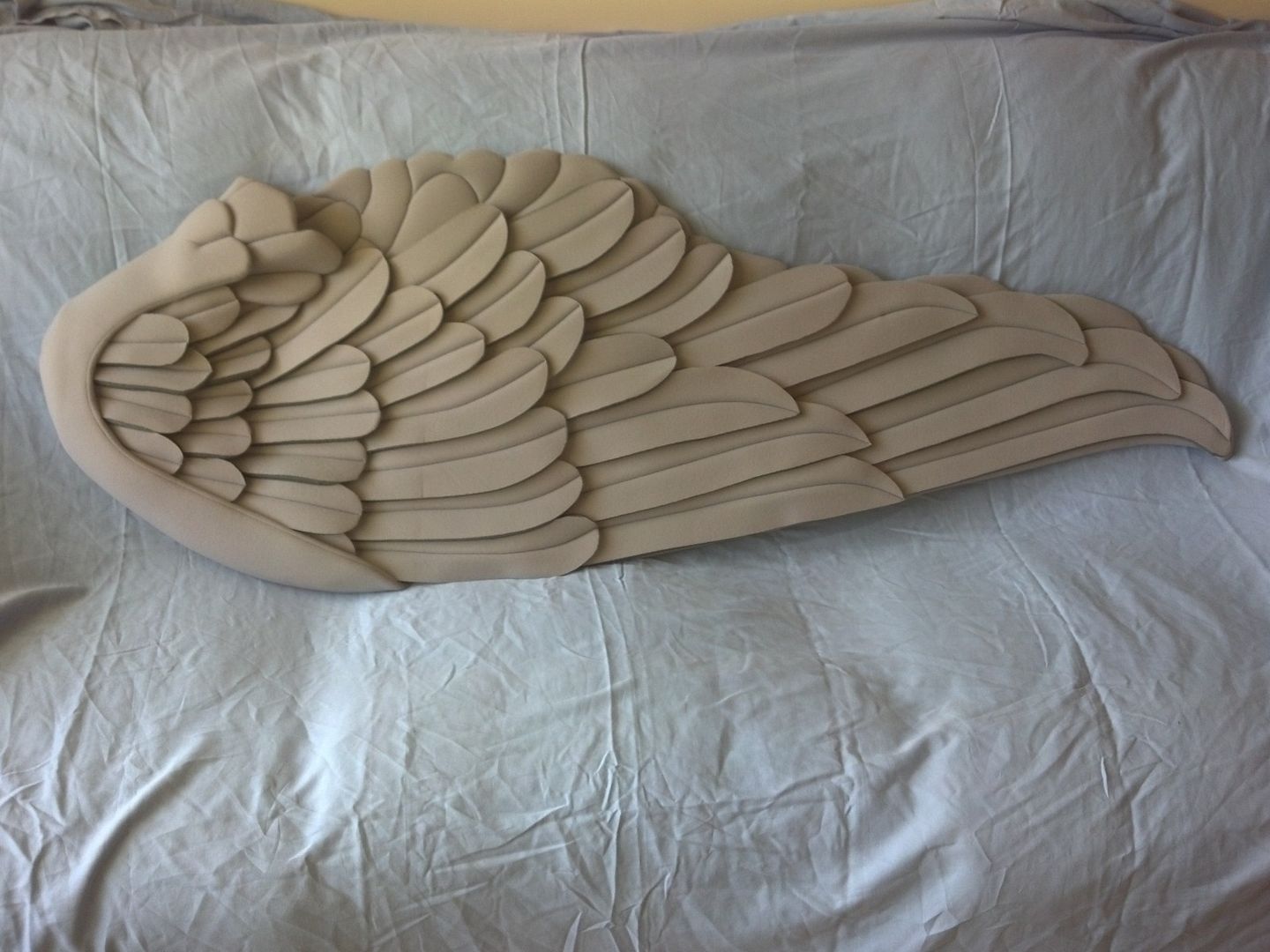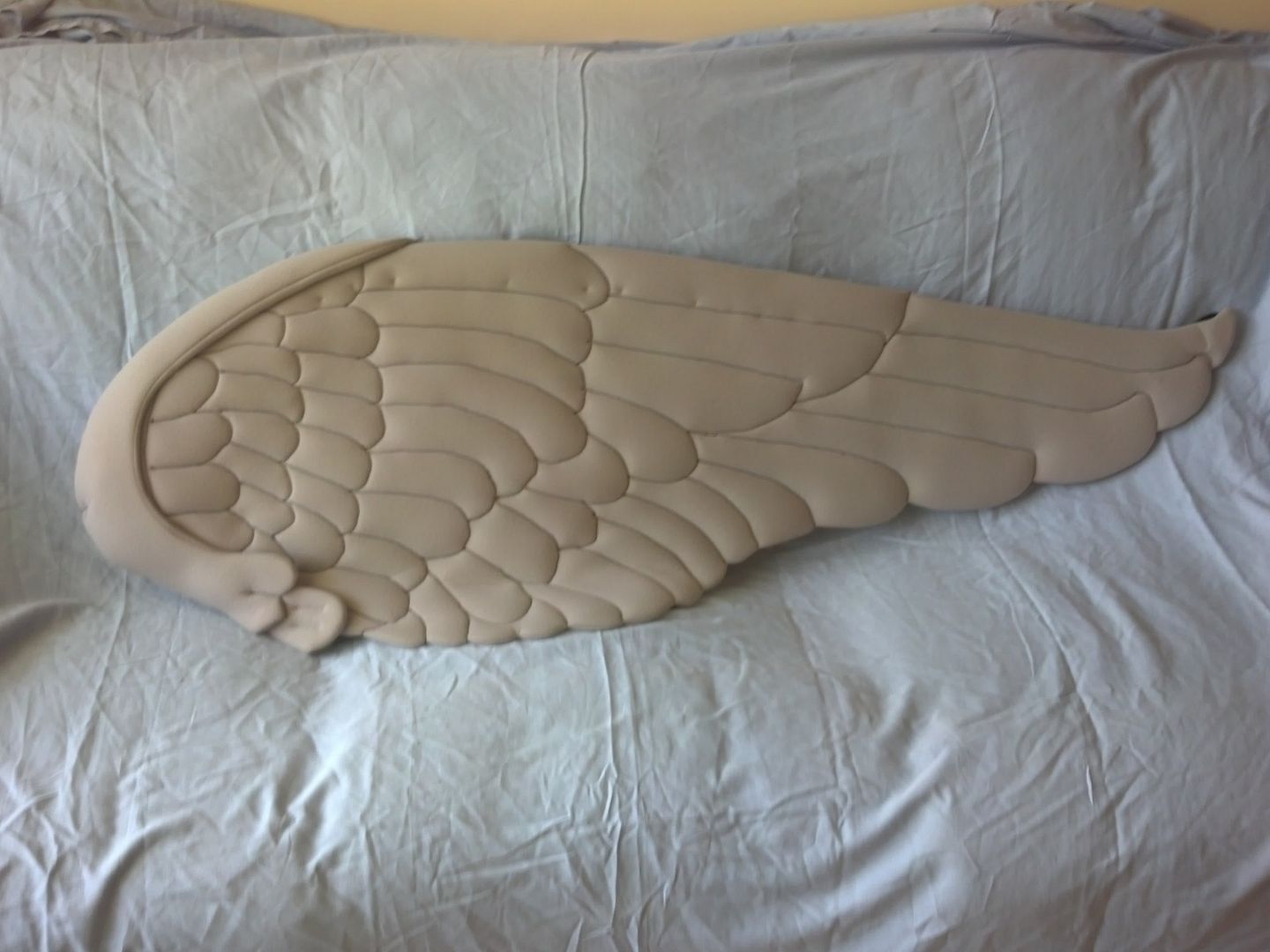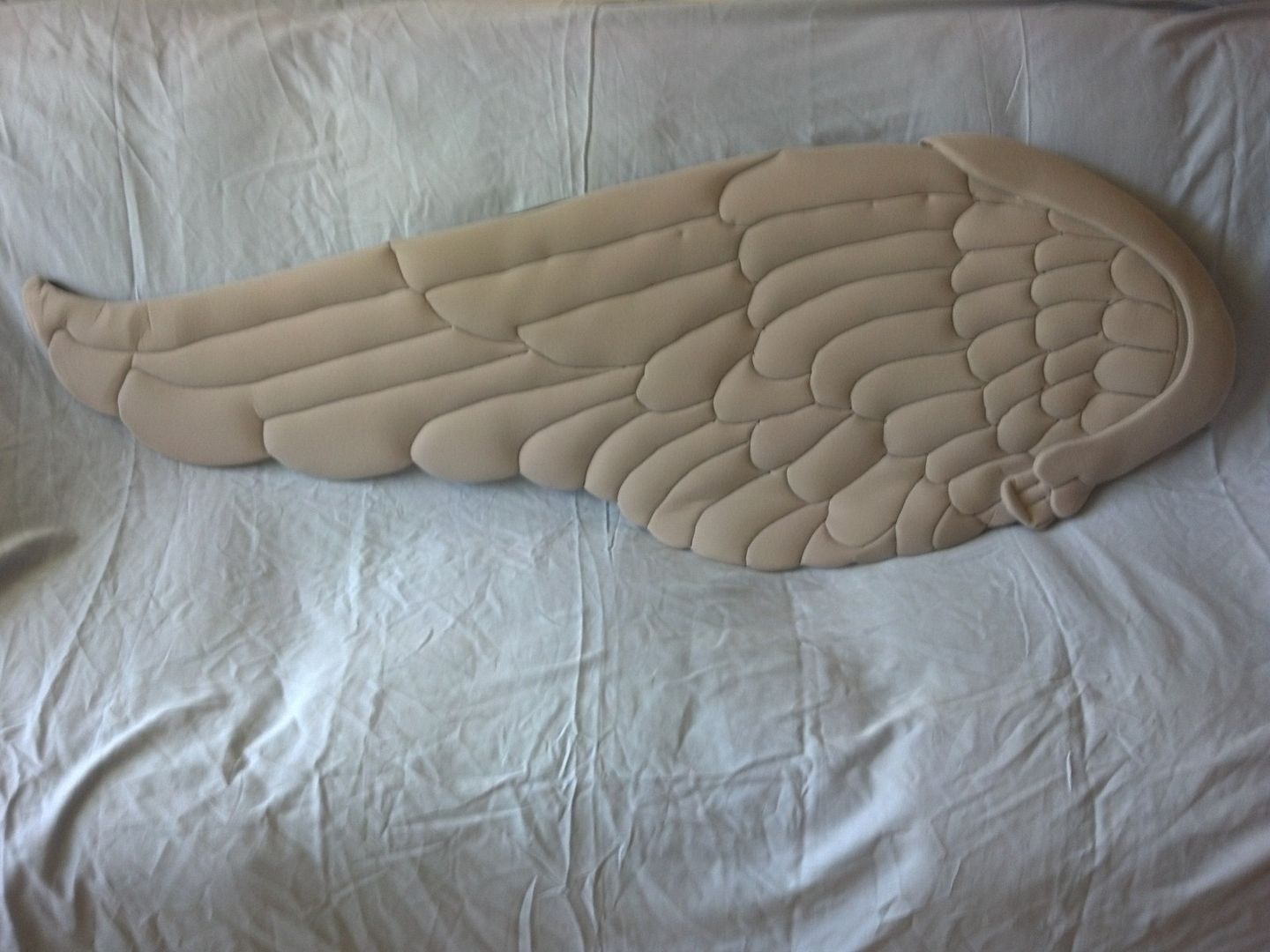 Like I said, in the same exact condition!  These wings are an
investment
and could potentially be used for multiple costumes.  Estimated Value (same):
$990
Here's the schematic for the harness - made of lightweight aluminum and nylon strapping:
Also, here's what the wings look like from behind when worn:
Here's what the harness looks like right now:
The original harness was covered in matching Yellow Marine Vinyl as the rest of the costume
and still is
; right now, on top of that vinyl a black spandex cover has been hand-sewn around it -
which can easily be removed
.  Why covered?  Because I used these wings to make this next custom costume for my twin brother Adam to wear- which you'll get absloutely free!
"Thanagarian Green Lantern" or "Green Lantern Hawkman!"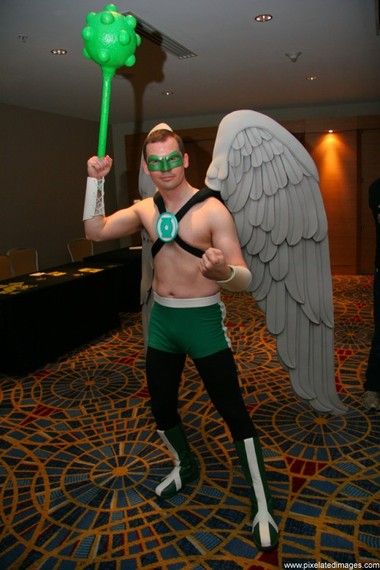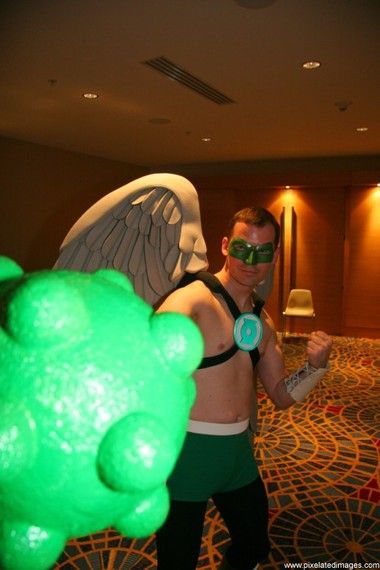 Here's a breakdown of everything you're going to get:
Custom "Ring Construct Mace"
: Made of a wooden dowel and styrofoam, covered in gesso and spray-painted green.  Your ring finger goes through the dowel and you grip a little bit of PVC pipe that stays concealed within your hand.  The idea was that a Green Lantern Hawkman wouldn't need a real mace, so would just make one with his ring!  Estimated Value:
$20
Resin GL Symbol
: You'll notice an ever-so-slight glow in the pictures; I painted the green part of the symbol with a green glow paint.  Estimated Value:
$10
Pants / Briefs / Belt
: Made by me.  Estimated Value:
$50
Boots: Jedi Costume boots Size 9, painted with meltonian by me and white stripes made with matching white spandex.  Estimated Value: $30
Bracers
: 100% Leather with leather laces.  Painted with white meltonian - and from the pictures you can probably tell that they are in need of a couple new coats.  Strip of foam added at interior wrist for comfort.  Estimated Value:
$10
(Green Lantern mask not included.)
So, to sum up the current estimated value of everything included in this sale - that total comes to
$1,500
.  (And that's considerably less than what I spent assembling all of it.)
BUT, I'm going to let everything go for JUST THE COST OF THE WINGS:
$990!!!
That's right, you can just consider that you're getting everything else shown in this thread FOR FREE.
Please feel free to ask any questions here in the thread or via PM.  To proactively address a few that I'm sure to get:
No, I won't sell the wings (or any other items) separately.  Please don't ask.
The Price is and I am
firm
at $990 - that's quite a steal imho (and I'm taking an enormous loss on the rest of the costumes).
Method of Payment: Money Order or Cashier's Check ONLY.  No PayPal, No Personal Checks. 
Return: None, Sale will be final.  Please ask all questions
before
purchasing as I'll be glad to answer any concerns or take any additional pictures asked.  I think everyone can trust the owner of The SCF, lol. 
I'm very excited that this costume is going to get a "2nd Life" and I really can't wait to hear how happy the next person is going to be after they wear this to their first convention. 
Thanks for looking everyone!
Allen