Photoshoot Group Name: Gotham City Shoot
Location: Hilton Patio Steps
Day / Time: Friday September 2nd 2016/ 6pm-7pm
Director: Lenny Java w/ Co-Directors Thad Laskowski and Bill Watters
Photographers: Grace Moss, John F. Willis, Danny Hunter, Bill Watters, Mary Anne Butler, Patrick Sun, Mark Shafer (Front Line)
Duplicates Allowed
Any Batman or Birds of Prey Character Welcomed.  All Versions Allowed.
Accepted Characters:
Bat-Family Members And Their Aliases (Bruce, Alfred, Dick, Barbara, Jason, Tim, Cassandra, Stephanie, Damian, Carrie)
Birds of Prey Members
All Traditional Gotham Villains
Zatanna
Constantine
Question
Commissioner Gordon
Creeper
1966 Batman TV Show Villains
Characters from the TV Show "Gotham"
Enter Hilton Lobby, Walk Directly To The Back.  You Will See Two Sections of Doors Leading Outside.  Take a left.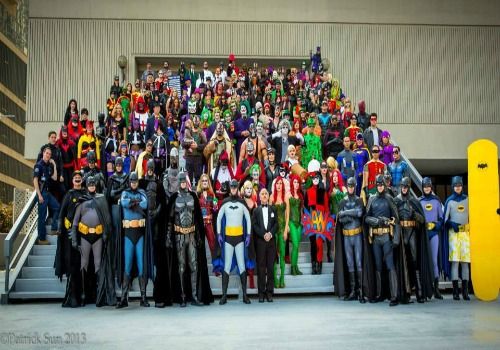 (photo by Patrick Sun)
Due to the growing size of this shoot and the changes at the patio, there is not a covered area large enough to accommodate this shoot should it rain.  However, IF POSSIBLE, we can do small group shots against the wall in the inside area between the patios.