#ThrowbackThursday for the week of 1/16/14


The Quest for Perfect Wonder Woman Armor:

 

A tutorial to entertain!
By: Margie Cox
            Where the Hades is Hephaestus when you need the troll-like bastard?  This is what I was thinking as I held the jumpy piece of metal under my hand as TJ cut around my fingers with the smoking jigsaw vibrating jerkily through the kick plate.  But I wanted Wonder Woman armor.  I needed it.  I didn't have the money to have it commissioned, so I just held it down the best I could.  I came out of the experience with a great deal of respect for a reciprocating saw blade, a new found empowerment to help my community, and most thankfully—all ten of my fingers. 
            I've written a lot of blogs on how inspiring Wonder Woman is to me personally.  It's been an absolute privilege and inspiration to talk and work with other Wonder Women costumers who have really used their gifts to go out and help their communities and especially children donning the star spangled breeches.        
            Little boys have a list of very iconic characters to look up to:  Superman, Batman, Spider-Man…  Little girls have a much more limited pool to draw from as far as recognizable characters.  Our daughters, our nieces, our girlfriends need someone to look up to too.  Wonder Woman costuming is very important.  So whether you are part of Heroes Alliance, another costuming group, or are thinking about community costuming, I look forward to welcoming you with open arms to the Amazon sisterhood!
            All of that said, I personally know how hard it is to make the costume and I'm going to share how I made my own.         
1)      First off are helpful links and supplies: 
Spandexhouse.com is where I got all of my spandex for the costume. 
Amazon.com is where I got the boots.  These are good starter boots, but I really wished I had taken Miracole's advice and custom ordered them from caboots.com.  If you do a lot of charity events on gravel or outside, these end up having a short wearability.  The custom ones are SO much more expensive, so it really depends on how much you wear the costume.  But just a heads up on that.
Ebay.com is wear I found the bracers.
Victoriasecret.com is wear I got the corset part.  Just look under the body shaper section.
I got metal kick plates and JB Weld from Home Depot.  You can also get sheet metal from a local sheet metal place.  Just be sure that you don't get it too light.  Light sheets are easier to shape, but the flipside is that they don't retain that shape as well.
I went to Joann's for a decent lasso.  I found it in the trim and lace section.
I went to a art supplies store to find the proper resin and clay to cast the star.
2)      I made the star spangled briefs.  That's pretty straight forward.  And I covered a pre-existing Victoria Secret corset with red spandex.  I did this in three panels of red spandex.  The back two I connected with regular Velcro.  I put the fabric parts down to work on the armor.
3)      The armor is the most difficult and dangerous part.  I first used regular poster paper to make a pattern for the tiara, belt piece, and chest piece.  Now if you have someone who has a laser cutter, that is much more safe.  If you know someone who is into sculptural welding, I would use that resource as well.  But if you aren't comfortable with the equipment with the part, PLEASE just wait until you can find someone who is or use another option like wonderflex or wet molded leather.  But if you feel comfortable you tape the pattern pieces onto the metal kick plates and cut them out with your jig saw.  Things to know about working with metal:  it jumps, you have to use special blades specifically for metal and you'll go through a lot of them, and lastly, lubricate the blade by spraying it with cooking spray.  If you've ever hear the term knife through butter, it helps with metal too.
4)      When all the armor pieces are cut out, shape them individually.  Keep in mind that it's hard to unbend metal so when you bend it you'll have to match the bend with any contingent pieces.  The moral of the story is—use a less complicated pattern if you're okay with it.  It's much easier to match two pieces enough to fit together rather than three.  Some people use a rubber mallet to shape metal, but I think it was more effective for me when TJ and I used PVC pipe furniture, the edges of doorframes and tables to bend and curve the metal.  This process could take hours or even days.  You're bound to get frustrated, but just keep thinking about the end result you want and how cool you're going to look with the armor you're making.
5)      Cut out the star from clay.  I just used the actually clay on my tiara after I spray painted it red.  But for a more professional look you can put the dried clay star in the bottom of a small Tupperware tray, mix the rubber resin, pour it over, wait for it to dry, take it out, and recast a new star by pouring hard resin into the mold.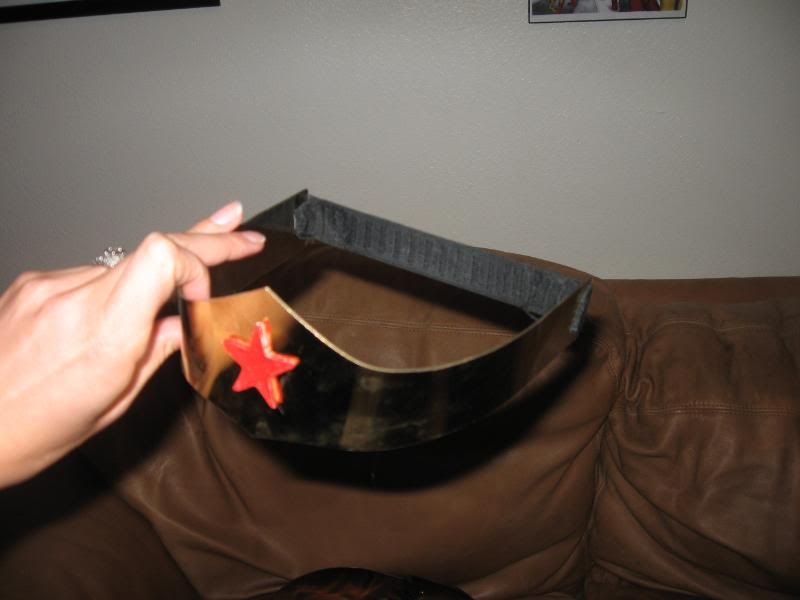 6)      I used JB weld to hold all of the metal together.  Use rubber clamps (they won't scratch your armor like the metal ones) and the 24 hour JB Weld set.  When everything is together use a toothpick and paper towel to clean the edges.  Then just let it set for a day.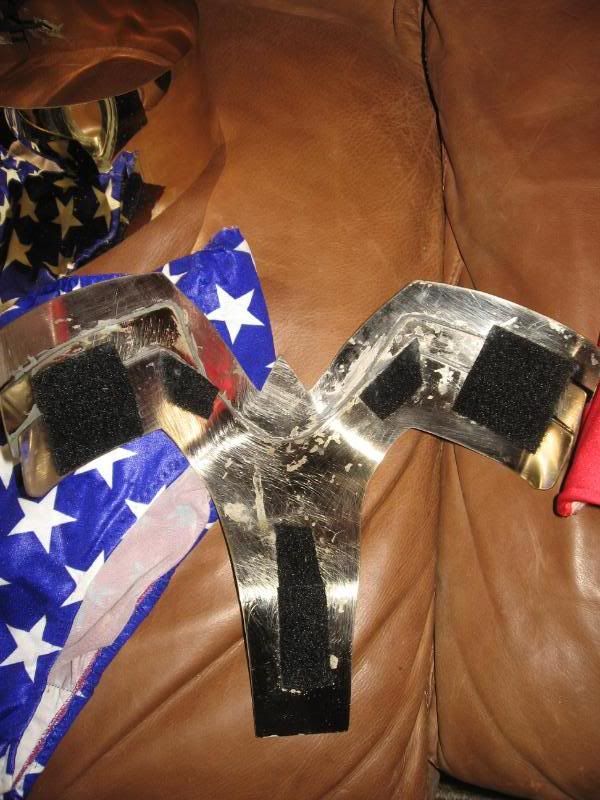 7)      We used a leather man and a hammer to punch holes in the tiara and belt.  The tiara is held with a elastic strap and the belt is laced with a shoestring on mine.
8)      I used industrial strength Velcro to hold the metal piece to the chest.  I had to use a rubber gripper and upholstery needle to punch through the corset, spandex, adhesive, and Velcro.  It's hard work, but stick with it.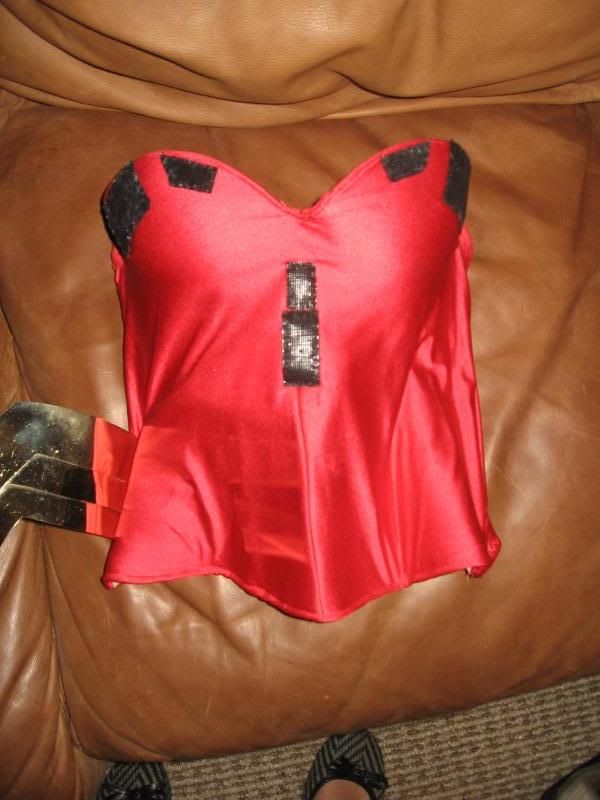 Unless I've forgotten something, I think that's pretty much it.  You may also want to invest in making a cape and nude dance tights.  I've found these to be very helpful at community events—it's always a good idea to be more conservative with the kids than less.
If you make the costume, please send some pictures!  I can't wait to see your progress!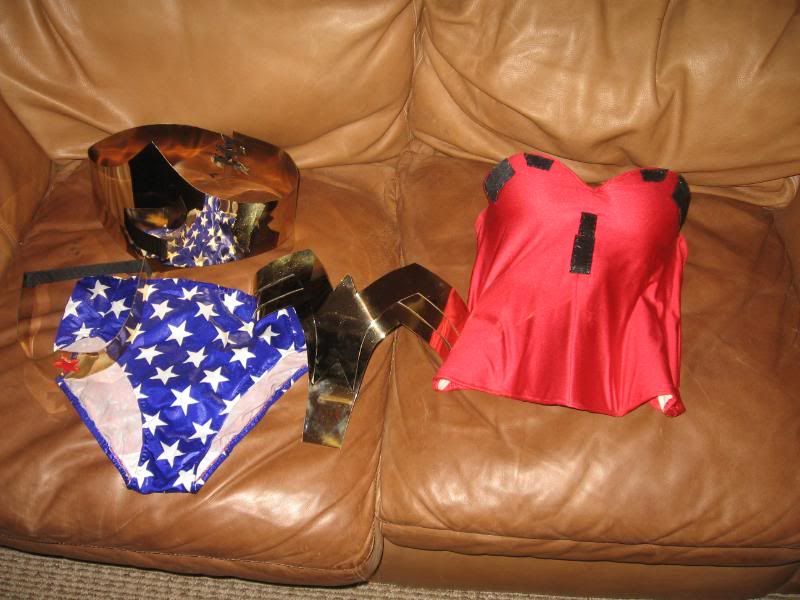 Rock on like an Amazon!
May the Glory of Gaea be with you,
~Margie