#ThrowbackThursday for the week of 3/20/2014


Round Captain America shield tutorial
Ok here we goK first you will need to purchase a 26" Traditional Flexible Flyer Steel Saucer, I get mine from
www.sledwarehouse.com/ste...rsleds.htm
They usually run 25-30 USD, and take a week to get in; they will come in a large square box wrapped in plastic. When it gets in take it out and check it outK
After you are happy with the sled turn it over face up, you will need to make a fairly clean circle as large as you can around the sled. Where the white rope handles are, are 2 each square holes. You want to try and make the circles as close to these as possible. This will make for a nice large shieldK you need to use your imagination, go find the largest diameter object you can find, large bowl, trash can lid, large bucket, now for you math people who can find the exact center, then use a compass to do a neat outlineK have at it, but Im a cop and math is not fun for me
after you get your circle and you are satisfied, you will need to cut out the sled with a jig saw using a metal blade. You probably wont get it even, dont worry, though try and make it as even as possibleK
After you are happy with how the shield came out, take a hand grinder and clean up the edgesK
WARNING!!!!!!!!!!! I have cut myself on the edges before,
be VERY careful when sanding and handling the shield... When your done and you have made the edges even and without burs, take your sand paper and attempt to clean up and make the edges smoother. If you dont get the edges smooth it will show up in the paint.
Next you will have to strip the paint off the front only, the back doesnt really matter, you can primer over it and its never seen.
now I went to Sherwin Williams, a local paint shop and got a heavy duty paint stripper, you will need something heavy since this is powder coat, and you cant get it sand blasted because the metal is to thin and it will warp. Also fallow the directions for the stripper product, its very caustic and can hurt or killK use it outdoors or in the garage with all doors open, also use a mask so you dont inhaleK I mean come on its only a hobby
, make sure all the excess paint is off, when the shield is clean and all the paint is off
take your larger grit wet sand paper and go to town, make sure you hit it all over and make it smooth, this will lay your base for a great paint job, even if you dont know how to paint
After its smooth and your happy, run your hand across and check for any bumps or larger scratches you may have missed. When you are all and all happy, take some house hold rubbing alcohol and a rag and wipe down the shield, this will take away your greasy prints and any oil or debris from sanding. When it driesK add your choice of sandable primer. 
add several coats, making sure you let this dry between coats. Then wet sand it with a lighter paper, making sure it is all smooth and there are no bumps or large divits. When you are satisfied do the alcohol again, trust me if you dont you will regret it in the end after you are happy with the primer, and you have made it smooth and clean, now comes the actual painting. You want to make sure you use all the same style paint, or it will bubble over and look like poop! I use all vehicle paint.
After you painted the shield white, with several coats and letting it dry, also a bad move if you dont let it dry all the wayK check it for bubbles, or pooling, if you find it not to be smooth, you can take a light grit wet paper and go over it a few times, this will smooth out the paint and make it even.
now after the shield dries and is ready, you can take it inside and sit down at a table or the floor, this is the tedious task that will make or break your shield.
This is the part where you make your lines for the painted stripes. Look around your house for nice large circles, its A LOT easier to use these than try other methods. I use a bill millers 1 gallon tea lid for the center area where the star goesK
You can eyeball where the center and measure the ends with a ruler to get an idea, it wont be perfect but hey were having fun anyway! Take a light pencil and trace the circle, make sure you can see it, thats important for a later step.
Now for the star I went out and bought a binder of ink jet sticker project paper design your star to a little smaller than your center stripe, it will make things easier and less messy. Test your stars on regular printer paper, this may take a while but you want to be perfect, and this you can do while you are waiting for your sled to arrive anyway. When you get your star how you want it, print it out and then cut it out, try and be as clean as you can with the edges, you will make things a lot easier on the eyes if you take your time. When your happy with your star, place it in the center circle as evenly as possible. When you have it set, take the blue flexible detail tape (also found at paint and body shops) and start tracing the inside of the circle, follow the lines as best as you can, the better you do the cleaner the lines. Remember to do the inside firstK when you are all the way around, take your 3 blue tape and tape over the center circle and star, take a rag and run across the edge of the circle to ensure no over spray.
Next take a larger circle and do the next line and so on, I use a large mixing bowl and then the cover of my fan for the outer lineK they wont be perfect but they will look good.
once you have the lines done, go around them with the blue thin tape, go slow, no need to rush, make it as even as possible. Make sure you do the inside of the middle line as this will be your white stripe, and you are prepping to paint the first and last line red.
when you are done with the lines, and you are happy they are straight, start to tape up the center lineK making sure you dont cross the lines, and pressing the tape down as you go to keep from over sprayK
as you can see the lines arent all even and there not the same size, but it sill still look good, and you can say you did itK
once you are done with the taping, take it back outside, wipe it down with alcohol and set it up for painting.
I use darker colors, reds and blues, they blend better and look more realistic, but you can do them as you see fit, which is the point of doing anything yourselfK
do a few coats making sure to let them dry as you goK when you are happy, and its ALL dry, peel off the tape over the STAR onlyK when thats off take your small flexible tape and re-tape around the OUTSIDE of the star this time, having a little bit of red to make sure there isnt any white showing when you are doneK
then tape over the red stripes to keep from blowing over it with blueK
when your satisfied that your tape is set and you are ready to proceed with the blue paint, wipe down the area to be painted wit alcohol to prep it. Then paint with your blue. Do several light coats, making sure to cover the area evenly, and not to pool it around the star, to heavy of paint will make it run under the star decal.
When your done, let it dry, take it inside to acclimateK let it sit, if you pull the star off to early it will pull paint with it, or you can scratch it to the primerK
When its nice and dry and you are satisfied that its been long enough, or you got introuble for wearing a hole in the floor, take it somewhere you can lay it down, and start peeling the tape, try and pull it upward not outward, the paint may have dried around it and you risk pulling paint off the shield. When all the outer tape is off, start on the star, I use a pair of tweezers, and start on a corner, pulling firmly but not jerkingK when its all the way off take a good lookK you just made a shield
let your shield dry, set it inside and relax, when its good and set you can look it over for over spray or marks, you will feel that the stripes arent smooth, you can, if you want, take a VERY light wet sand paper and go over the whole thing, this will make is smooth and dull it out. Then get a heavy duty spray finish, I use a not too expensive vehicle door jamb clear coat the works like a charm, give it a few coats, giving it 10-15 minutes between coats. Then when its good and read we will look at handlesK now on mine I weld the handles before I paint them. But for you its hard to get a even sturdy circle with handles, so the easiest thing is go to home depot, pick up a cheap door handle and brackets, get some JB Weld (beautiful stuff) turn the shield over and lay it on some soft fabric (t-shirt) take your grinder, mark the areas and grind down to the metal (only) dont leave it on to long you may melt the paint in the front. When you are happy, run the grinder across the handle and bracket bottoms where it will touch the shield, rough it up a little to make a better hold. Then mix and apply the JB Weld as directed on the package, if you need to take a few strips of tape and mount the brackets till they dry, when its all dried and hard, take a black primer and go over the back of the shield with several heavy coats., making sure to get it all.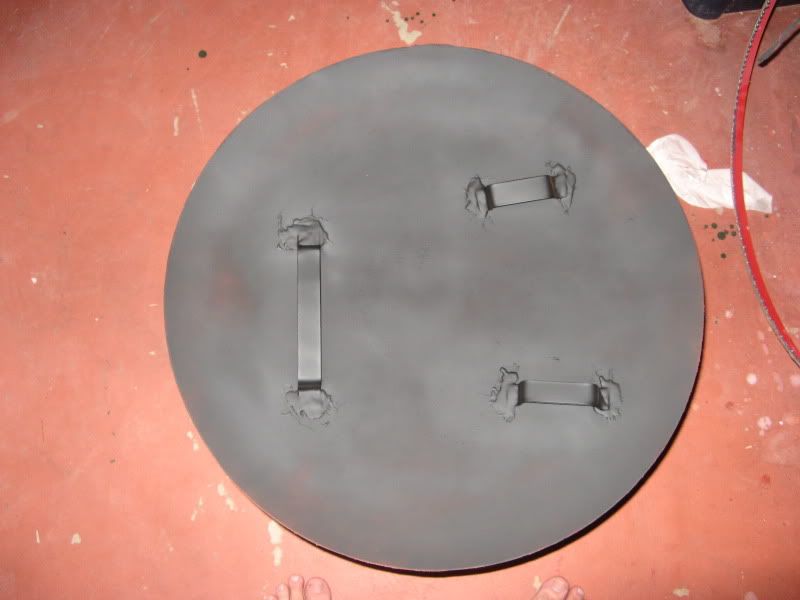 they when its all dried you can take a belt, or leather (thats what I use) and mount it to the handle, I use leather snaps I got from the local fabric hobby lobby placeK then turn it over, add your favorite vehicle wax, buff it out and you have a perfectly (cause you made it) round Captain America shieldK congrats,
this is only a tutorial, you can change whatever you want wherever you want. Also if it doesnt work for you, you may need to go back and read it again, dont blame me. Make sure you dont mix and match paint brands, laytex and acrylic and so onK use the same brand and types. Experiment a little; get some vehicle show paints, with extra high gloss and anything else you can imagine.