LATEST NEWS: 08/24/2011: PHOTOGRAPHER CAPTURED! ROSTER UPDATED!
(07/28/2011)

: FRIDAY EVENT CHANGED TO INFORMAL. SOME OF US WILL BE GETTING TOGETHER AROUND 9-ISH PROBABLY AT THE MAIN LEVEL/PULSE BAR AT THE MARRIOTT.

Hey, you! Listen up!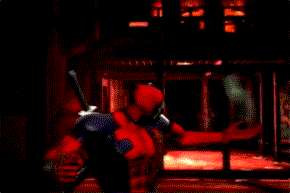 Yeah, YOU! Behind that computer screen!
Don't make me break the fourth wall because in this case it's your monitor.
Just listen up. I've got an announcement to make.

Ahem.


You're waiting for the lame car insurance joke, right? Gotcha.

HOT ON THE HEELS OF OUR SMASHINGLY SUCCESSFUL DRAGON*CON 2010,


DEAD
POOL
CORPS



IS BEGINNING TO RECRUIT FOR DRAGON*CON 2011!



2011: Revenge of the Chimichanga Lanterns!



What's this all about, you say? Well, here's a quick primer on everyone's favorite subject, moi*.
*Props to Miss Piggy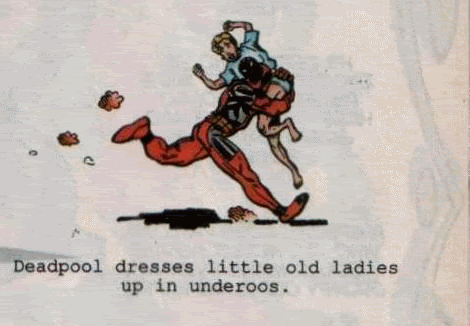 But wait, I don't have a Deadpool costume, you say? That's okay!
Look at all the fun we had this year playing with others!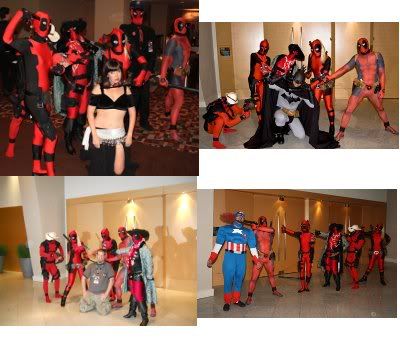 Still not convinced? Watch the bullet very closely. You are getting sleepy....very sleepy.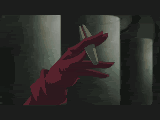 Quick guys, help me slip through the monitor and grab this dork's wallet like that Capital One commercial!

Alright, enough fun and petty larceny! Let's get down to brass tacks!
Because aluminum(aluminEEum for the UK audience) just looks cheap when you're hanging up that super sweet Justin Beiber poster.

WHEN:


1.
The Churning Charge of the Chimichanga Lanterns(Parade)
: Saturday, Parade time
2.
Super-Duper Officially Official Corps Authorized Photo Shoot
: Saturday, 7:00 PM
WHERE:


1.
Parade: Where the red fern grows. No, it's on the parade route. Play "follow the freaks" and you'll get there.
2.
SDOOCA Photo Shoot: Suntrust Plaza
WHAT:


1.
Parade:

Man, if there is one thing better than wearing spandex, it's being sweaty and wearing spandex. Am I right or am I right? So, make like a giant inflatable Garfield and move down the street. Meanwhile, huge crowds of people wonder what went wrong in your childhood. We need to look our very best, so we're planning on wearing our

regulation red and blacks for this one

. Afterwards, we'll hit the artists alley and the hallway costume contest (Can we repeat? Can anything stop this costume contest juggernaut? I smell dynasty!!!).
2.
SDOOCA Photo Shoot:
The third movie! The Return of the Schwing! This is it. The big one. The moment you've dreamt of since the moment you started dreaming of it. The Super-Duper Officially Official Corps Authorized Photo Shoooooooot!

Wear your very best Deadpool variant costume.

It can be an official variant straight outta the pages or your own original creation. This is OUR photoshoot to get the pics we want. Afterwards, we will unleash the power of Deadpool(He-pool, anyone?) on Dragon*con. and hit the main con areas so others can experience the awesomeness. Buy up stock in pharmaceutical companies. I expect a run on anti-depressants as people realize it's all downhill after feeling the flava of the Chimichanga Lanterns.






WHO

:

1.

2.

EEEEEVERYYYYYONE /Gary Oldman Didn't you see the pictures above? Do you really wanna risk not participating? Well, do ya, punk?

Current Chimchanga Lantern Roster:


TS

: Predator Hunter - Pool


Sociologies

: Rollerpool (Lady Pool on Skates)


Sin Syndicate

: Poolonidas (300 Pool)


pensive1

: Poolette (Iron Man Dancer Pool)


patientjoker

: Say Anypool (Boombox + Trenchcoat Pool)


SkrullLantern's Minions:

Squirrel Girl and ChippenPool


StanLeeWannabe

: TuxedoPool.



RaptorAdapter

: Lady Deadpool


AdmiralPool:

AdmiralPool
shlewis: Lady Deadpool HulaPool and UnemployedPool


MathMaetos

: HammerPool


berripai

: Lady Deadpool


berripai's partner-in-crime

: HammerPool


plastikrokk:

Adventure Time Deadpool


jothra

: Fempool



WHY

:

1.

2.
I think the best way to answer this question would be to refer to the works of the famous french existentialist philosopher and playwright Jean-Paul* Sartre, who famously said, "The Chimichanga Lanterns rock my socks off even with sock locks on!"
Hey, how come a dash joins things in grammar but subtracts them in math?

I digress....This is a
gathering of Deadpools, which as Sociologies pointed out, equals a Deadocean. But now that I think about it, maybe it should be the Dead Sea as in "Dead Sea-the-coolest-set-of-costumed-individuals-ever-to-wear-the-red-and-black!"

*So why doesn't that mean "minus Paul", like Paul was a crappy uncle who Jean's mom would never, ever name him after?
PHOTOGRAPHER:

HERO DREAMS


DIRECTOR: I dunno. Does anyone own a cattle prod?

Disclaimer: I wish I had a sound clip that said disclaimer like the announcer on Killer Instinct saying combo breaker. That would be sweet. Okay, okay, I'm disclaiming! Jeez. Here we go, The Chimichanga Lanterns assume no liability for anyone's consumption of meat and meat-like substances sold by any establishment with the word "Taco" in its name. Use of the word chimichanga and its variants hemichanga(Is that a hemi?) Demi Changa(Ashton's favorite) Remy Changa(How're you, chere?) semichanga(lower calorie) chimilonga(double the beef!) and shimmychanga(slippery little boogers) does not represent or imply any endorsement of any particular product or restaurant although we do mean to imply heavily that Tex-mex is served in Heaven. No animals were harmed in the making of the threatening photos used above to blackmail you into joining the Deadpool Corps. Furries don't count! No Warrant is expressed or implied because I was always more of a White Snake kind of guy. All rights reserved because they're easier to reserve than a hotel room for the convention.

Whew, I'm knackered. So sign up, please.

Bibliography:
http://www.cosplay.com/sh...650053#post3650053 Our cosplay.com thread. Lots of ideas and discussion here about shots, costume variants and more.

http://thesuperherocostum...uku.com/topic/3359 Last year's thread here at the SCF. More hot disclaimer action and some good links to photos and videos of the DPC rocking D*Con! Please put any new posts in the 2011 thread(the one you're in now). Thanks!


-Clark