Welcome to the 2011 X-Men Gathering!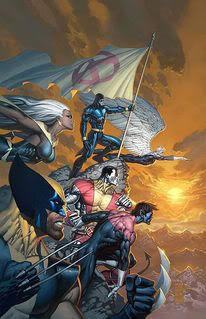 Mutants!
The very word strikes fear and worry in many people's hearts, but many also dream of a peaceful coexistence between man and mutant.
Professor X
had such a dream, and his
X-Men
is a team of mutants willing to take stand for it!
Photoshoot Group Name:
X-Men
Location:
Hilton Steps.
Day / Time:
Saturday at 2 P.M.
Director:
T.S.
Photographer:
Hero Dreams
Duplicates Allowed?
Yes.
The Cast:
X-Men:
Banshee - CaptainScotland
Bishop - Coretoonz
Blink or Emma - ItalianPeach
Boom Boom/Meltdown - SuperKayce
Cable - Genejoke
Charles Xavier - Nin-Kitty
Cyclops - Gabriel (TBD)
Cyclops (X2 Movie version) - Eobard (wife as Rogue from X2/X3)
Darkchylde - MissArachnid
Domino - Amechan
Emma Frost - WhiteQueen
Emma Frost - Elendriel
Jean - Kearstin
Hellion - RaptorAdaptor
Kitty Pryde - Ember
Mercury - Pryde
Multiple Man - KevRuzz
Nightcrawler and bringing a Kitty - Nanasel
Northstar - Mountainlion
Phoenix - DeeDee082
Phoenix - Metatrona
Psylocke - Midori02
Psylocke - Mayce
Psylocke (80's style) - SilverFaction
Pyro -jtw
Rogue - Lilacwire
Rogue along with a Gambit, Kitty, and Wolverine - Leahhime
Rogue - FontBandit
Rogue - Luna Selene
Rogue and bringing a Gambit - CelticRuins
Scarlet Witch - TimeLordMK
Scarlet Witch - LCJedi
Siryn or Domino - Jtotha
Siryn - Joy
Storm or Pyslocke - Cookiechu
Storm (version?)- AmaZume
Storm - SilentCat
Tabitha Smith - EvilCarlita
Warlock - nightkarler
Wolverine - RiddlerJohn
Wolverine (Brown/Gold) - PhoenixRaven
X-23 with Bone Claw Wolverine - EternalMoon19 & SpartanNinja
X-23 - Mellissa
X-Villains:
Dark Phoenix - Riina Kwaad
Dark Phoenix - Sunnydale
Erik First Class - Clive-Kun
Magneto - Guardian
Magneto - Mike Prost
Pyro - jtw
Vulcan - Gabriel (TBD)