"And there came a day - a day unlike any other - when Earth's Mightiest Heroes found themselves united against a common threat. And on that day, the Avengers were born - to fight the foes no single hero could withstand!"
So, once again, heed the call!
"AVENGERS ASSEMBLE!"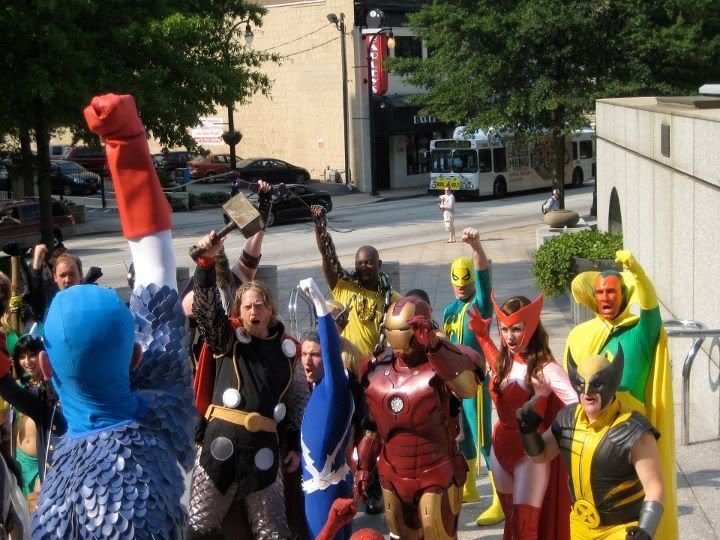 Location: UPDATE! Given the information in this thread:

http://thesuperherocostum...-SunTrust---shoot-locati

...we're moving the shoot to the

Hilton steps

.


Time: Friday 11am
Main Photographer: Grace Moss

Solo Villain Photographer: Troy Nelson (See #4 below)
GUIDELINES:
1. We are continuing 'No Duplicates'. This means no duplicate costumes of individual characters. Of course, we know that in the Avengers history many different people assumed many different identities, and that's allowed here (i.e. Goliaths, Ant-Men, etc.). On the flip side, there were numerous people who signed up last year - nearly a year prior to the photoshoot - and either forgot to attend the convention, the shoot, or make their costume altogether. In fairness to someone else who might want to attend the shoot later but can't due to the No Duplicate policy, PLEASE update your attendance status the moment it changes. When the shoot draws closer next year, I will be PM'ing all attendees requesting an RSVP.
First come, first served. Sign up quickly of you want a character for the roster!
2. Classic Marvel 616 Universe.
3. Avengers superheroes only, as in characters who were on an Avengers roster. This is everyone from founding members like Wasp to New Avengers' Spider-Man to Great Lakes Avengers' Squirrel Girl--but it's
not
a squad of SHIELD Agents. As we saw last year, it's hard to fit everyone in a shot (which we'll try to do a better job at this year) to begin with, and we're going for some great shots.
4. While it remains to be seen whether another "battle royale" against supervillains will be seen again, I think it would be really cool to invite along classic Avengers villains. I'm talking specifically about the kind of threats that
truly
no single hero could withstand and often took the entire Avengers team to battle. Kang, Ultron, and Loki spring to mind but I'm open to other suggestions of classic Avengers villains. I propose a No Duplicates sign up for those characters. Please note that you may only be in one or two shots toward the end of the shoot. However, you can expect those to be worth it.
Kang triumphant over the bodies of a defeated Avengers team.
Ultron vs. his creator, Hank Pym, in a battle to the death.
Pretty cool, right? However, I'd like to discourage Marvel villains who
aren't
traditionally associated with battling the Avengers (Magneto, Venom, Kingpin, etc.). Villains, please plan to show up around
11:30
, roughly half an hour after we start. This gives us good guys a chance to get the majority of our group shots done before you come in for your "triumphant bad guy" shots. Again, there won't be many (and feel free to plan your own Avengers villains pictures before or after).
Additionally, PLEASE come with suggestions. While we'll be focusing on getting iconic shots and angles and can easily break the big group down into individual eras and rosters, it's always nice when someone suggests a certain shot or re-creation. It's not always easy coming up with a new and unique shot and hopefully we'll have more time available to us this year. Don't be afraid to speak up, Avengers!
AVENGERS:
Captain America (Steve Rogers): DarkAvenger84
Iron Man: Mr. Fett
Ms. Marvel: Sociologies
Black Widow: Lady S
Thor: Kevin CaptainAmerica
Hawkeye: Vendrel
Mockingbird: Mockingbird
She-Hulk: MargieC1022
Wasp: De La Fontaine
Scarlet Witch: cookiechu
Black Knight: emMKhay
Ant-Man (Scott Lang): GayComicGeek
Squirrel Girl: lilmonkeybutt
Ant-Man (Eric O'Grady): Griff
Black Panther: AmazingSpidey
Yellowjacket: loganallenwolf
Jocasta: DJ Spider
Ant-Man (Hank Pym): PymIndustries
Quicksilver: Zack Santiago
Hercules: Dough Hubler
Wonder Man: ishin
Captain Marvel: OmgDjJudy
The Incredible Hulk: Ruby Rinekso
Moon Knight: BatmanHushSpawn
Vision: Mike Prost
YOUNG AVENGERS:
Patriot: Oa2814
Wiccan: Rockfly
Speed: Rockfly's twin brother
NEW AVENGERS:
Valkyrie: snarkynerdette
Ronin: chaosbria
Captain America (Bucky Barnes): pyynk
Luke Cage: DF Tango
Spider-Man: arivin923
Wolverine: riddlerjohn
Daredevil: Nightshade0020
Spider-Woman (Jessica Drew): SilentxHuntress
Jewel: Stabitha
MAJOR AVENGERS VILLAINS:
Loki: White Queen
Super-Adaptoid: TheApeOfJape
Doctor Doom: The Kraken
Kang: aaronhall
Thanos: smubear
Ultron: DarkAngelDavid
Red Skull: hahabatman
Madame Hydra: Faceless

See you in 2012, team!