"Amazing."
That's a word I heard a lot at, and I've heard a lot since DragonCon 2012.
"Amazing."
& "Incredible."
& "
FUN!
"
& That's why we're all here in the first place - to have
Fun
. And man, did we have a blast this year!
(I'm starting this as a separate thread so my voluminous thoughts don't overwhelm everyone else's thoughts. Note: Also, I've stolen pictures liberally from across the internet.
Please let me know if you'd like credit for your photo
)
Rather than a day-by-day recap of my D*C (which would occasionally be a rather boring retelling of the times I went to the food court, went to the bathroom, lol, etc., I figured it would be more fun to list my Top 10 favorite things from this year's D*C. It's been very tough to narrow this down to just 10, but let's begin!
10) Beat Down Boogie
Everyone, I can't say enough about the guys from Beat Down Boogie (These were the guys who were video-taping us at the Giant photoshoots).
They
were AMAZING. Working with them was AMAZING. The BeatDownBoogie crew with us at D*C consisted of Micah Moore, Blake Faucette and Justin Reich.
Here we are about to begin the Marvel Universe photoshoot. From left to Right: Justin Reich, me as Dr. Strange, Grace Moss (Official D*C Photographer - thanks Grace for everything!), Blake Faucette (in hat) and Micah Moore: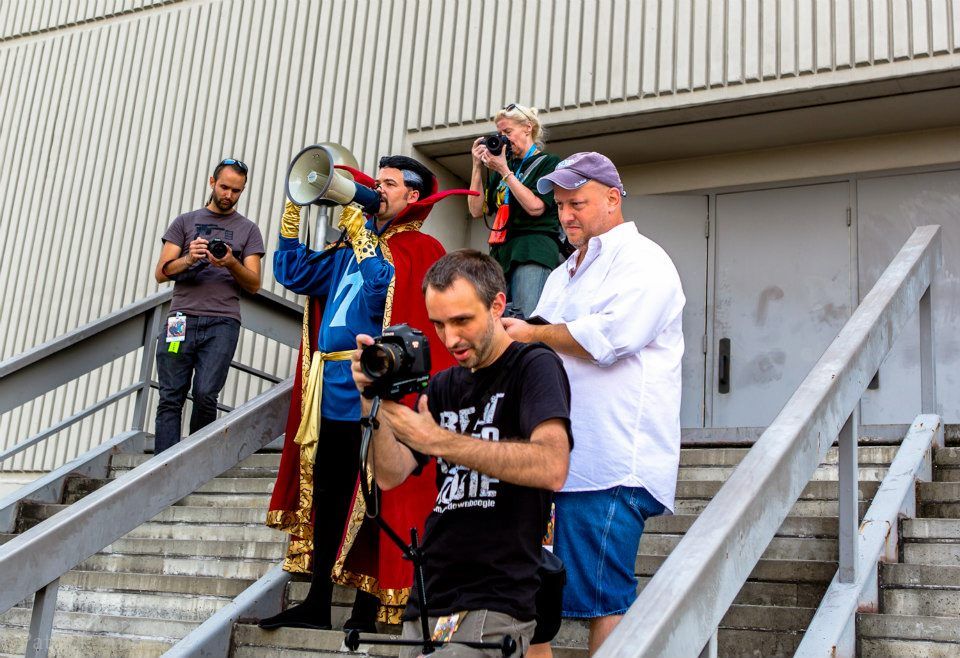 Please, show them some love back and go like / subscribe today!
http://www.youtube.com/user/beatdownboogie
http://www.facebook.com/beatdownboogie
http://www.facebook.com/Distractotron
http://www.youtube.com/user/DistractotronChannel
http://www.facebook.com/Destructoid
http://www.destructoid.com/
http://www.twitch.tv/destructoid
In case you're not familiar with their work, here's their short D*C video from 2011 - that's nearing 900,000 views on YouTube. (I simply CAN'T WAIT for you guys to see the video they took of us this year. ERMAGHERD.) So here's a teaser that Blake put together of what's coming!