Okay, so this is my year of just one big project (and only one side project, another Tabby Smith, because she needs more love), and thanks to Allen's great multi-powered characters idea he helped me pick a good one. I've always loved Rogue, but wanted to do more than just the 90's jacket look or the modern green and white look. So I'm going to do this: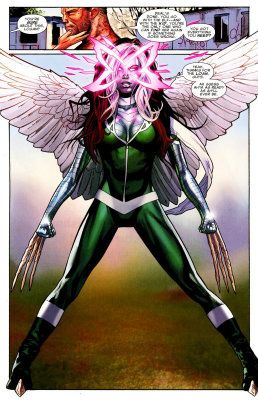 I want to get started right away since there are obviously multiple parts to this, and wanted to start with the advice getting. Also, I'm not professional, but I am still a perfectionist. I like making my costumes and props out of cheap items, but I'm willing to put in the time and care to get a clean finished project. So here are my ideas and questions broken down by costume component:
Rogue:
Already ordered the two wigs, going to be splicing them together soon. Any advice from anyone who has done it? Links to good tutorials? I've only ever just styled wigs, never sewn together. Advice is appreciated.
For the body suit I'm leaning toward moleskin, and have ordered samples from Stretch House and Spandex World.
Colossus:
Planning on making long gloves for the arms, then painting the chest (and contouring!) and face. I have a nice stretchy silver vinyl from Stretch House that I'm leaning toward, waiting to get spandex world back.
Any advice on make-up for the face and chest? Anything I should shy away from?
Wolverine:
Definitely doing the hand claws, might forgo the feet just because it would be hard to walk around. Maybe I'll make them slide on and off and just do them for photoshoots. Right now I'm making a prototype (and maybe actual thing, if it works) using dowels. Basically I will have one larger dowel as the actual claw. Two smaller will sandwich it on the top (to get the effect of coming out from between the knuckles) and on the bottom, to attach to a another small dowel that I will be gripping in my fist. Then I will sand into correct shape, and paint. Anyone who has made claws before, I would love any tips, anything that worked for you.
Psylocke:
For the butterfly, plan on using a headband that will be worn under the wig supporting the butterfly in front of my face (I am allergic to spirit gum, so shy away from any type of adhesive). I plan to make it from a sheet of clear plastic, with pink/purple cellophane on top, and add dimension with hot glue.
Angel:
The big one. Okay, current plan is to use 1/2" pvc for frame, then use cloth for skin, and finally add feathers. I haven't been out to look at feathers yet, but I'm guessing getting good quality and quantity would be costly, so am leaning toward white craft foam cut into feathers and given dimension with a little paint.
The wings will be attached to my back with a harness I will make. I also want them to fold down, if possible, for easy mobility. I was thinking about using a spring, so their default would be up and picture ready, and for escalators I can just grab the tops and hold them down behind me. Anyone tried this before? Is it doable?
Also, for putting a hole in Rogue's costume for the wings, what is the cleanest way you guys with wings have done this? Buttons? Zipper? Clasps?
Thanks in advance for all advice, and I promise pictures as things come along.