We're coming to tail the end of winter and we take a detour for next spotlight-all the way to Canada. We've got Devon Jopling aka Temperance.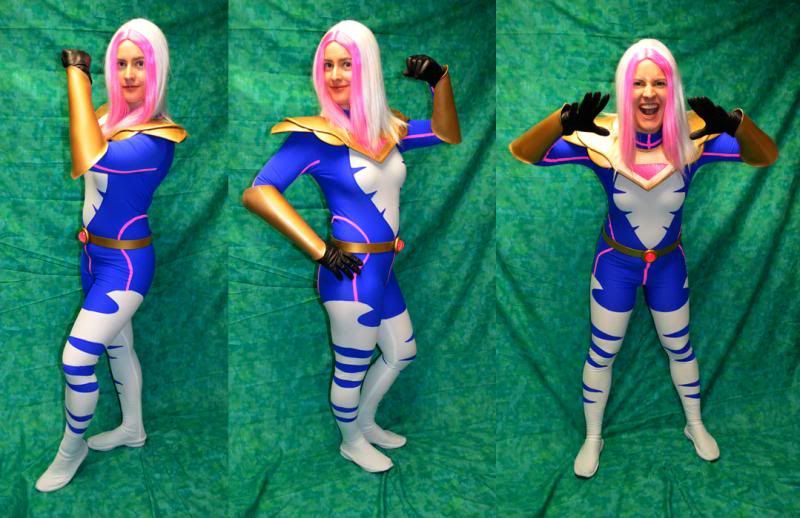 Devon is another award winning professional costume maker who specializes in mascot suits and, interesting enough is a member of furry community. She does have an affection for the feline. She has graciously agreed to talk to us this month


1)   Let's begin by talking about your costuming business and what you specialize in?
I used to be a comic artist actually.  I sort of transitioned into costume making for a few reasons.  First, I couldn't sit for the long hours required to draw comics.  I was working on a graphic novel one year and found I was having horrible hip pain.  But since I could STAND and make costumes, it was far more tolerable to manage.  I still draw, however it no longer brings home the bacon.
I started making costumes as a business part time in 2009.  After making a few of my own costumes, I realized my friends were starting to ask more and more if I could make costumes for them.  At some point it seemed a viable business, so I started taking on commissions.
I was too practical to quit my job, so I worked my regular office job in the mornings and spent my afternoons making costumes.  In 2010 I was let go from my office job due to lack of work (once I finished all the major projects the company had hired me for, there was really nothing more to do   ).  I decided to be optimistic about being let go as a test to see if I could be a costume maker full time.  It turned out I was able to make a modest living at, so it's what I continue to do.
Although I can make lots of different types of costumes, I tend to mostly make mascot costumes and furry costumes.  In the furry community we refer to furry costumes as "fursuits".  I sometimes get inquiries into other costumes, however thanks to China and ebay my prices are far too high for the average person.  Fursuits however are often custom made and custom designed, so they cannot be mass produced in the same fashion as say... a costume from a comic book or anime can.  Therefore people are willing to spend more on a custom fit original design Fursuit.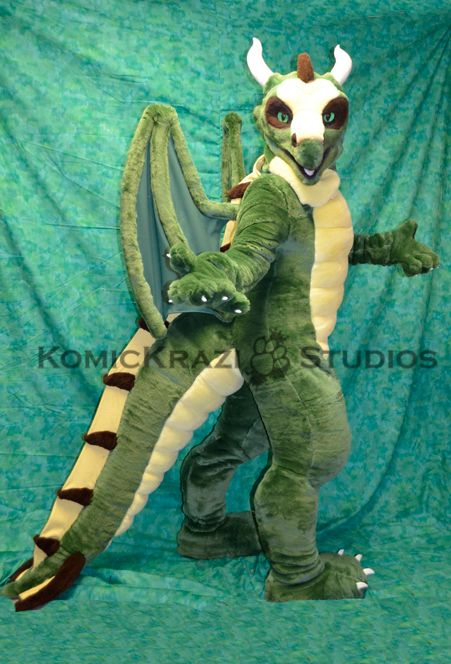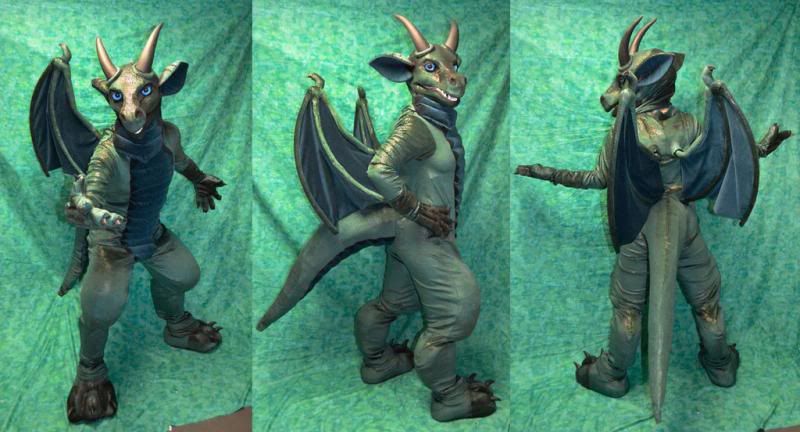 2)   How did you get into and how did you develop your craft and the challenges involved technically. (For example spandex being stretchy and slippery requires certain skill sets).
Trial and error have always been my methods.  There is lots of great information on the internet on a variety of topics, but sometimes you just have to buy the material and see how it feels/works.  Faux fur is actually VERY easy to work with, but it can be daunting when people start talking about industrial sewing machines, hand sewing and retractable blades.  Fur is thicker, so most commercial sewing machines can't sew it very well; you need a really old metal machine or an industrial machine if you want to work a lot with faux fur.  You also cannot cut faux fur with scissors - it makes a mess and can ruin the fur – you need to turn it over and cut the backing with a knife.
I work with other materials sometimes too, such as spandex, velvet, fleece and upholstery fabric.  Each has their own properties and their own challenges which can really only be learned after working with them a bit.
Making costumes is an expensive job/hobby.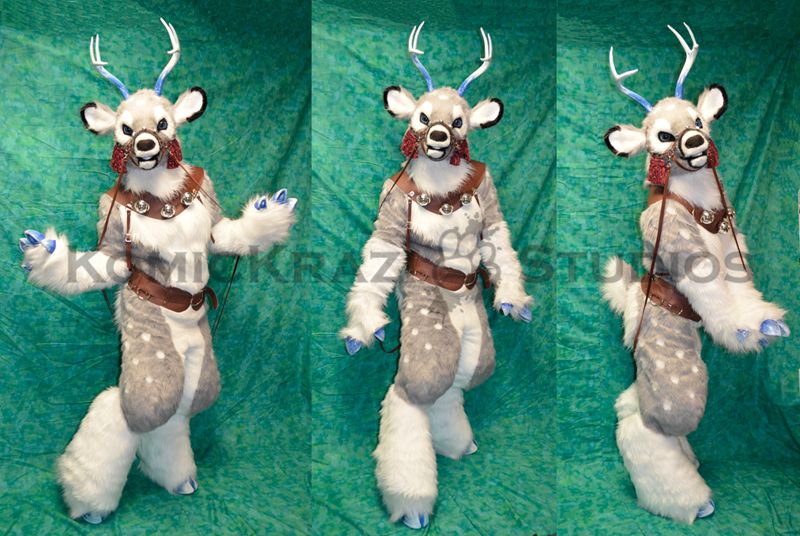 3)   Let's address a small elephant that has popped up in other threads. You have mentioned being part of the furry community and I would like to have a meaningful dialog about that. I think it's important to discuss what the community is all about..
Ah yes, the elephant in the room (with furries, that can sometimes be a literal elephant!).
Furries get a bad rep thanks to sensationalist media.  Articles and TV spots like Vanity Faire, MTV, My Strange Addiction, and Tyra Banks are notorious for making furries look like freaky sexual deviants.  There are lots of fandoms and fetishes, but Furries seem to get a special place in the geek hierarchy that labels them as weird perverts – no one asks a Klingon Cosplayer if he goes home at night and does the Klingon mating ritual.  It's possible this is because cute toony animals suggest furries must be pedophiles, or the fact we love animals must also mean we also LOVE animals.  Because of the bad relationship furries have with the media we often choose to politely decline when offered the opportunity to talk on TV or for a magazine, but that leads to the challenge of – if you refuse to speak, that must mean you have something to hide.  Some furries even go on TV to directly challenge these misconceptions, however TV and magazine editors are very good at asking a question in a certain way or implying things which can suggest something more even when it wasn't intended. 
4)   I would it if you provide a fuller picture of the different aspects of the community. How does it compare with other costuming communities. What are, in your experiences, the most positive elements of the furry community? The more negative/frustrating aspects?
What the heck is a furry? There is a joke among furries that if you ask 100 different people that question you will get 100 different answers, so I'll try to be as basic as possible.
Furries are people who have an interest in anthropomorphics.  The term Anthropomorphics is defined as attributing human features to something that is not human (this can be as small as giving an animal the power of speech, or as broad as allowing an animal to walk around on 2 legs and wear clothes and live in a house etc).  Anthropomorphics is not limited to animals either, ANYTHING that has been given human features can be considered anthropomorphic; so a talking tree or toaster oven would also apply.  I even know fellow who is a monster truck furry!
Furries often pick a Fursona while participating in the fandom.  This is an avatar that they use to represent themselves in the furry fandom.  Often at a furry convention people will ask your name, then ask "what are you?"  They want to know if you are a panther or a dragon or a mouse or a german shepherd or whatever.  Fursonas are highly personalized, they are often chosen based on a person's favorite animal or combination of animals, some are chosen based on a spiritual connection, and often colors are determined by favorite colors.  Me?  I'm a green and purple parasaurolophus (it's a duck billed dinosaur).  I chose it because I have always loved paleontology and I love cows, so I picked a prehistoric cow.
We use the term "furry" because most furries choose mammals as their fursonas, however there are lots of scalie and feathered furries as well. Aside from the Anthropromorphic baseline definition of furries, the term and branch out the a wide variety of interests.  Some people are furries because they love furry art, some feel a spiritual connection to a specific animal, some think they are an animal trapped in human skin, some collect stuffed toys and some like to perform (like me) in animal costumes.  You certainly don't have to love ALL of the things to be a furry, but you're bound to love one thing.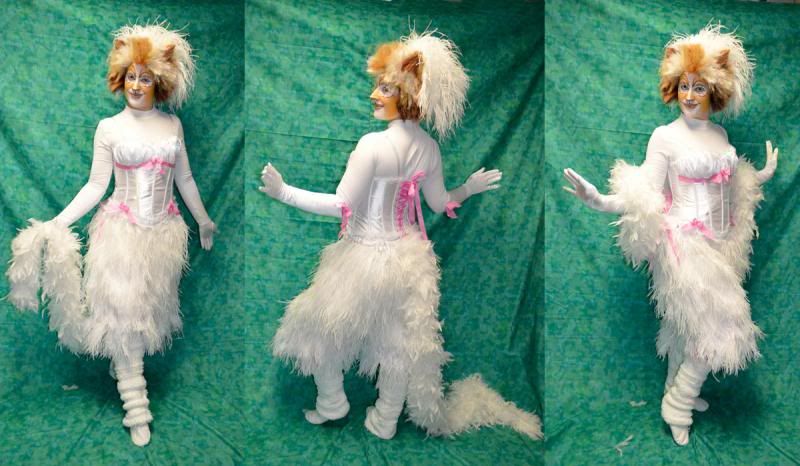 -Do all furries have fursuits?
TV media suggests all furries dress up in animal costumes, this is not true!  Most furries do not have fursuits nor are they interested in owning one.  Some furries HATE fursuits.  The reputation that all furries dress up in furry costumes comes from TV media.  Aside from that darn CSI episode, TV media often chooses to show clips of people in costume because it looks better.  If a TV crew went to a furry con and filmed all the normal people dressed in regular clothes it would be boring, so they go out of their way to find the costumed people to film.  And of course performers in Fursuit LOVE to perform, so we often ham it up around cameras.
-Do you have sex in those animal costumes?
Personally?  No.  My husband is not a furry, and I'm just not interested.
As one of my friends put it... "sometimes I just like to dress up and act like a tard with my friends."  Like cosplayers, most furries who dress up do so at cons.  There are lots of cons all over the world where furries can get together and share what they love.  We have variety shows, masquerades, dance competitions, and every con I have ever been to has had a parade where all furries with fursuits can parade through the convention space to show off their suits.
I am often blown away with what people do in costume.  There are some AMAZING dancers, some furries can play instruments in costume, and there is a furry in Japan who actually has a whole circus act he does in costume:
Outside of cons, some of us volunteer at various events.  I am part of a volunteer group called wild rose critters that goes to fun runs, community centers, car shows and other events to entertain kids.  We can be more cuddly and less scary than clowns, and we do so for free (which event coordinators love).  Sometimes we arrange get-togethers or photo shoots and walk around in public spaces, but this can be iffy depending on where you live as there are laws regarding full face covering masks in some cities.
It can be hard to show our reputation as interesting and creative and fun people when we constantly have to deal with media looking for a dirty secret to sell.  Even if we all try to be on our best behaviour, it just takes one person to ruin it for the rest of us.  We all have "that guy".... every fandom has "that guy".  He's the guy who looks weird and creepy and makes you feel uncomfortable... he's the guy who will tell you the nastiest stories just to get a reaction... he's the guy who doesn't understand social barriers and how to act in public.  Every fandom has one, and he's always the first one to talk on a TV camera or the first one you meet when you discover a new fandom.  Lots of times when I mention furry people will make that face and go "Eh... yeah furries.... I met a furry once, he was really weird."  That was the guy T_T  If only you had met some normal furries first.... however normal furries look just like normal people, so you probably wouldn't have even known.
One of the girls in my book club mentioned that my house didn't look like what she expected.  I asked if she was expecting tiger posters all over the wall and stuffed animals on every surface and costumes displayed all over the house and she went "well... yeah".  Sorry, I keep all my furry stuff in my studio, when I shut the door at the end of the day I am just an average seamstress with a lot of sticky rollers to keep the fluff off my clothes .
Furries do some awesome stuff.  We're all pretty creative people and we're all pretty open minded.  Our conventions always have a charity associated with them (some keep the same charity and others change every year).  Thousands of dollars are raised for important funds through generosity of furries (things like cat shelters, art galleries, animal preservation groups and even a local restaurant in Pittsburgh once got $21,000 from furries when an economic downturn meant he was going to have to close his restaurant.
5)   What is living in Calgary like?  Is the Canadian general public's perception of furries different from the American's or is it the same?  
I love Calgary, I've lived here all my life.  We've grown exponentially in the last 10 years or so thanks to the oil and gas industry, so we have a sort of rural charm mixed with an urban core.  Admittedly I'm a county girl at heart, I love rodeos and cowboys and other western things, and we get a lot of that in Calgary in July with our World Famous Calgary Stampede.  We also have a pretty great beef industry here so we make a really mean steak.
Calgary and Houston are often considered Sister cities, since lots of Oil and gas workers trek between the two cities for business purposes. We've also got a growing comic scene.  We host a huge comic con in April called the Calgary Comic and Entertainment Expo: www.calgaryexpo.com.
It grows bigger every year.  We doubled in size in 2012 when we were the first Con to host the ENTIRE cast of Star Trek TNG.  Now we average at around 60, 000 attendees.
We're also home to some really awesome comic artists like Cary Nord and Fiona Staples.
Perception of furries is pretty much the same here in Canada.  We get the same media coverage up here.
Europe has a far more open scene towards furries, but in general we're still not widely accepted anywhere in the world.
6)   What's the craziest commission request you've ever turned down?  What's the most common commission request you get?
Nothing too crazy... I had to turn down a commission for Metal Gear Solid's Raiden once.  I'm really not skilled enough to take on commissions with complex armour or prosthetics.  People assume if you make things, you can make all the things, but that's like asking a person who knits to make a patchwork quilt.... they are two different skill sets. 
The most common: Foxes and wolves.  Among furries, these are the most common animals chosen for fursonas.  Some commissioners get so sick of making foxes, they actually turn down fox commissions.  I don't mind making them, after a really complex commission, sometimes it's nice to do something basic.  I feel I could make a wolf in my sleep at this point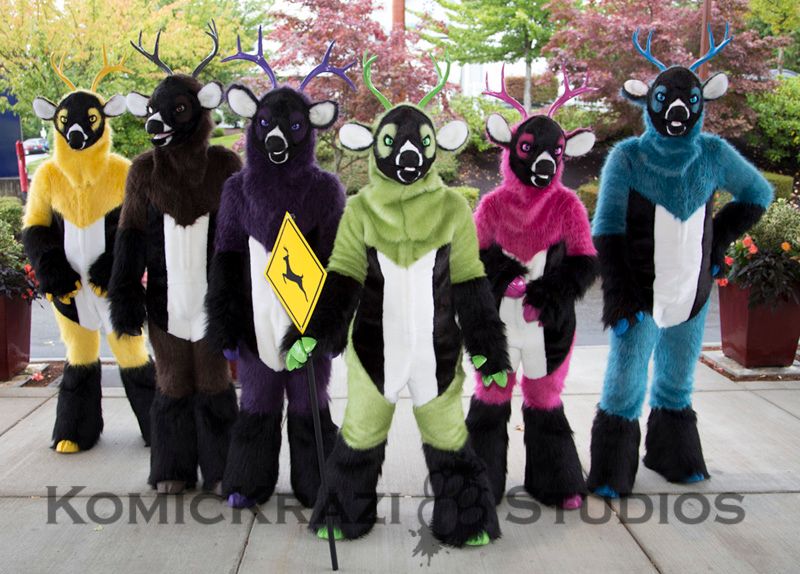 7)   You require a duct tape dummy for full fursuit commissions - how and why did that requirement come about?
It's almost standard to get a DTD for Fursuit commissions nowadays.  There are very few makers who will make a fursuit without a DTD.  For the most part DTDs remove all the error involved in measurements.  I hate to say it, but people can be pretty dumb when it comes to measuring.  They are too scared to try or they measure incorrectly.  Any mistakes the customer makes regarding their measurements will ruin the fit of their costume, and since faux fur is so expensive it's not something I am willing to risk.  A poorly made DTD is still superior to poorly calculated measurements.
Okay for our standard special questions we ask all of our spotlights
8)   What is your favorite word?
"Ermagerd!  Not exactly a real word, but I do say it a lot.
9)   What is your least favorite word?
"You know"... the ultimate filler word when you don't know what to say.  I find hearing "You know" over and over when someone is speaking to be very distracting
10)               What turns you on creatively, spiritually or emotionally?
Seeing really beautiful costumes/accessories or a unique use of an item.  They get me excited to try it out myself.  I go home from conventions especially powered up to make THINGS!
11)                What turns you off?  
Customers.  Okay okay, not ALL customers, but I do get the occasional one that makes me reconsider my employment situation.  Some customers have unrealistic expectations of costume makers.  We do our best but we're not mind readers... getting a costume made is a two way street, and a customer who is poor at communicating or overly demanding can be very exhausting.  A sour experience with a customer can really reduce the urge to create.
12)               What is your favorite curse word? 
I am rather fond of a 4 letter word starting with F.
13)               What sound or noise do you love?
The violin and the oboe.
14)               What sound or noise do you hate?
Squeakers... those annoying squeakers they put in kids shoes and dog toys.  They're really popular among furries as they let you "speak" without speaking.
15)               What profession other than your own would you like to attempt?
I really love what I do... I honestly can't think of any other job I could see myself in.  I might be willing to give it all up to be a chocolate taster.   
16)               What profession would you not like to do?
Anything involving food preparation.  I worked in a meat store for like a month.  Between washing my hands til they bled and my boss going "Bahh Bahhh!" as he cut up a lamb on the large meat cutter, I was happy to be gone.
17)               If Heaven exists, what would you like to hear God say when you arrive at the Pearly Gates?
Welcome home, now please enjoy our pillow forts and endless ice cream sundae buffet. 
And of course our special bonus question
18)               What item sends you as close to nirvana as possible and why?
Chocolate.  Chocolate in all forms  Why?  Because I'm a woman, dammit.


And a last look at some of Devon's prize-winning work.