We've come to our next interview and I'm bending some rules and indulging in some nepotism. But the timing is right and we thought it would make a good, inspiring read
We present Rick Gonyo aka Talondrago, owner of the costume company Designs by Talon.  



He's an atypical cosplayer in that he began at age 60 back in 2006 and managed to create a wide variety of outfits both within and outside the superhero genre.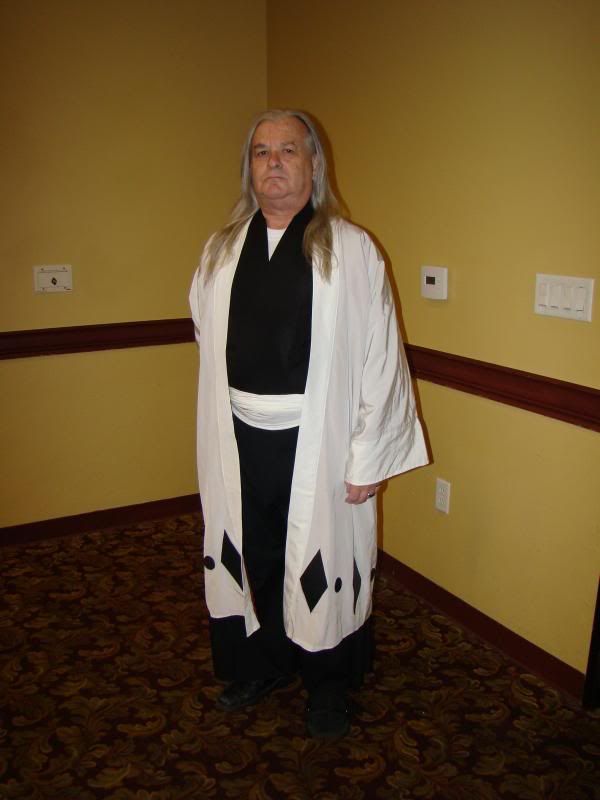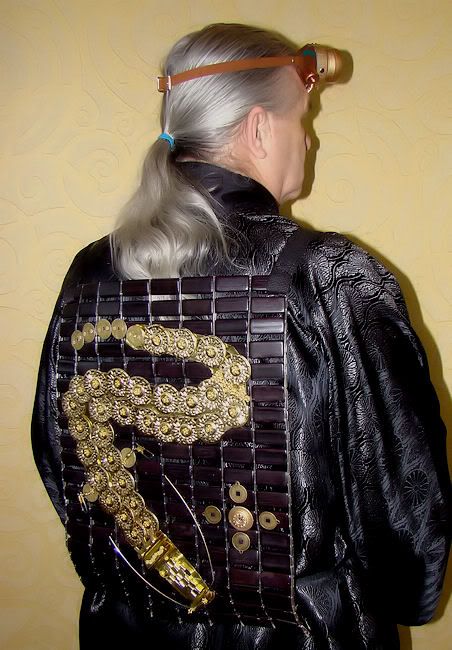 He starting parlaying his skills into the fashion world and has just recently launched during Austin Fashion Week his own fashion label, Elrick.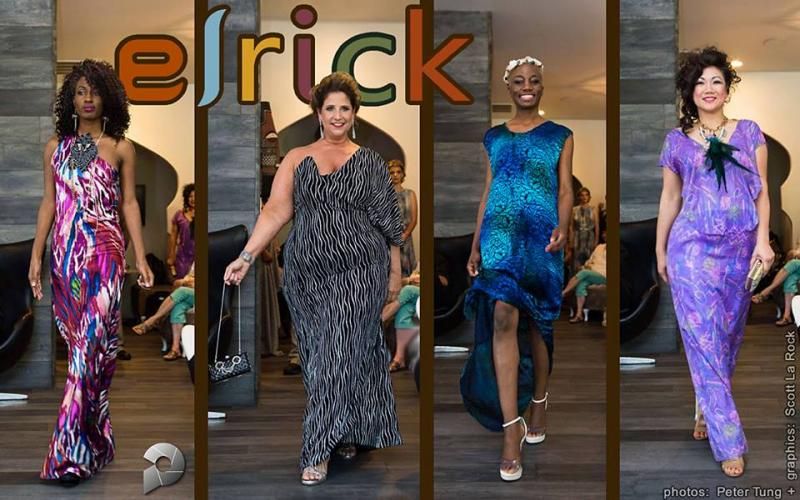 1)   We'll start with the standard question. Can you tell us how you came to costuming making and how you came to specialize in Asian garb?
When I first met Ming (aka Frank), I would go out to the Renaissance Faire with him. After spending over $3000 in costumes during the first year, I decided I better learn to make my own to save money.

As far as getting into producing Asian garb, there wasn't really any Asian historical work being made at that time by any costumer makers-definitely not in Texas. And anime was getting bigger and bigger. With Frank being Chinese, I badgered him to let me make him an Asian costume. He didn't want it at first since he felt, Chinese court clothes were so gawdy. But I got my way but I had to make a set for myself. There were no patterns available so I spent a year doing a lot of research online and saw exhibits and reverse engineered it as best I could. I started with paperdolls using swatches of fabric and then moved onto life size patterns. I did a mock run of an imperial robe using upholstery fabric and then finally the real ones out of silk and brocade. I even eventually made a Lady's robe for our friend Regan

We had premiered our Dragon robes at the Texas Renaissance Faire on the same day a wave of Chinese attendees decided to come. They were in imperial heaven seeing someone represent their culture. You would not believe how many were bowing to us.
After that, it was pretty easy to shift to Japanese, Indian and Korean.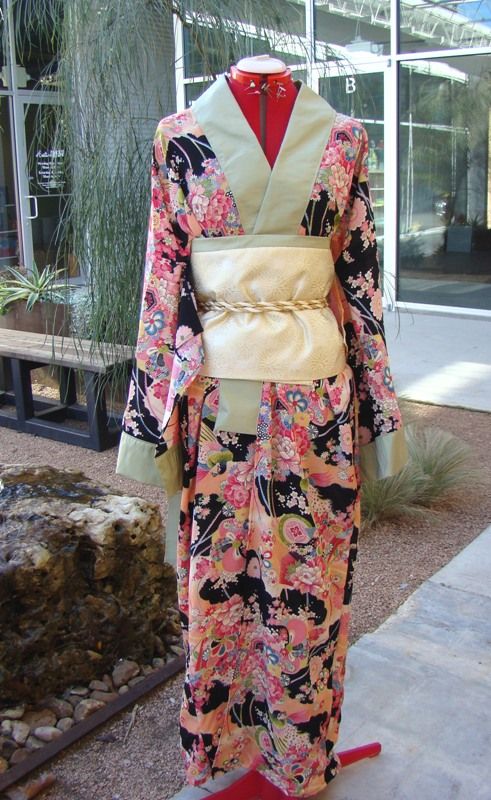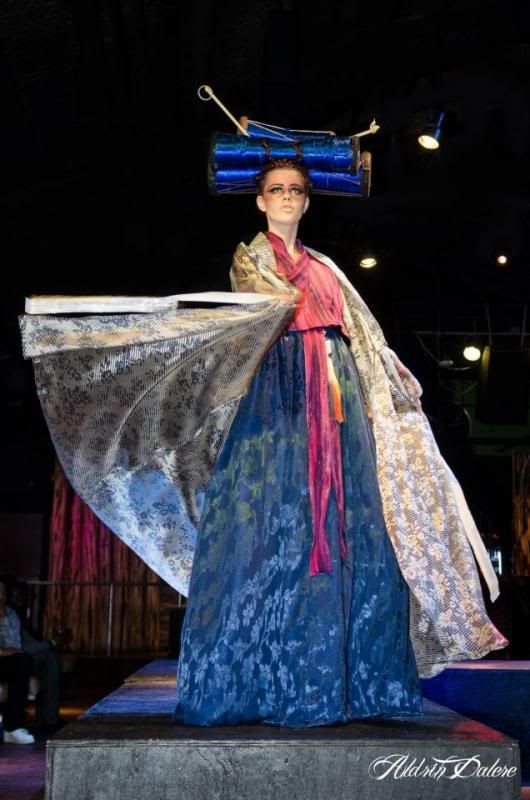 2)   How did you come to start cosplaying at age 60 and how did that feel? You're proof that you've never too old for this hobby.
It didn't feel like anything since I didn't feel like 60 at the time. I always feel like I'm me. I've never known an age that I was at. Getting into cosplay sort of all flowed naturally for me.

3)   Can you tell us about your training background and education?
My training background and education was in business. Before I became a designer, I was a facilities manager and did space planning for Compact and HP. It didn't have anything to do with sewing or fabrication. I am mostly self-taught with some a few classes under my belt.
I usually can figure out how something was made by looking at it. That's not just clothing. It also furniture and other things. I could build a house or at least I could tell you how to build it. 
4)   You've actually managed the rare feat of cosplaying an iconic character that has become closely identified with you. In fact you've done it twice. What has that been like and the people's responses to your Jor-el and William Hartnell Doctor Who?
Well Jor-el was planned for my first time going to DragonCon back in 2007.  I was very leery (and weary) about doing it but Frank kept encouraging me. So I went ahead with it and wore it in the parade. I had so many people come up and talk to me that I was able to relax and think, "Hey maybe this is going to work". Then I started wearing it to other cons and subsequently the people would ask, "Where's Jor-el? Where's Jor-el?" And then follow con-goers starting just calling me Jor-el.

And the other one is of course Doctor Who-the first Doctor, William Hartnell. That came about one year when we were attending All-Con in Dallas and we were asked to be part of a Doctor Who shoot. Frank said I could be Hartnell and we had enough to put something together quick and easy the night before. The reception was wild and phenomenal. Some people squealed with glee. They've never seen anyone do him nor have that cosplay in their group. They made such a fuss over me, I felt obligated to wear the outfit more and more often. I think I'm still one of the few, if not the only person, in the country (maybe the world) to do that particular Who cosplay. People started asking where Doctor One was. Years later I'm still doing both.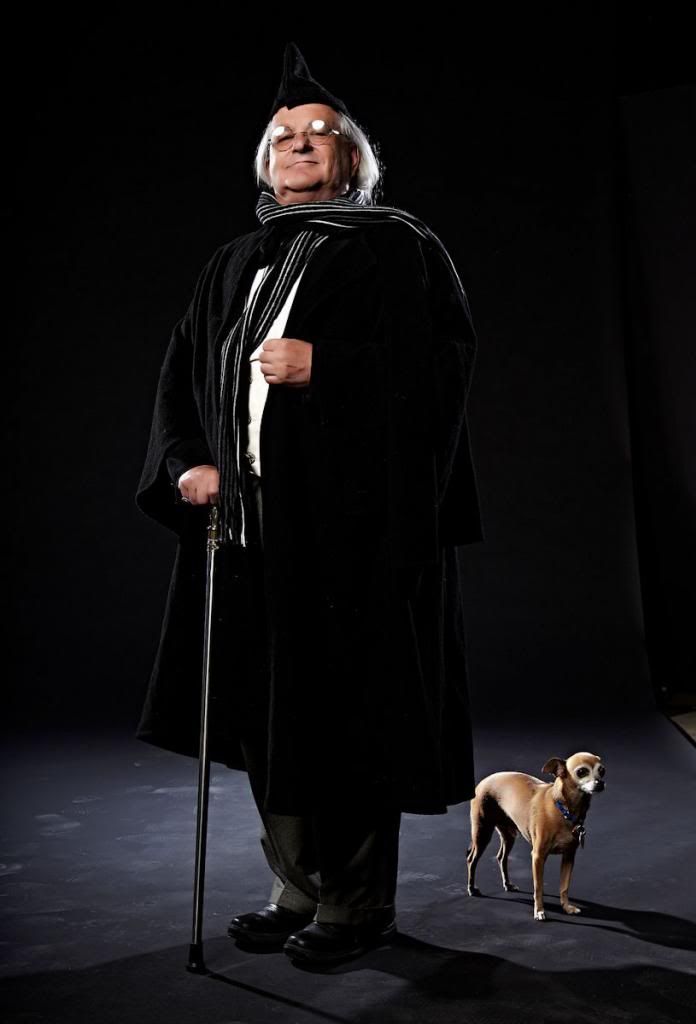 5)   Let's talk about your decision to transition into Fashion design and your brand.  
Well I wanted to learn design and more about sewing and fabrication. So I approached the head of the Austin School of Fashion Design, Mary Margaret Quadlander and she looked over some of my work and she okayed me enrolling in her school. So I started taking classes on patternmaking and draping. Of course at the school we didn't drape and pattern costumes. It was primarily women's clothing and I liked it. But I've done design work in the past with women's clothing in my head. In the past, I use to think I would design clothes for my wife. Of course that before I realized I was never going to have a wife…haha. Mary Margaret and I developed a deep bond and I eventually taught costuming classes at the school.

(from a student film project)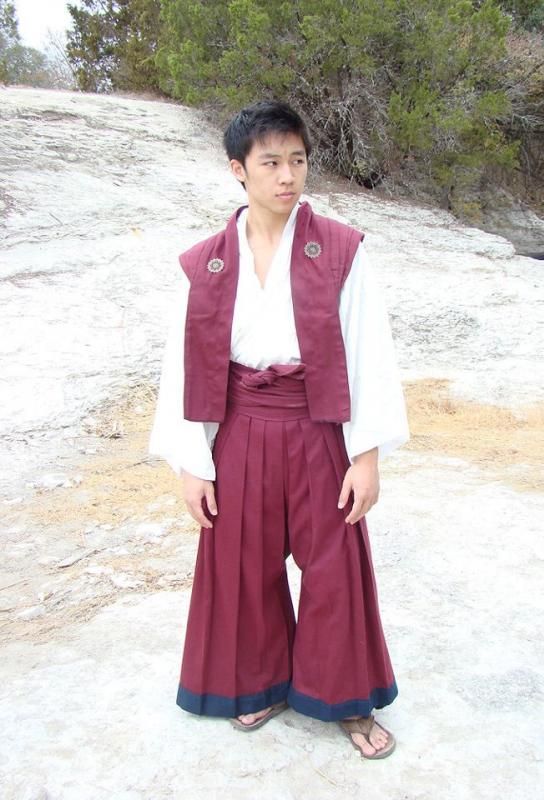 (Rick still dabbles in Renaissance Garb)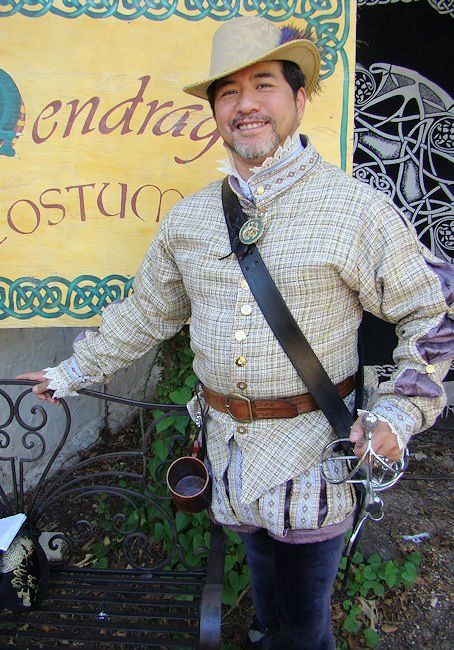 Anyway as time went by, fashion was the direction I wanted to go in. I'm not exactly sure when it happened. I think part of it was that we were specializing in the Asian costumes and at the anime conventions there are so many young people who cannot afford custom made pieces. So it became apparent that if I wanted to make this business profitable, I would have to get into modern clothing. So over the past few years I transitioned and thus the Elrick line was officially born this past April.
6)   Please describe your Point of View/Style when it comes to fashion design. What's your philosophy when it comes to fashion? Your relationship with your models?
My style is pretty eclectic but grounded in the traditional and historical. I have to be careful sometimes that my pieces don't look too costumey. I like formal and evening wear.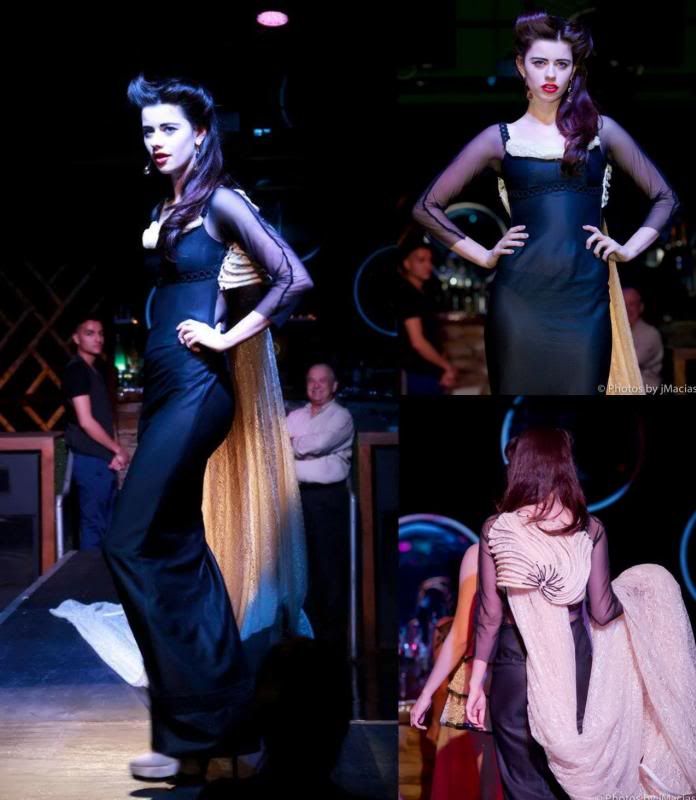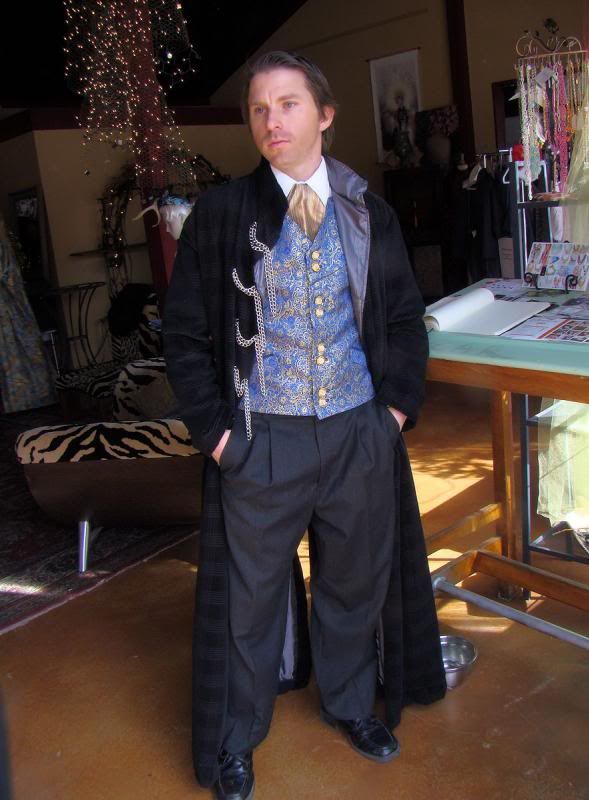 I believe the models are extremely important in showing off whatever it is I've designed. It can make or break you. They're critical in having your work received well. I really respect my models. I tried to select ones I genuinely like and that can inspire me. I tried to get to know them and many have become my friends. They're almost like my children. I'm very, very thankful that I have them since I know that they promote my name and my style-over the last couple years in particular.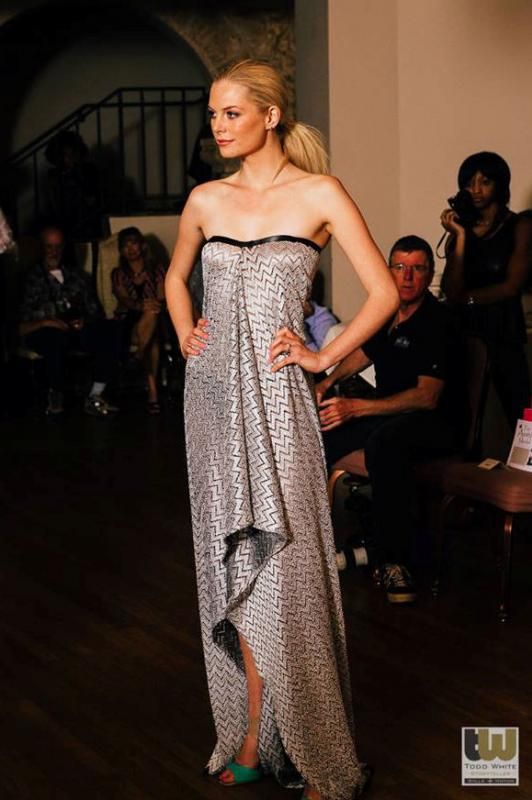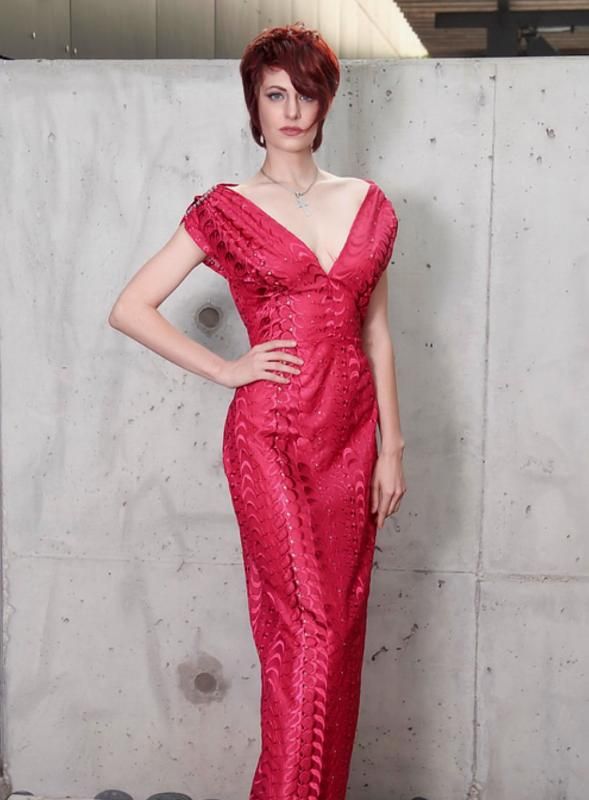 My philosophy is it's always important that the design is something I like. That it is truthful to me but I have to be careful to make it something people will want to buy. Therefore I try not to box myself in and make a point to watch what's on board and what's in and being sold. It's all part of the process of knowing what to make that men and women will wear.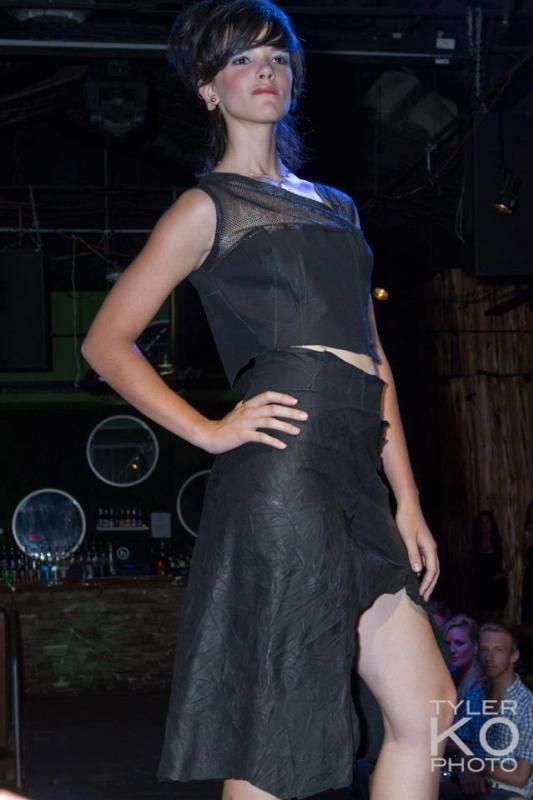 7)   Who is your favorite designer?
Oh that would be the wonderous Guo Pei! She is the top designer in China. Every few years she does an amazing avant garde runway. It takes them that long to make these elaborate gowns. They are incredible pieces of walking art. My dream is to have a runway like that one day. 

8)   What is currently in the works and goals for the Elrick company??
Well the goal of the company is to make it profitable. LOL. And at my age that's enough of a goal at this point. 

I'm actually working on a small line that will hopefully be taken to market for the spring season of 2015

9)   For those people who are unfamiliar, can you tell the readers about RAW, your experiences with the organization and how it could it be a benefit to costume and prop makers.
RAW ( http://www.rawartists.org/ ) is a platform that showcases an eclectic group of artists that include fashion designers, jewelry designs, make-up artists, painters, photographers, performers, etc. It's a very supportive and open organization for the independent up and comer. I think a talented costumer could present at one of their shows under the fashion section. Get several models dressed in their work and done up and have them walk a runway. It is a marvelous way to promote yourself and get work-getting your name out there and get better known. It's a good way to expand outside the cosplay world. You can get respectable paying work for costuming in film, theaters, university departments, etc. You just need to make contacts. There is a branch of RAW in almost every major city in the US, Canada, Australia and in London too. I certainly benefited from having a fashion show through RAW.

10)               You have participated in a number of costuming panels and mentored some costumers. How would you advise young cosplayers to incorporate fashion to optimize their costuming.
Well costuming really is fashion. It's just the costume you're wearing can be seen as from a different time or world.   I would say look how your clothes are made-especially the more formal ones. Just do the best you can but use the best fabrics that you can acquire. Don't skimp on the fabrics since that can make or break you. Don't try to take on a project you can't afford. Get to know good costumers, designers and people who understand fabrication. Try interning with them. A lot of people are happy to share their knowledge and teach. Don't waste time re-inventing techniques that have been around for ages. You will find there is not very much in terms of innovation when it comes to construction. Keep at it. It takes time and repetition to get good at anything.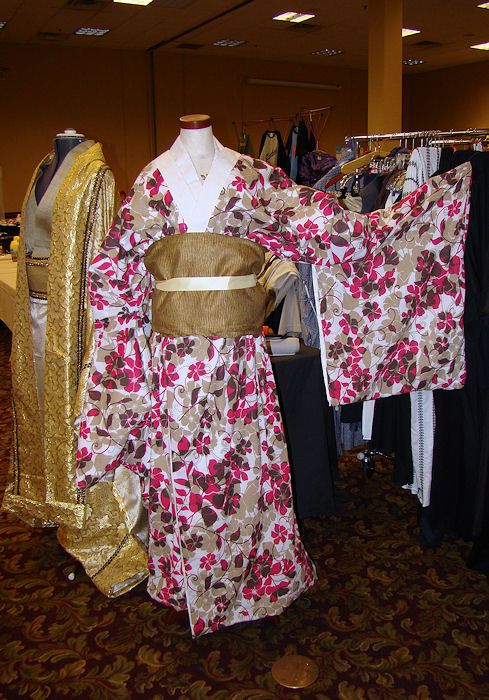 Okay for our standard special questions we ask all of our spotlights
11)               What is your favorite word?
Great. I honestly don't know why. It's something I keep using a lot.
12)               What is your least favorite word?
It is 2 words actually. Fuck you or fuck. I genuinely feel this gets overused in all its forms and permutations. Drives me crazy. It doesn't need to be used so much
13)     What turns you on creatively, spiritually or emotionally?
Creatively: It depends. For designing, it's always about the fabric. That's always been a major source of inspiration. When I touch it, I usually know what I want to do with it.


(a couple fabulously known models from our community)

Emotionally: That would be my partner, Frank. Or Ming. I like calling him that.
Spiritually: truthfulness. People who are true. Rules, traditions and such have their place but you have to be true to your beliefs. If I meet someone that seems to be real that really excites me and I want to be around them.
14)      What turns you off?  
People who force their own beliefs and ways onto others.  
15)       What is your favorite curse word? 
I don't know if I have a favorite curse word. But there are 2 that I use. First is "Shit +2 = 8". That's something my mother use to do to recover in front of us kids growing up. I've picked it up. The other is damn.
16)       What sound or noise do you love?
I love the birds singing in the morning especially at daybreak as they bring in the sun. It goes right through me. I love it. I also love the sound of rain.
17)         What sound or noise do you hate?
Really loud, noisy music like Metal.
18)         What profession other than your own would you like to attempt?
If I was younger I would be interested in architecture. I always had a love of buildings and I had an affinity for space and constructing   
19)         What profession would you not like to do?
Data entry. Anything with telephone answering
20)         If Heaven exists, what would you like to hear God say when you arrive at the Pearly Gates?
Well Done. 
And of course our special bonus question
21)         Tell us why about your favorite culinary or libation moment.
Ah that would Blanton's! Oh my god! Well it's a Blanton's that I love. The Special Reserve-the expensive brand.

 

I recall when I first tried some. You notice it when it hits your tongue. By the time it hits the back, it becomes heavenly. You get this wonderful feeling in your throat. It has a subtle, smoky taste. It's a bit spicy and makes you feel warm. It's not biting, it's just wonderful.



And for those interested there is footage of Rick work on the runway this past spring on youtube at 
 or embedded below