This current season, the SCF has made a point of featuring people with special backstories. Continuing that string of inspiring members with a special story, we have what may be arguably our best spotlight to date. Next up is Roberto Williams. His own bio sums up his story perfectly and way better than anything I could conjure up.
"As a NYC Department Of Education - registered vendor and Teaching Artist, he founded LION'S ROAR ENTERTAINMENT, and entered into the challenging and rewarding field of Arts Education.  Bringing excitement, and energy to his Performing Arts Programs, Mr. Williams introduced countless students to the artistic potential hidden within themselves, and gave them a sense of pride through their artistic accomplishments.
But in the wake of yearly public school budget cuts to Arts-in-Education programs nationwide, Roberto Williams and Arts educators everywhere watched in dismay as one of the greatest tools for the inspiration of young people to complete their educations steadily shrank.Desperate to provide one small solution to this problem for his own students, Roberto Williams collaborated and conceived an ambitious showcase of student talent: The dramatic stage presentation 'FATHERS OF THE DARK KNIGHT'!
Initially conceived of as a small high school production in October of 2011, Mr. Williams has steadily transformed the scope and scale of 'FATHERS OF THE DARK KNIGHT' into something that will become the new standard for excellence in student-produced theater.  And this sprawling real-life tale of three poor boys from the Bronx who create an iconic American mythology will serve as powerful inspiration to the production's youthful cast, crew, and audience!"
I said I couldn't make a better intro.

1)   Please talk about your background in performing arts and how you came to teach in the Bronx?
Well, as a life-long native of Brooklyn, NY, I spent nearly 30 years writing, directing, singing, and acting, in countless stage productions throughout New York City.  In 1985 I graduated from the LaGuardia High School of Music and The Arts here in New York.   Even though I studied as a fine art major, I held an equal passion for the performing arts, primarily in the areas of singing and acting.  Immediately after high school, I began film studies at New York's School of Visual Arts and continued to cultivate my crafts there, directing and acting in student films.  I subsidized much of my education by performing as a subway singer throughout the city.  That soon led to various engagements in clubs and open mics where I gained more experience in front of an audience. 
In 2003, I launched LION'S ROAR KARAOKE, a company dedicated to providing weekly karaoke event services to bars and restaurants around the city.  Along with my wife, I served as the show's MC and host, and performed as a singer regularly each night.  The show built a steady following and became very successful. Two years later, I looked to expand the company into providing other services for a different kind of clientele. I answered an ad soliciting the services of teaching artists that would be assigned to public schools around the city to set up residencies of after- school programs in the arts.  I was hired as an instructor of vocal music and was placed in a residency right away. I utilized my state of the art karaoke sound system equipment and song library as a teaching tool, and as a resource for putting on some tremendously exciting concerts and shows at many of these schools.
In 2009, I was invited to interview for a teaching position opening up at The Bronx's TAPCo (Theater Arts Production Company) High School.  I served as the school's Vocal Music / Chorus instructor, and produced several big concerts there.  I also assisted the Drama Department with the various musical stage play productions that were launched by offering my sound equipment and engineering services.  During a 2010 production of a gothic play called "The Vampyre", I began to feel the urge to write, produce, and direct my own stage play. I had no idea what the subject matter of the play would be, but it was that urge that eventually became FATHERS OF THE DARK KNIGHT.
2)   How do you get you get into Law enforcement?
My work in law-enforcement ran from 1996 to 2006.  It was work that I stumbled into as a means to make a comfortable living so that I could get married and build my home.  An acquaintance I had during the mid 1990's casually suggested that since my Spanish speaking and writing were both very good that I should look into linguist work for the Federal Government since they were looking for contract linguists.  I applied, took the exam, and was hired. I was immediately put to work in the FBI field office serving Brooklyn and Queens, NY as part of their Anti-Narcotics Safe Streets Task Force.  I worked as a linguist on Title III Federal wiretaps for narcotic cases where the target(s) was (were) Spanish-speaking.  I did this work successfully for ten years, travelling around the country and providing translation / interpretation services to the FBI, DEA (Drug Enforcement Agency), and ICE (Immigrations and Customs Enforcement).
But eventually, being away from home for long stretches took its toll. I had married my long-time girlfriend in February 2000, and I was spending increasing amounts of time away from her, working narcotics cases for the government. When 9/11 happened, the Federal Government's focus began to shift almost exclusively toward preventing another attack.  Suddenly, the "war on drugs" took a back seat to everything else in law enforcement, and I saw the writing on the wall.  I continued working for several more years, but was already making moves in other areas (once again in the performing arts) as a means to make a living.  Finally, in 2006, I left law enforcement permanently.  I converted Lion's Roar Karaoke into Lion's Roar Entertainment, and began my work in Arts in Education in earnest.

3)   Okay let's now go to "Subject A" and what inspired you to take on this amazing endeavor which has just finished its run.
Well… there's no easy way to answer that question. 
Suffice it to say that after spending six years working in Arts in Education, I was dismayed to see the budget for Performing Arts shrinking rapidly every semester.  As a result, teachers and students alike became increasingly frustrated in their attempts to create viable stage works with less and less resources every year.  Costumes, sets, props, and production values were dropping sharply across the board.  And each production was less impressive than the last.
I wanted to address this troubling issue for my own group of students, by creating an ambitious production that would feature high-end production values in as many areas as possible.   I knew that such a project would be time-consuming and expensive, and that it would be vital for me to select subject matter that would emotionally excite me.
As a fan of the genre, I right away zeroed in on a comic book character-based production!  Initially, my plan was to bring The Man Of Steel, SUPERMAN to the stage in a simple, hour-long, school play. Obviously, those plans changed dramatically. LOL!
As an educator, I had another ambition. I wanted to mix seasoned adult actors into the cast of a play featuring my student actors in order to provide them with the enrichment of an experience that was as professional as possible.  
4)   How did you come about developing this particular script. As a fellow comic book fan, I think this is a wonderful idea for a play. When did you decide to include live versions of the comic book characters into Act II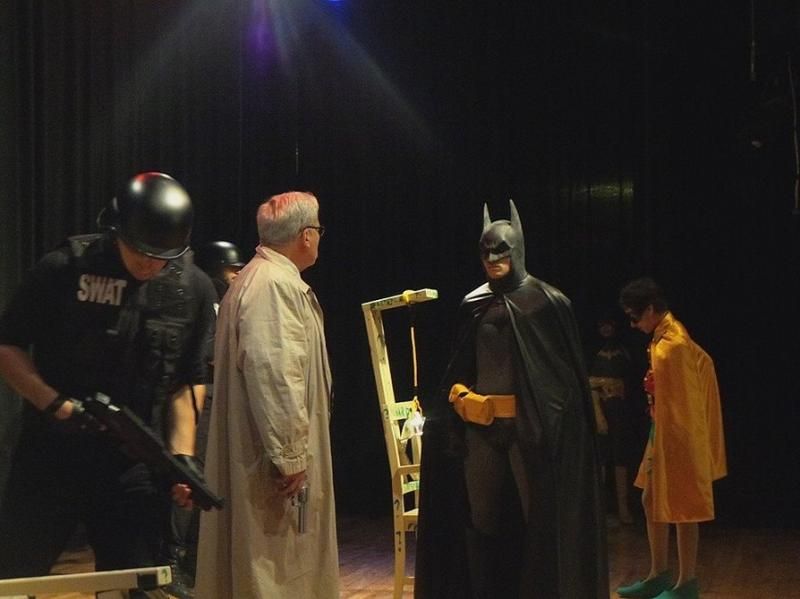 Well, to be clear, the live versions of the comic book characters do not appear ONLY in Act II.  They are actually featured throughout the entire play.  The original concept of the play was a straight production of The Batman story from start to finish.  It was the biography tale of Bob Kane and Bill Finger that was added later to the concept.
But to answer you initial question, this script is the product of two solid years of writing and revisions. It took the form that it did as a result of me trying to come up with a way of making our play concept idea "acceptable" to a school administration that was increasingly becoming intolerant of ANY stage production that was not focused on the works on Shakespeare, or any of the American "classics" studied in English class, or any of the countless re-hashes of standard musicals seen at every High school. The subject matter of productions at our school were gradually being forced to rigidly fit into the Dept. Of Education's "Common Core Standard", leaving very little room for any non-approved ideas.  Certainly, Superheroes and the comic book genre were considered "juvenile" and not a part of the accepted education standard. 
There was also the school system's omnipresent fear of litigation from irate parents to contend with.  School productions had to be nice and "safe" and conform rigidly to sterile standards set by school administrators.  It would not be acceptable to take a chance on upsetting a mother whose teenaged daughter might be considered "sexy" while wearing tights in a school play (therefore, no Catwoman!).  Meanwhile, the Dance Department students would routinely be called upon to perform recitals at the school while wearing their own dance tights that were IDENTICAL to anything Catwoman might be wearing as her costume.  In fact, the dance tights (in many cases) were flesh-colored and CERTANLY more revealing than the final uniform I had designed and fabricated for Catwoman.
If a stage play featuring a comic book character was going to be accepted by the school administration, I knew I was going to have to come up with something that had an educational angle.  I decided that my tactic in accomplishing this would be to come up with something "topical" and relevant within the play that would link it to our school and our students.  That was when I came up with the concept of incorporating the biography portion of my script featuring The Dark Knight mythology's "fathers" Bob Kane, Bill Finger, and Jerry Robinson.  This was the story of three young guys from the Bronx (just like most of our students) who, despite their poverty and limited resources, managed to create an enduring American mythology, popular around the world.
Once I decided to include it, I always intended to have the biographical portion of my script be the emotional foundation for the play.  The fantasy character vignettes were envisioned only as "colorful diversions" away from the larger true story.
However, as the script developed, the dominant emphasis between biography story and fantasy vignettes shifted radically back and forth.  In the end, it finally settled slightly in favor of the fantasy, I think, mainly for the sake of production value and spectacle.
As the script went through re-writes (six of them!), it became harder and harder to minimize the comic book mythology portion of the show due to its built- in fan appeal.  Admittedly, I became influenced by the exciting prospect of seeing these characters represented bigger than life on stage, with their various gimmicks and characterizations as seen in the comics.
Simultaneously, it became pretty clear to me that the average audience member knew virtually NOTHING about Bob Kane, Bill Finger, and Jerry Robinson.  As a playwright, I knew that I had no audience expectations to contend with regarding those three figures.  And unlike the iconic fantasy characters, I did not feel the obligation to cast actors to match any particular physical "type", nor ensuring that I matched the cadence of the style of speech, dress, movement, etc. of the real-life historical figures.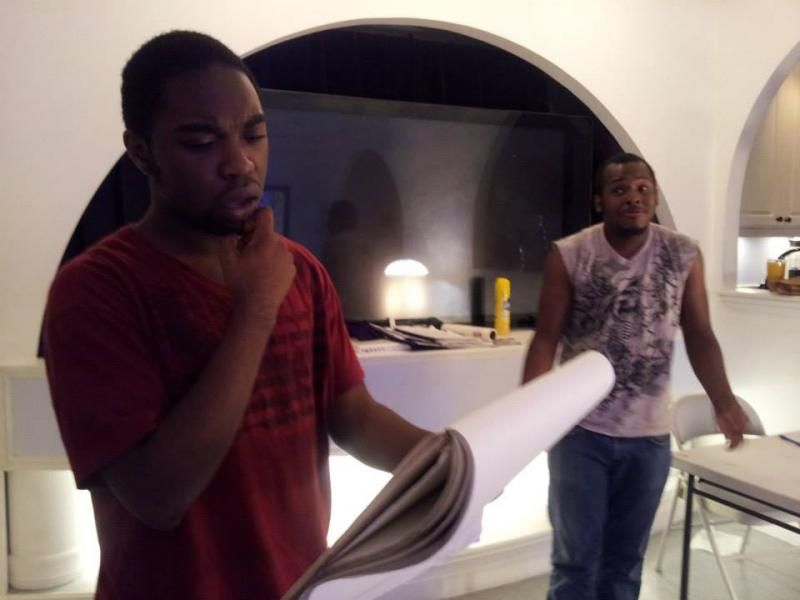 What was ultimately MOST important to me was that I tell the story of what actually happened back in 1939 as accurately and truthfully as I could, based on the research I had done prior to writing my script.  With the limited documentation and (often conflicting) accounts of the lives of Bob, Bill, and Jerry, an occasional dose of creative license, extrapolation, and educated-guessing was employed when writing some of those scenes.
But audiences are going to see that the intersections between fantasy and biography happen immediately in this play. It became my basic approach, to use the biography scenes of my story to raise interesting questions about the creative process of these three enterprising young men. Immediately afterward, I offered glimpses into their fertile imaginations by presenting fantasy vignettes that, in most cases, directly addressed those questions.
The result became rather like the structure of a musical piece that introduces an inquisitive theme, and then concludes with a differently-toned response that is designed as a satisfying conclusion.

 
5)   Let's talk about the whole process getting the show off the ground. I know it was quite a feat to try to independently produce such an event. You basically did everything-not just designing/creating some excellent costumes but sets, direction, the whole shebang.
Whew! When you describe it that way, my head spins… It's almost like an out-of-body experience now. From my current perspective, with all of this work behind me, it somehow seems to have all been done by someone else… certainly not some 46-year old schlub from Brooklyn. LOL!
But now that the play has officially had its first run, this is a question I get asked a lot.  Honestly, it is a question that I can only adequately answer by saying "I put blinders on and just got to work".  What I mean by that is that throughout this journey, I made the conscious decision to make myself tunnel-visioned… to focus fully and completely ONLY on whatever was in front of me.  The play became all-consuming of my time, thoughts, and energy. I think the downfall of many projects of this magnitude is when the artist allows himself to become aware of the entire thing at once.  It becomes too big, too overwhelming, and too intimidating. But by working steadily on ONLY on the task in front of me, FOTDK became a series of manageable projects.  After 2 and a half years, I had built a pretty impressive body of work and was ready to take the stage with my team.
The hours working on this production were long and solitary, particularly the writing of the script.  I found it helped to work mainly at night when there were the fewest distractions, but very quickly the obsession drove me to work during the day as well.  Within a month of definitively deciding to produce FATHERS OF THE DARK KNIGHT, I was working an average of 18 hours a day on it.
Naturally, I had a LOT of help and assistance along the way while producing FOTDK. First and foremost was my wife who put up with a tremendous amount of difficulty while this was being produced.  There were also my personal assistants, Alaja DeSilva and Charles Grant, who basically were on hand to handle everything for me that I could not handle myself because I was too busy writing another draft of the script, or making costumes, or spray painting one of Batman's Bat-a-rangs, or designing a set…
Looking back on this entire process, it strikes me how unconventionally everything was done and put together. Costumes and props were being designed at built long before the show even had its official name!  Rehearsals began in earnest before the play was even fully cast… before the final draft of the script was even written.  Three months before we raised our curtain, we lost the college theater space venue that was pledged to us to perform the play.   After making a few inquiries, I managed to secure the Walter J. Degnan Grand Auditorium at the DeWitt Clinton High School.  This was the alma mater of Bob Kane and Bill Finger themselves, BOTH graduates of the class of 1933!  One month after that (two months prior to curtain), the student actor who was portraying The Batman in our play dropped out of the production, forcing a frantic call to re-cast the role.   Major show props like the Bat-Signal and The Joker's 13-foot tall cruise missile were still under construction mere days before our first curtain.  The finished Playbills were delivered about 2 hours before the start of our preview performance.  At times, this entire process felt as if we were all on a runaway train, and the tracks were still being built in front of us!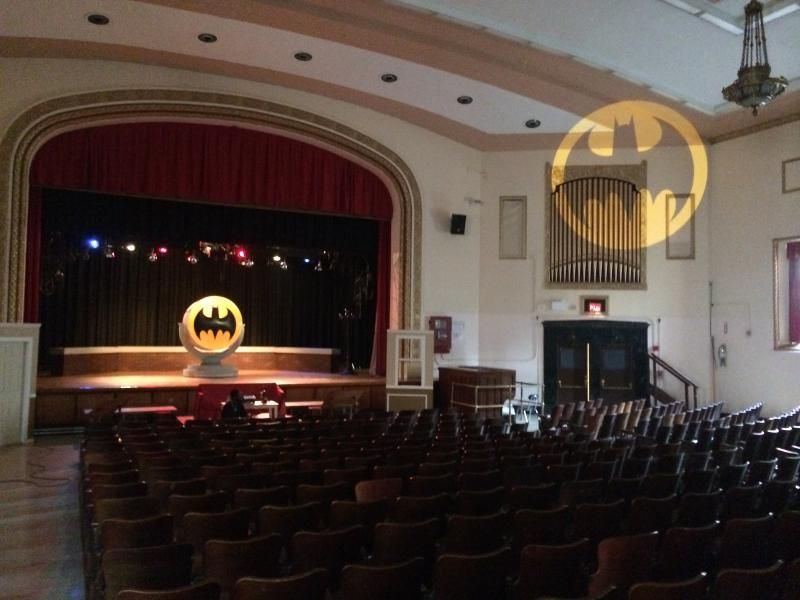 But despite all this, I would say that what ended up on the stage was approximately 90% of what my original vision was… which was far more than I expected after the difficult trials I experienced putting all of this together.
I get asked a lot about the production value of this play (sets, costumes, props, etc.), and how I came to put it all together.

 

Well the truth is, these things also fell into the category of production areas that I forced myself to be tunnel-visioned about when I worked on them.

 

Any other approach, and I think I would have run for the hills over big and impossible it all seemed!
An interesting note that I can share about the development of the COSTUMES is that back when this play was envisioned as a Superman production, I quickly saw that the estimated high production and liability insurance costs of even a modest production made it impossible to even consider on the school level.

  

This was due mainly to the fact that Superman is a super-powered hero who is capable of flight and amazing strength. The representation of those powers on stage would have required resources (like a flying rig and harness for actors) that we simply had no access to financially.
Not wanting to abandon our comic book-based stage play idea, the conversation between myself and the students quickly turned to producing the exploits of another comic book hero on stage… one with no super powers (and therefore less requirement for expensive practical effects).

 

The Batman… my personal favorite hero… and a favorite of most of the students as well… became our logical choice.
We became excited by the idea of adapting The Batman's minimalist approach to crime-fighting to the economical theatrics of stage (Eg: use of lighting, shadows, steam/fog, etc.) 
When it came time to consider costuming, I felt that simple, cheap, store-bought costumes were NOT an option for what I wanted to produce.  I was also not interested in any of the re-imagined movie-based versions of these characters wearing costumes that featured black rubber armor and the like.  At the time, I operated under the assumption that I had something of a "head start" when it came to the fabrication of The Batman and Robin's costumes for this show.  As a film student back in the spring of 1988, I had actually produced a Batman film at the college I attended.  The original costume pieces had been stored away somewhere in my archives.  I reasoned that these garments could be recycled for the proposed play, eliminating the need (and the cost) of fabricating them again. 
But when I surveyed the old costumes, I was disappointed to discover that time had NOT been kind to them. They had basically decomposed to the point of being completely un-wearable!
The costumes would have to be fabricated from scratch after all.
Not one to be easily discouraged, I took this setback as an opportunity to re-imagine and improve upon the costumes that I had created more than 24 years before, fabricating them to be tougher and far more durable, and to have richer, more elegant textures for use on the stage and for live, up close scrutiny.

  

At the same time, I worked to be supremely faithful to the designs created by The Dark Knight's fathers back in 1939 and beyond.
The task of designing the costumes was quite involved, and it was a process that I chose not to delegate to someone else.  As a Batman fan, I was keenly aware that what would be defined as the "optimal" or "definitive" versions of these characters' outfits was a very subjective thing.  FATHERS OF THE DARK KNIGHT would need to present these characters in a way that reflected my own sensibility and visual palette. 
I immediately imagined a bold approach to costuming… one that featured the primary colors of the comic book world leaping out dramatically to grab the audience during the gloomy, smoky, and shadowy fantasy vignettes. Even with the play not addressing the mechanics of costume design in great detail, I nevertheless wanted to approach the likely thought process behind the costumes in a way that was logical, and very character-based.

 
There was one issue that I was wary of regarding the presentation of characters in spandex tights.

 

Obviously the actors would all have to undergo rigorous exercise regimens to look their very best in these form-fitted garments. But the thing that concerned me most was my DESPERATE preoccupation to avoid the cheap-looking "Halloween costume" sheen of lycra spandex in all of the related characters.

 

Other (low-sheen) stretch fabrics did not offer the primary color assortment nor the color vibrancy of lycra spandex.

 

So my solution to this problem was to fabricate the tights for ALL the characters with the dull side of the lycra spandex fabric facing outward. To my eyes, this would make a tremendous difference in the "legitimacy" of the characters' final looks on stage.
VILLAINS:
The costume design specifics and color palette of the villains were all very strongly defined and established by comic book history.  I therefore saw no reason to tamper with nor re-invent them here. 
The Joker and The Penguin were both dapper, elegantly dressed, tuxedo villains with touches of gothic old-world flair to their style as evidenced by their use of top hats and sombreros, walking cane and umbrella accessories, dress vests, and spats.   My only costume design considerations in their regard were in the area of fabric texture choices that would allow the garments to catch light in an interesting way for the stage. 
The Riddler was created by Bill Finger as a manic, zany character in tights.  This concept has been re-examined with great popularity in other media as an arrogant cerebral narcissist in a garish green dress suit and bowler hat.  I found both versions of the character effective for the story I wanted to tell, but I decided to be faithful to Mr. Finger's original concept and to keep him in his original tights.  With two of the other major villains already wearing suits, I felt it was not necessary to have a third.  However, as a nod to the more dapper concept of the character, I added the Kelly green bowler hat accessory to The Riddler's ensemble with great effect.
With the introduction of Catwoman in this play, I made the creative decision to feature her slinky, sexy, purple catsuit and cowl as introduced by Jim Balent in the 1990's.  The impractical costumes worn by the character in the Kane and Finger age, and the all-black, wet-look stretch vinyl outfit she is featured in currently in the comics were never even considered.   As I saw it, at her core, Catwoman is intended to be an alluring vixen irresistible to men.  To me, that meant an approach that showcased the sensuality of the athletic female form… something that seemed to be absent from all of the early costume designs of the 1940's. And with my focus on bold COLOR for the fantasy vignettes, the current all black uniform would prove difficult to see on stage.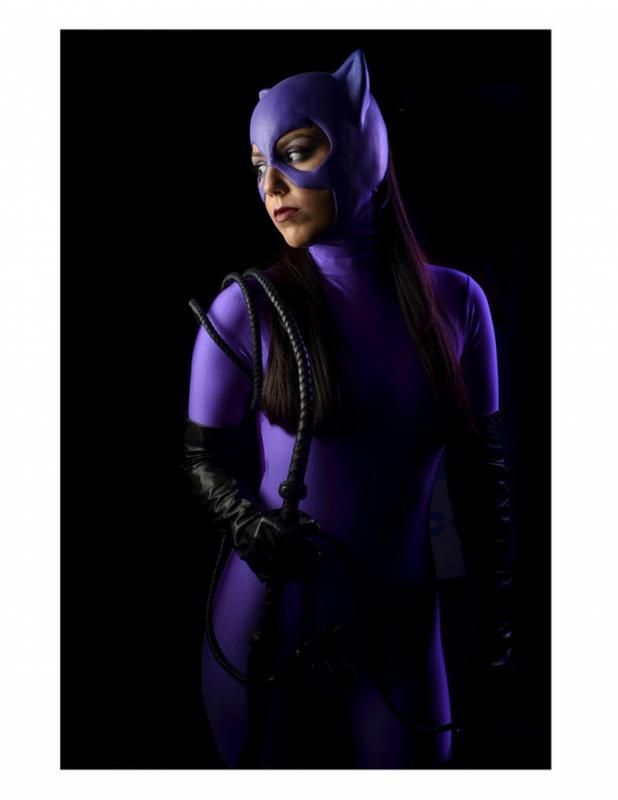 HEROES:
Clearly, The Batman's costume was going to be a very important aspect of this play. It had to immediately feel real, legitimate, and it had to illicit the proper mood and tone when first glimpsed by the audience. It was going to need to accept stage lighting well, while not coming off as a cheap, garish Halloween costume. The outfit's textures were going to require special attention so that it would feel rich, elegant, organic, and powerful.
My approach to the The Batman's overall costuming philosophy was that Bruce Wayne intended to frighten criminals while striking at them from the dark shadows. The only touches of vibrant color on the uniform (chest emblem and utility belt) would be strategically intended to be seen even in low light. This gives the uniform some contrast and visual interest, rather than being monochromatic and dull.  I was of the opinion that the royal blue seen in comics for decades as The Batman's main costume pieces were actually always intended to be black.  In Bob Kane's earliest renderings of The Batman, the blue was actually represented as highlights on shiny black garments.  Yet somehow, over the years, the blue became more and more dominant.  But it seemed logical to me that BLACK was always the intention for a mysterious figure who would stalk from the shadows.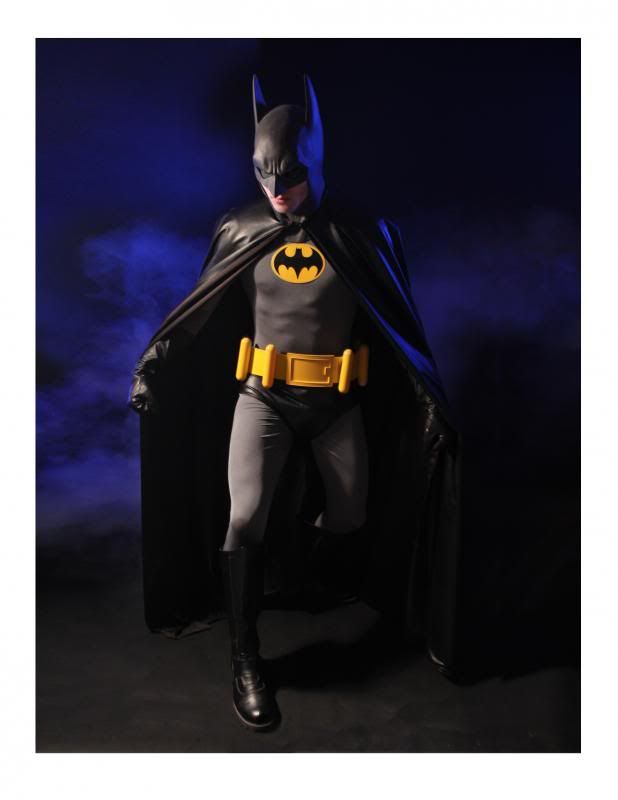 Also, I wanted to approach the Batman's uniform with THREE basic prescriptions in mind:
1) Para-military survival gear combined with…
2) Primitive, tribal natural organic textures combined with…
3) Stately old-world gothic tone
For the para-military side, I designed the all-important yellow Utility Belt to appear as a bulky, (but neatly organized) collection of ammunition pouches and high tech vials containing The Batman's myriad of weapons and urban survival crime-fighting gear. I wanted it to look big, well-stocked, and slightly dangerous.  Since The Batman as I would portray him focused more on his Martial Arts training, fighting skill, and detective ability, I wanted a belt that would heavily suggest some of the gadgets that would become part of his later arsenal.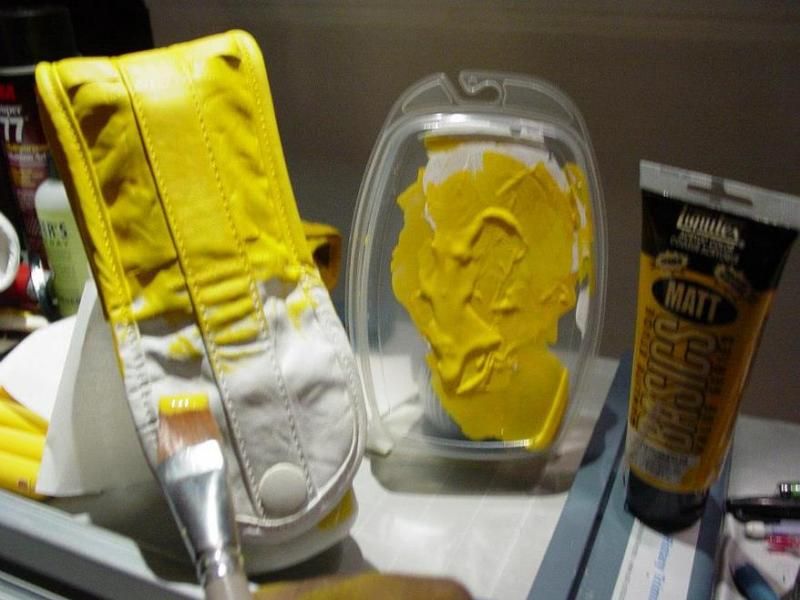 For me, it is the primitive, tribal aspect of the outfit that holds the most fascination, and appeal.  When dealing with this costuming mind-set, I imagined the approach of a fierce, tribal warrior: A large BEAST has been vanquished in bare-handed combat, and the human warrior now wears its outer hide as a symbol of his own fighting prowess. The cranium and upper jaw of the animal is worn as a headdress, with only the lower half of the warrior's own face exposed. The warrior honors the spirit of the fallen creature by wearing its skin and fighting on...
This primitive approach inspired me to look at the Batman's costume mostly in terms of organic textures like leather. In my mind, the bat-cowl, cape, gauntlets, trunks, and boots would ALL need to share an identical black leathery texture. By contrast, the accents of color on the uniform (chest emblem and utility belt) would need to feel manufactured and synthetic. The skin-tight charcoal grey (middle ground) body suit bridges the two worlds by appearing not quite synthetic and not quite organic. But my color palette and texture choices were also firmly dictated by my desire to stay true to the costume of the comics and to preserve the visual contrasts. Going with an all-black armored body suit (as is typically done in live-action Batman films) was not an option for me since it would only make the character mono-chromatic and very difficult to see on stage.
In order to lend the character the stately, old-world, gothic flavor that I thought was necessary, I paid special attention to the silhouetted outer contour of the assembled costume. The figure's lines would need to be razor straight, emphasizing a powerful vertical force that was bigger than life. The long ears of the Bat cowl and the fanned-out lines of the cape at rest were intended to give the character height, power, and a Dracula-like presence.
Robin The Boy Wonder's costume and character design was based off the concept of a "laughing daredevil"… a "reckless little squire to a grim Dark Knight".

 

The bright colors were intended to reflect the character's circus origins.

 

Those descriptions conjured up some very strong images in my mind… virtually NONE of which I had ever seen (nor heard addressed) in ANY medium outside the comic books!

 

I had absolutely NO HESITATION in presenting Robin as an 11 year old little boy, wearing a brightly-colored costume based on the Old English heraldry of Robin Hood.

 

I always found the Boy Wonder's original costume design to be elegant, exciting, swashbuckling, and most appealing in its reference to a bygone era.

  

The costume fabricated for this play was richly fashioned mostly out of various leathers (the face mask, tunic, utility belt, gloves, and shorts) to reflect the logic of some mild protection offered against sharp slashing or stabbing weapons.

 

The flowing silk cape with the sharp dress collar was always one of my favorite design elements of this costume, and it is faithfully represented here… once again, recalling the dress garmentry worn by knights and squires as they gallantly headed off on horseback to do battle in defense of their king.

 

Even the "R" monogram logo on Robin's lapel reflects the use of family crests and markings on the garments and shields of medieval warriors.

 

I even paid special attention to the FONT of this insignia, ensuring that it reflected a clean, formal elegance.

 

In a nod to Burt Ward's costume logo from the 1966 Batman TV series, the identical font was chosen for this costume.
Once I completed the Dark Knight's costume for this production, Batgirl's uniform became a simple matter.

 

I essentially duplicated all of the textures and colors from his uniform into a uniform that was customized to fit a teenaged girl.

  

As a character, Barbara Gordon basically attempted to copy The Batman's costume for herself, so this was an approach that seemed logical to me.

 

Along those lines, I found it logical to, once again, avoid the royal blue of her cape and cowl (as seen in the comics) and instead go with black.
The SET DESIGN & CONSTRUCTION for this play proved to be a pretty massive undertaking, just as I instinctively knew it would be when I conceived of this production.  I began designing the sets for FATHERS OF THE DARK KNIGHT even before I sat down to write the script.   I had very strong images in my head for the final look of this play, and some of its signature moments.  As a result, my original designs were very ambitious approaches to environments that would be featured throughout the show. 
However, as is the case with any venture of this size, eventually economics and available stage space dictate what is possible and what is not.  I am most gratified that the sets still generally appear as "elaborate" to the audience (as they have related to me), because in virtually every instance, major compromises to my original designs had to be made.   Bob Kane's Bronx Apartment went from being a three-walled, fully furnished environment, into a permanent, sparsely furnished space off the stage.  The Iceberg Lounge originally featured giant, art-deco penguin and iceberg-themed flats, decorated around a grand circular stage and four round candlelit cocktail tables.  By showtime, the flats were gone, the circular stage was gone, and the cocktail tables had become two instead of four.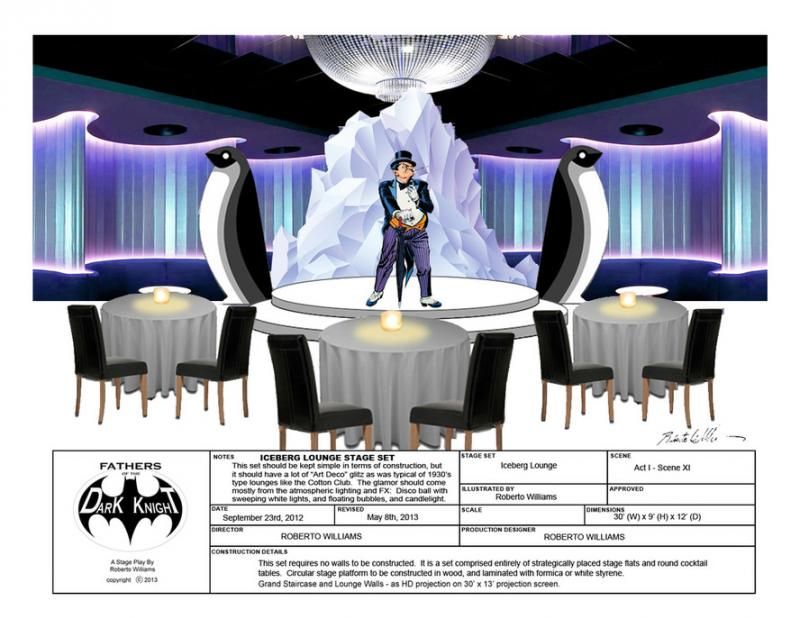 But in the grand-tradition of theater, these compromises in the set details came with compensations in the form of "smoke and mirrors" and clever lighting.
One of the delightful surprises for the audience was the appearance of the giant Bat-Signal stage prop at the opening of Act II.

 

That prop really excited me to design and construct for this play, and it was one that I envisioned from the very start.

 

Before I even gave this production its title (back when it was just loosely referred to as "The Batman Play"), I had a strong sense that a Bat Signal scene was going to be included.

  

As a Batman fan, I have always loved the concept of Gotham City's gruff Police Commissioner Gordon, standing on the roof of Headquarters, summoning The Caped Crusaders with an old Bat-retrofitted anti-aircraft searchlight.
I began doing research very early on and gathered up as many reference photos as I possibly could of the old General Electric and / or "Kleig" searchlights used by the military in WWII.  My initial thinking was that I would need to build a cosmetic prop (to size spec) that could light up on stage, and manually pivot and tilt.  A simple projector with a specially-prepared slide would provide the dramatic Bat emblem image sweeping over the auditorium walls and ceiling.   
To make this big prop as lightweight and manageable as possible, my preliminary specs called for it to be scratch-built out of coated Styrofoam.  However, the price quotes I solicited indicated that the styrofoam fabrication costs were far beyond our budget, and the resulting prop would have been very fragile.
For a while, I actually considered purchasing the shell of a real GE searchlight from an Arizona scrap yard that specializes in their restoration. Unfortunately, the 60 inch main reflector alone (even as a gutted shell) weighed in at approximately 1000 lbs (!)… definitely NOT appropriate for a simple stage prop that would need to be moved around and assembled / disassembled quickly.
In the end, I brought my schematic drawings and plans over to the kind folks at Ace Wood Turning in Brooklyn NY.  They were able to faithfully translate my designs into an 8-foot tall working stage prop, expertly fashioned out of solid wood!  The Bat Signal was even built as a rolling prop, manageable by just one person… two for assembly and disassembly! 
Another stunning stage set prop was The Joker's 13-foot tall cruise missile, featured during the play's finale.  It took a lot of effort to locate a base tube of that size for the basic missile fuselage.  In the end, I used a thick cardboard 24 inch diameter "sonotube".  These tubes are typically utilized as molds for making rounded cement columns.  Using large sheets of high impact styrene, I created the missile's nose cone warhead and the stabilizer fins.  I initially allowed all villain stage props to be decorated by the actors portraying those character.  However, we ran into an interesting situation when it came to the decoration of The Joker's missile:  Ryan Dempsey, the supremely talented young actor who played The Clown Prince Of Crime had actually been heavily influenced to become an actor after seeing Heath Ledger's performance as The Joker in Christopher Nolan's "The Dark Knight".  Not having been exposed to the more traditional versions of The Joker as seen in the pages of the comics or on Batman: The Animated Series, he was not really aware that Ledger's approach to the character was a complete re-imagining.  Therefore, when he went to decorate the missile prop, his approach was to create random graffiti markings with a red spray paint can.  It was an approach that perfectly reflected the "anarchy punk" portrayal that Ledger performed for the character, but it did not reflect the more traditional dapper, vain, psychotic (of the comics) that I wanted the character to be in this play.
The Joker that I imagined would have made markings on the rocket that were far more defined, readable, and artistically illustrative:

 

I imagined "anti-Batman" references sprinkled throughout the fuselage (a Batman stick figure hanging in effigy, a Bat-emblem logo with a circle and line through it, etc.).

 

I saw playing card references in the design as well (hearts, spades, clubs, and diamonds).

 

Of course, the mockingly obligatory "Ha, ha, ha's" would need to be incorporated everywhere.

 

And I wanted all of this to be the accents around a huge, red-lipped toothy grin rendered in the bottom portion of the missile!
For our premiere performance, Ryan had decorated the missile only a few hours prior to the start of our show.  Even though it was not the approach I wanted for the prop, it was too late to do anything about it.  But for our third and closing performance, I was determined to get the missile's markings correct.  I instructed Ryan to re-paint the fuselage in its military olive green base color in preparation for new graphics that I thought would be more character appropriate.  Days prior to our closing performance, he tried his best to convince me to leave the missile the way it was, as a reflection of the chaos that he enjoyed most about the (Ledger version of the) character.  When that did not succeed, he tried to convince me to allow him to do the new graphics with a red spray paint can (just as before). Again, I refused.  I explained that the markings I intended for the missile required the use of a hand paint brush for better control of the art… NOT a spray can! I told him that the missile should appear Joker-customized… not vandalized  Once again, the performance day was upon us, and once again, the missile would need to be decorated mere hours before our curtain was raised.
Having been called away for his extensive Joker make-up session, Ryan became unavailable to do the final markings on the prop.  At some point about two hours before our scheduled curtain, my wife (and co-producer) Zaida Soler Williams asked me to sketch out what I imagined for The Joker's markings upon the rocket. An audience member had arrived early to see to show and asked if there was anything he could do to help us get ready.  When my wife showed him my sketch, he offered to create the graphics on the rocket explaining that he was an artist and would be more than up to the task!  About 30 minutes before showtime, I walked backstage and was floored when I saw the nearly completed rocket.  I was even more floored when I realized that the generous artist who had come to our rescue was none other than my good friend from sigh school Philip Dejean whom I have not seen in years!!.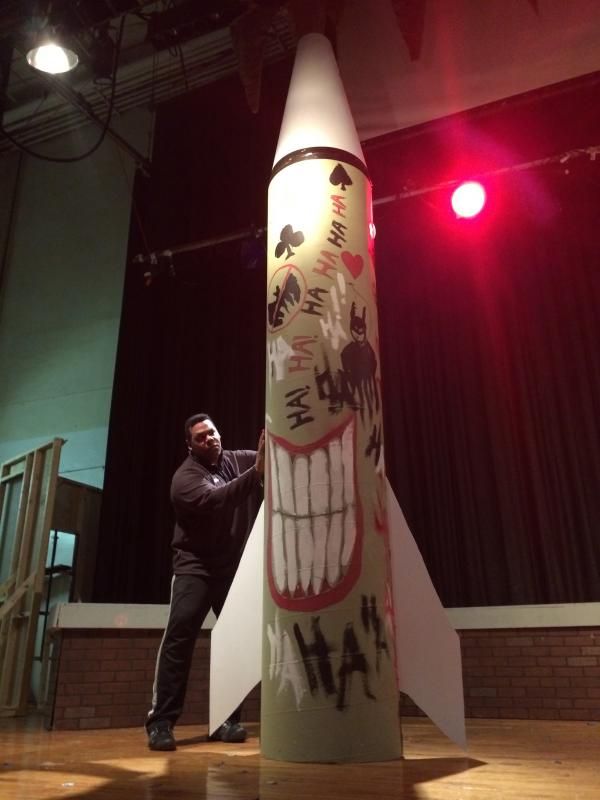 6)   Can you share highlights with us from the performances?  
Well, there are certainly moments in this play that I find myself enjoying immensely as a die-hard Batman fan!
The murder of Thomas and Martha Wayne is a sequence presented as silhouetted figures on the bare stage with only a single lit street lamp serving as a witness to the scene. It is stark, and shocking, and yet darkly poetic in its presentation. 
Another sequence (from early in Act I) that I really enjoy watching is when a fatally injured Bruce Wayne staggers home and collapses into a chair in his study.  A violent lightning storm rages outside, and Bruce sits in the warm glow of his fireplace delivering a soliloquy to the spirit of his deceased father, personified by a marble bust on a pedestal before him.  He apologizes for being too weak to avenge their deaths as he promised by waging war against "… the cowardly and superstitious who prey on the innocent…"   When his spirit is finally defeated, he allows himself to die, and his head hangs limply.  For a long moment, he remains perfectly still.  Then… a grand orchestral score heralds the arrival of a furry vermin that smashes through his study window and lands on the marble bust of his father.  With a 3-foot wingspan, and demonic glowing red eyes, an enormous BAT commands Wayne back to life by infusing his defeated body with a new spirit.  It screeches angrily at him until he resurrects with a sharp gasp.  Wayne now glares with something ancient and dark burning behind his eyes…
Of course, there's the sequence I mentioned earlier, that opens Act II.  That was the sequence that consistently elicited gasps from the audience:  After the audience files back into the auditorium at the conclusion of the intermission, the main house lights go black, abruptly plunging them into total darkness.  An ominous, gothic, orchestral musical score blares from the speakers, and at just the right cymbal crash, the Bat-Emblem insignia is projected onto the center of the closed stage curtain.  The logo begins to sweep dramatically around the walls and vaulted ceiling of the auditorium, as the stage curtain gradually parts.  The music completes its flourish just in time to reveal Police Commissioner Gordon on the stage, on the roof of Police Headquarters, summoning the Dynamic Duo with an 8-foot tall Bat-Signal searchlight!   The heroes suddenly appear behind Gordon and he grimly informs them that there is trouble in Gotham City-in the form of a new RIDDLE…
The finale of this play, featuring the big showdown between The Batman and The Joker, is probably worth the price of admission all by itself.  Big kudos to Ezekiel Jackson who not only portrayed Bill Finger in this play, but who also served as Stage Combat Choreographer for all of our spectacular fight scenes!

7)   The main motive to mounting this play was to keep the arts alive for your students. Can you tell us the effect it's had on them and on those directly involved in the production.
The thing that gratifies me most is that this production has had a profound effect on ALL of us who worked on it… not just the students.  It was all so big and ambitious that it was new territory for everyone.  Every person working on this play was challenged to take their craft to new heights they had never taken it before-myself included. That made it a wholly rewarding experience.   There were some things that we did not succeed in as planned due to the fact that this was a new experience for all of us, and resources were limited.  However, even for those few instances, we all came away having learned something new… and THAT has tremendous value for an artist.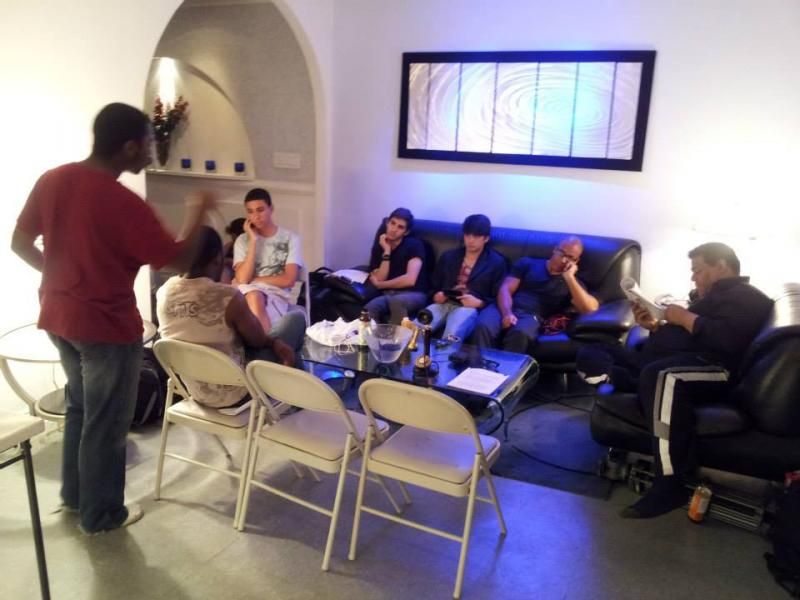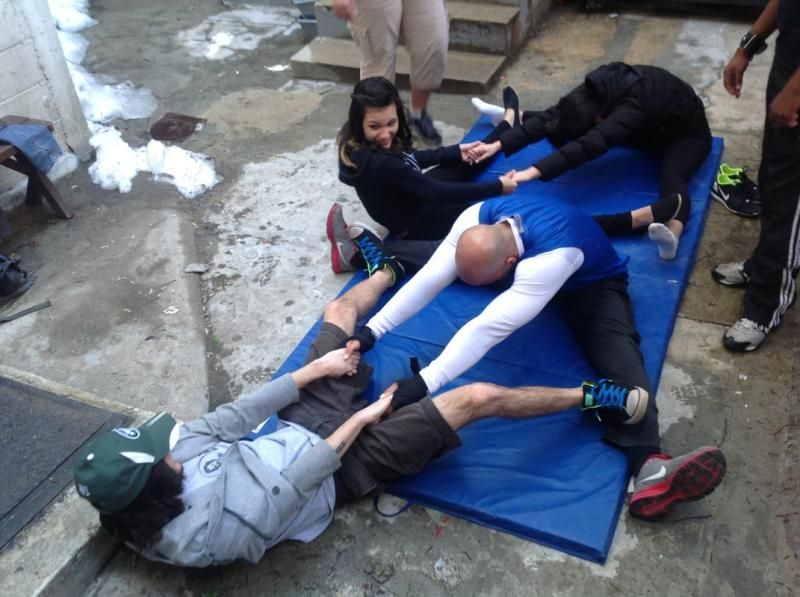 Also, as an educator, it was particularly gratifying for me to see young performers who had NEVER even stepped onto a stage before rising to the occasion and performing in a production this big as their debut! I'm reminded of 15 year old Kendra Avans (Barbara Gordon / Batgirl): I discovered this young girl one day while browsing through Facebook and seeing her picture.  I was trying to cast the character of Batgirl at the time, and I was having great difficulty finding someone appropriate. But here suddenly was a young girl who (at the very least) strongly resembled the character as I imagined her.  When I contacted her mother about auditioning, she told me that her daughter was too shy and that she would NEVER want to perform in public.  I invited her to audition anyway.  When Kendra's parents brought her to me for an audition, she was so terrified, she barely even spoke. I asked her parents to leave the room, and I worked with her alone for several minutes singing songs with her to get her to relax. Afterward, we quietly read a scene from the script together, and I saw that she could take direction.   Even though she was VERY rough as an actor, I trusted my instincts and cast her in the role. During the subsequent weeks of rehearsal, I honestly began to wonder if I had made the right decision.  She remained shy and withdrawn from the rest of the cast and crew.  And her acting remained stiff and stilted.  But then… something happened around her third week with us.  She began to open up.  She began to take chances and experiment. She started to be creative in her performance choices.  Pretty soon, she not only became friendlier with the rest of the cast and crew, she became one of our greatest sources of humor during rehearsals. We ALL developed tremendous affection for her.  By the end of her experience, she had learned to trust herself and her own artistic instincts.  She found something within herself that I always talked about with my students at great length… something that I placed a tremendous value upon:  BRAVERY.  I had always explained to my students that BRAVERY was an incredibly valuable thing for ANY human being to possess because it was NOT about being fearless or reckless.  Bravery, in fact, was actually about being AFRAID. It was about acknowledging that fear, and then confronting it head on and NOT allowing it to cause personal paralysis of action.  Kendra was very afraid when she met me back during her audition in December of last year.  But she did the work.  She pushed herself and she conquered her fear.  And now, seven months later, with the first run of FATHERS OF THE DARK KNIGHT behind us, I'm so very proud of her.  In fact, the one thing she seems to be most anxious to know is when the SECOND RUN of this play will take place!
8)   Okay simple question. What's the next play? Or the next project on your plate?
I Ooh!  A question I can provide a relatively short answer to!  LOL! 
The answer (at the moment) is that there is no "next play"… at least not yet.
This has been a rewarding but incredibly exhausting experience for all of us… emotionally as well as physically (and for my wife and I, financially). We had all been in the thick of production for well over one full year, prior to our premiere. It was a year spent in intense fight training, workouts, scene studies, rehearsals, make up tests, wardrobe fittings, casting sessions, and set and prop construction.
I personally had my entire life and 100% of all my energy and resources devoted to this play since I conceived of it in November of 2011.  So I think foremost on EVERYONE'S mind right now is REST. We all need the opportunity to re-organize our lives, re-charge our batteries, and recover from this demanding journey. .
But FATHERS OF THE DARK KNIGHT is by no means over after this first run of shows. We are all deeply committed and looking forward to keeping the FOTDK brand alive even as we work to improve the show and make it better and stronger.  Talk has already begun of a return to NY Comic Con in October to once again promote the play.  And I fully expect that a preliminary search for a new auditorium venue will commence even before the summer ends.
So keep watching our official website www.fathersofthedarkknight.com for all of the latest news, information, and announcements about the triumphant SECOND RUN of this tremendous theatrical experience!
Okay for our standard special questions we ask all of our spotlights
9)   What is your favorite word?
Excellent.
10)               What is your least favorite word?
Cockroach (that's a first).
11)     What turns you on creatively, spiritually or emotionally?
The 1985 song "Take Me Home" by Phil Collins
12)      What turns you off?  
Cruel, mean, inconsiderate, selfish and uncaring people.
13)       What is your favorite curse word? 
Motherf--ker
14)       What sound or noise do you love?
My wife's laughter.
15)         What sound or noise do you hate?
The skittering of bugs and rodents.
16)         What profession other than your own would you like to attempt?
Stage set designer.   
17)         What profession would you not like to do?
Sewer worker.
18)         If Heaven exists, what would you like to hear God say when you arrive at the Pearly Gates?
Well done, my son. Well done. 
And of course our special bonus question
19)         If you could enter any play and experience the story for real, which one would it be and why?
Hmm… interesting question:

 

My answer… hands down… is "Rocky: The Musical".

 
I have not seen that show, and in fact it was announced earlier this week on nydailynews.com that the show would close next month "… due to poor ticket sales in the wake of weak reviews…"
However, as a huge fan of the film series, I was always fascinated by the story of an ordinary guy, taking on seemingly impossible odds, and somehow emerging triumphant in the end.  It's like Rocky himself said in the final film of the series (titled "Rocky Balboa"):  "You, me, or nobody is gonna hit as hard as life.  But it ain't about how hard you hit. It's about how hard you can get hit and keep movin' forward.  How much you can take and KEEP MOVIN' FORWARD!  That's how winnin' is done!" 
In many ways when, I hear those words, I think of how un-stoppable The Batman is… how he keeps moving forward even when he stumbles.
It is a story I really identify with and, in many ways, it is one I have already experienced for real with the trials and tribulations surrounding the production of my play. I think of the way I drew inspiration from my hero, and the way I kept moving forward through this long and difficult journey even while taking some pretty substantial hits and stumbling.   In the end, I'm proud to say I was the one who emerged standing.