I promised that I would share this when I posted a link to my etsy shop over in the For Sale section. This isn't exactly the most detailed "how to", but it will give you an idea of how it works. It is actually fairly easy to put together. The best place to start would be Volpin's writeup of how he put his former together. Most of what I put into building the former came from reading his 
vacuum former build
. I sourced my toaster and base from a thrift store. The base is actually some sort of kindercraft child's shelf, and like most children's furniture, it is pretty darn sturdy. The toaster is a standard four element toaster oven. I decided to keep the temperature and time dials on mine. For one thing, it was just easier than rewiring. I also find that different plastics/foams/thicknesses/colors/etc like different temperatures. Plus the timer keeps me from ever leaving the thing on and walking away, as it does get hot. I did bypass the "broil" setting, but other than that, very little of the wiring has changed more than putting on longer leads. I also put wheels on the bottom, and built it so that the top half can be removed for transport. I ended up with a former that looks like this (one of these days, I'll enclose the wires to make it prettier):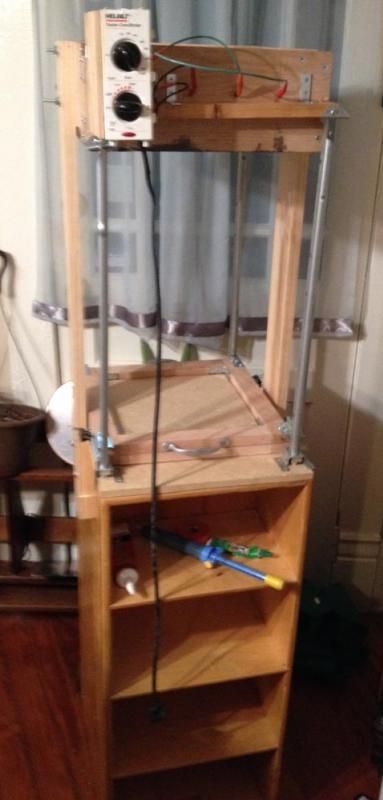 My frame is sized to hold a 1X1 piece of material, because it seemed most efficient (since sheets tend to come in whole foot lengths). It gives me about 10" square of working surface, which is plenty enough to start with. I can't pull a full iron man chest piece, but I could pull forearms, or shoulder bells, or masks. You can't see it, but the vacuum hose attached through the top of the shelves on the back side. I usually add a little tape when I put it together, just to get better suction. I use a 4 or 5amp shop vac, which seems to be strong enough. I may add a mechanical vacuum pump, either a hand pump lab unit (American Science and Surplus has one), or a hacked bicycle pump (you can find the hack on Instructables). Here is a picture of my first test pull. I used an old cell phone and a cast iron tea pot lid. The plastic is a piece of sheet styrene "Beware of Dog" style sign that was slightly too small for my frame (hence the warping).
Now you have to build some bucks to form over. I have a few silicone molds for casting rubber masks. I took those, built clay walls around them, and filled the mold with ultracal. You could use an aluminum filled urethane plastic (smoothon task 18?), but I haven't tried it yet. Concrete is cheap, easy to use, and I have a sack full of it in the garage (although last I looked, Engineer Guys in Atlanta had kit sized task 18 on sale since they were near the end of their shelf life - I may have to experiment). Those arches you see below  so that there will be some vacuum pull through the eyes of the mask. For more even pull, you can drill small holes through the buck. You can see that in one of the later pictures. I take the cast buck and file the bottom flatish, and remove and sharp edges. I'll also patch holes, sharped detail, or do anything else that needs to be done before forming.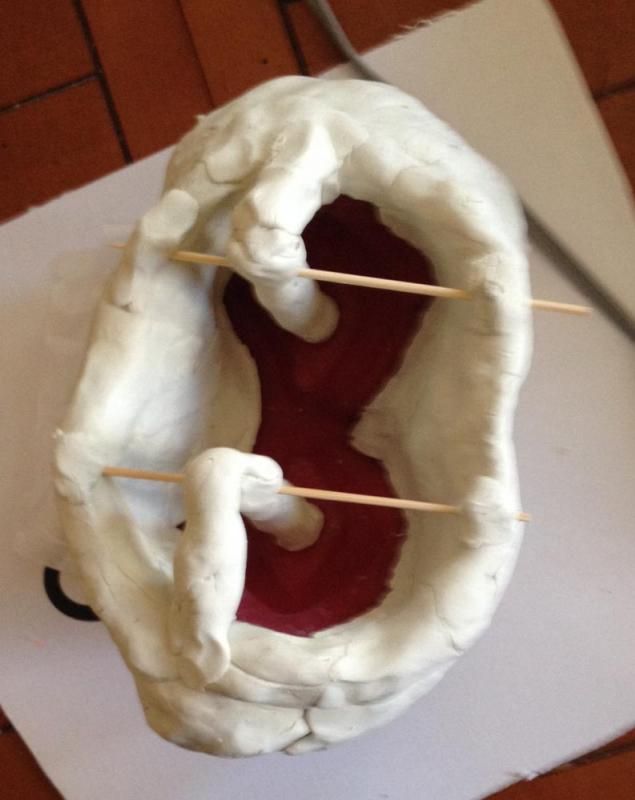 I then bought some 2mm fun foam, cut them down to roughly 12X12, and got to forming. It seems to like about 320 degrees on my dial (I haven't put a thermometer in the box to get the real temperature). At this thickness, you will watch the foam droop, and then snap back up in the frame. It will not droop again like some styrene and ABS. Some of the thicker foams only droop, and never snap. And on the 6mm foams, you have to watch for the foam being blown back up towards the heating elements when it droops, This tends to be bad. When ready, I turn on the vacuum (which is on the same circuit - it hasn't tripped the breaker yet, running them both at once), and pull the frame down. Here is one of my early results.
And here is a pile of results, with a few different bucks. You can see that some had the eyes filled with clay when casting, which was then removed, and some have been drilled out. Oh, and the color choices are because that was the multi-pack on sale at the time. If you've ever cast masks like these out of latex or urethane, and then switch the vacuum forming, you'll be absolutely giddy at the rapidity at which you can knock them out.
The 2mm stuff will get a little definition if you pull it over a ridge. But it won't show much surface detail (fine for masks, bad for other things). Thicker foams, say 6mm, don't pull well over positive molds. So you might find yourself assembling negative molds. These area actually easier. Sculpt your object in clay (here I've copied a seashell). Then wax up some T-pins or straight rods, and insert them into the model, thinking about getting the foam to pull into the low points of the mold, which will here be the high points of your model. I use model parting wax to keep the pin from sticking in the concrete. Then, using your old geometry knowledge, build a mold box with a top size no larger than the frame size of your former. I think that mold box is 9"X9" at the opening. Oh, and I built that mold box out of coroplast. That's the stuff that political signs are made of. You can usually find it for free on the side of the road. You can knock out a quick box, so long as you score the folding lines a little (try a pizza wheel), and then hot glue the edges shut. Ultracal will not stick to it, and it super cheap and easy to use.
Then mix up your concrete, and pour it on in. You did make sure that your T-pins would stick out the top, right? Wait for the mold to dry and setup, then pull the pins (that might require pliers) and take it out of the mold box. Clean up the rough edges with a nice file, and you should be good to go. I also like to dremel open the bottom of the small hole openings, just so I know that they're more likely to get suction transmitted through the mold.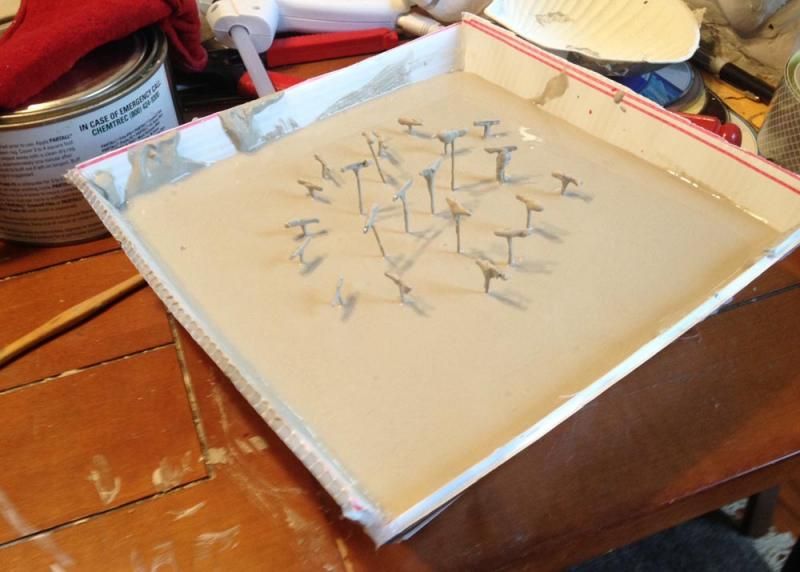 And that's that. Oh, I've also tried pulling foam over carved pink insulation foam. It works for a pull or two, and then the edges get worn/melted away. I will try coating them with epsilon, and see how that works. I'm also told you can coat them with a coat or two of plastitidip, just as a thermal barrier; I haven't tried it yet. I'm told that MDF is also good for quickly mocking up a postitive. I have some MDF on hand, and I'll have to give it a try. Remember that if you are using something less flexible than eva foam that  your mold should avoid undercuts. Don't attempt to mold positives too close together, or you'll get webs between them. Some molds will work better if you preheat them. Don't breathe the fumes. Try not to burn anything. If you're in the Atlanta area and desperately want to play with this sort of thing, we can probably work out a time for you to do so. If you haven't checked out my etsy link in the for sale section, please do so, so you can see the stuff I'm making with this. What I don't have up on there yet is a cool set of articulated finger/hand armour that I can knock out on the relatively quick/cheap using a mixture of positive and negative molds plus some creative cutting and gluing. And if you have any questions, just ask. I'll do my best to answer (although it may not be super quick).