Nearly every year, I find myself saying the same thing in these notes: Greatest. DragonCon. Ever.
This year's a little different, and I mean this: Greatest. DragonCon. Of. All. Time.  (Okay, it's not that much different.  But you know what I mean!)  Seriously, this year was magical, and I just don't know how we'll ever top it.
In this message, I'll be recapping my personal favorite moments from this year's Con as well as giving thanks to a LOT of people who helped make it all happen.  Please bear with me, as this is going to be a long message and I've got a lot of kudos to give.  Please join me in thanking all these wonderful people and please forgive me if I leave anyone out!  
I'll be saving the really good stuff for the end, so I'll begin with...
My Retirement from the Giant Photoshoots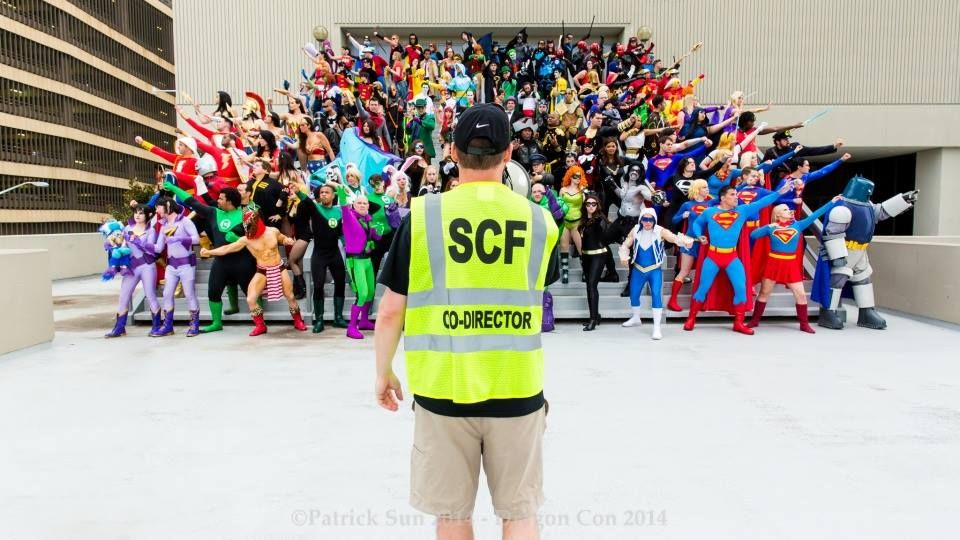 As many of you know, this was my final year organizing and directing the GIANT Marvel & DC Universe Photoshoots.  
I'd like to begin by clearing up a few misconceptions: I am NOT retiring from costuming, nor from running The SCF, or from organizing our Meet-n-Greets, etc. etc.  I am only retiring from the running the Big Shoots.  After running these for so many years, I feel it's a good time for me to finally step back and let someone else have all the fun.  The shoots are now firmly established, we've worked out all (well, most) of the kinks and I'm confident that they're in good hands.  Plus, 
I'm looking forward to being able to spend more time actually making costumes (!) - and maybe even seeing more (any) of the convention!  I'm also looking forward to concentrating my efforts on the smaller, more artistic video shoots in the future.
To EVERYONE who has attended these photoshoots over the years - and especially to all those volunteers who have helped make them happen -
GIANT Marvel & DC Universe Volunteers
First and foremost, I want to thank our SCF DragonCon forums Administrator and my Directorial replacement: Joy Sutton.  Here's our ceremonial "Passing of the Megaphone" and my bow to our new leader: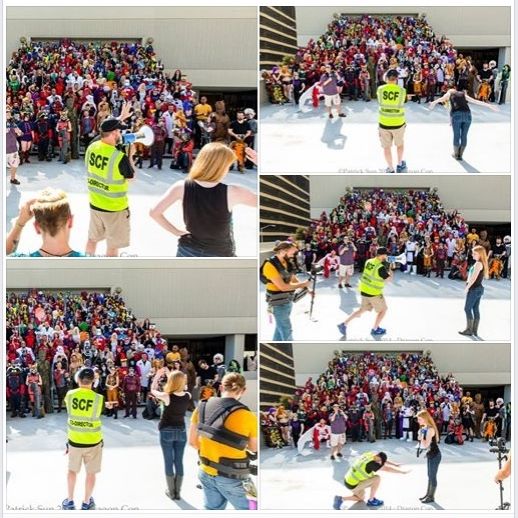 If you've ever had the pleasure of attending one of the Gotham or X-Men shoots Joy has directed over the years, I think you'll agree: she's AMAZING.  I offer Joy my endearing thanks for taking on this enormous task (and my deepest sympathies!).  Joy, you have my full confidence and I know you're going to do a great job.  I know these shoots will just continue to get better and better each year with you taking the helm. Thank You.  

(Is it just me, or does it appear that Onslaught is about to get punched in the nuts in the picture above?
)
MARVEL PHOTOGRAPHERS & GUEST COORDINATOR
Next I'd like offer my heartfelt thanks to 
Judy Stephens
of Marvel Comics.  Here's me and Judy right before the large Marvel "Canon" shoot began: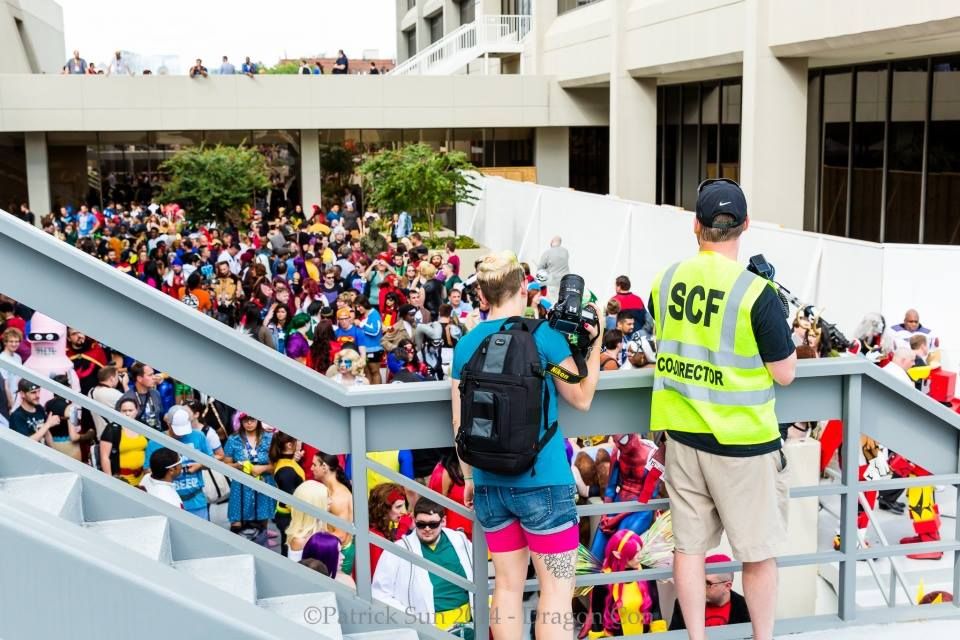 Judy has been
fantastic
to work with over the years and she's been instrumental in helping set up some of our incredible guest visits.  Judy, thank you so much for everything - and for all your hard work in adding our pictures to Marvel.com!  (& Don't worry, Judy - I'm not done with you yet!  We're going to have many more adventures together I'm sure.)  While I'm at it, I'd also like to mention and thank
Nicole Ciaramella
, Judy's assistant photographer for Marvel.com who's also helped us out the last couple of years as well.  Thank you both!
PHOTOGRAPHERS & VIDEOGRAPHERS
I'll continue by thanking all of our Photographers and Videographers at the Giant Universe photoshoots from over the years - too many for me to list them all!  
This year, our photographers included:
Patrick Sun, Judy Stephens, Nicole Ciaramella, Grace Moss, Davin Ng, Mark Shafer, Jeff James, Leigh Willis, Chase Yarwood-Gustafson, Tobias Royal, Allen Finley, Dan Ethan, Danny Hunter, Paul Cory, Michael Blitch, Bill Watters and Mary Anne Butler.
Special shout-outs to Patrick Sun (our Lead Photographer for the Giant Group shot once again and for getting his pictures out so quickly after the Con!), Bill Watters for leading and directing the "Non-Canon" Giant Group shots, Davin Ng for being the Lead Photographer of our Gotham and X-Men shoots over the last few years, Leigh Willis for filling in as our Marvel Cosmic photographer at literally the last minute and to Michael Blitch for our extraordinary Gigapan images (<-- click that link!) and Drone footage.
Here's one of Michael's shots from the drone: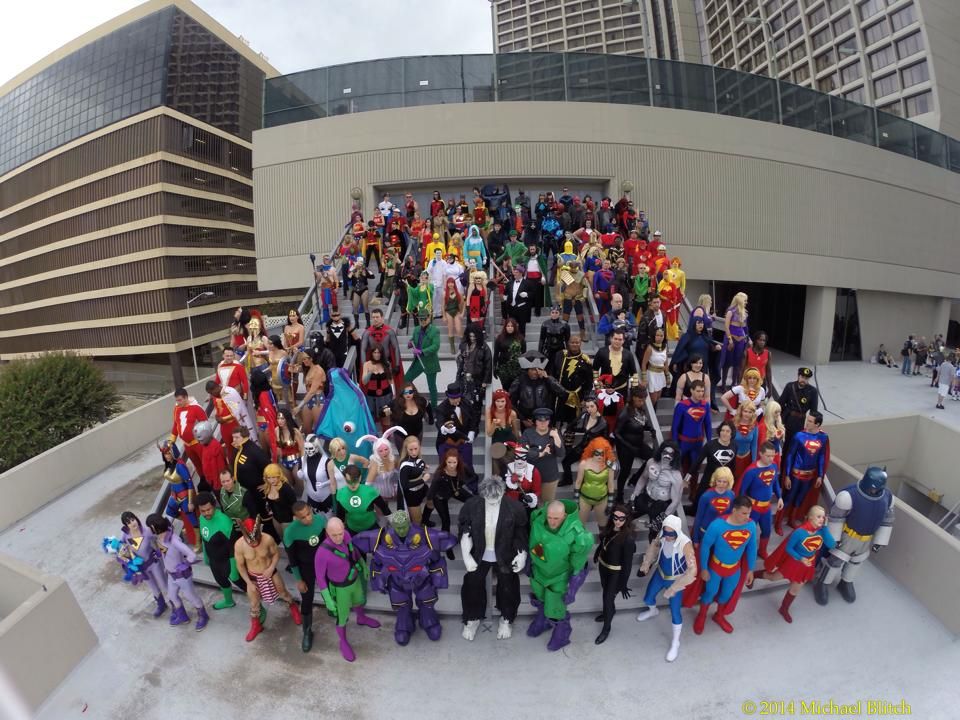 I'm equally so very grateful for our videography team.  The guys at Distractotron and BeatDownBoogie (Blake Faucette, Micah Moore, Justin Reich, Mike Leonard and Matt Sumner) have been an absolute delight to work with over the years.  I don't have to tell you: their work is unparalleled and their videos are the BEST.  (DragonCon should put them on the payroll!!!)  Gentlemen, I bow.  (I'm also not done with you yet!)  I'd also like to say thanks to Mike Dickens of Contagious Media for his coverage and to Ackson Ree for the donation of his Drone footage to BeatDownBoogie this year.
Here's Justin Reich, Blake Faucette, (Danny Hunter) and Matt Sumner:
TRAFFIC CONTROL
With all the changes at the Hilton steps this year, I said before the Convention that the key to our success was going to be traffic control.  If we couldn't keep the crowds out of our shots, keep them moving (and
especially
if we couldn't keep a clear walkway for our guests on Sunday), we would have been sunk.  The following individuals are HEROES in my book:  
Matt Sumner, Alexander Rae, Kevin McKinnon, Johnathon and Victoria Catron, Leman Yuen and Adam Coker
.  While we were all having fun on the steps, they sacrificed that opportunity (and also didn't dress up in costumes themselves) so that they could take on the absolutely thankless job of keeping the crowds moving and in check - the
least
fun job of any of the volunteers.  They did an incredible job.  Just incredible.  
WATER TABLE VOLUNTEERS
Mary Kate Smith
had the brilliant idea of bringing a water table last year - and
she paid for out of her own pocket
 and brought water coolers, cups, straws and trash bags to this and last year's shoots!  How fucking amazing is that?!?  Without her, I don't know if I would have made it!  Just like our Traffic Control Volunteers, they also sacrificed and missed out on all the fun we were having.  Our Water Table HERO volunteers included:
Mary Kate, Sean Dyess, Ian Dettwiller, Dan Bandola and Morgan Kittleson
.  You all rock.

Bonus pic: Here's Mary Kate's Nextwave group!
PHOTOSHOOT DIRECTORS
Once again, we've had so many volunteer subgroup directors over the years that there's too many to list!  I want to let every director we've had over the years know how much it's meant to me.  (And how proud I've been to see so many of you go on and direct your own photoshoots after directing these!)  This year, our directors included:
Joy Sutton, Bill Watters, Shannon Lew, Shane Ramey, Thad Lakowski, John Rabon, Kayce Super,  Chris Troy and Wiccy Christina
Thanks to all of you!  You can now all consider yourself "Junior Assholes."  I'm like a proud papa. 

ADDITIONAL THANKS
My many thanks to:
Adam Coker for printing out and helping get ready our Steps Diagram Posters!
Christopher Troy for missing all the subgroups of the Marvel shoot so that he could escort Kelly Sue Deconnick to the steps!
DJ Spider for helping me transport and get everything set up at the Hilton Steps each day - especially on Saturday when she couldn't even stick around for the shoot!
Bonus pic: Here's DJ's awesome Nebula costume!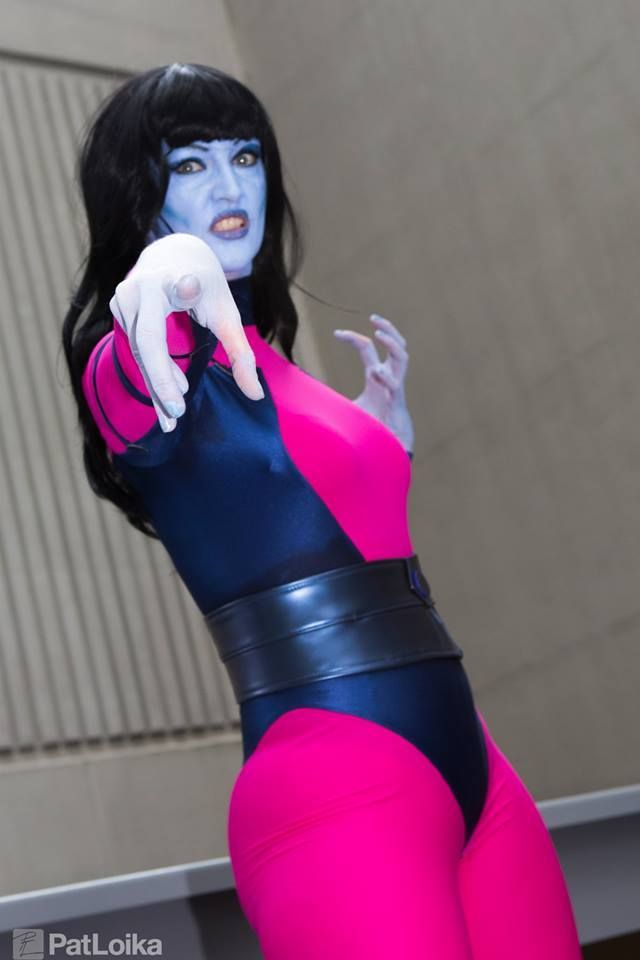 To Eddie Newsome for letting me borrow his boom box for the shoots!  To ALL our costumers who danced on the steps!  (And thanks for putting up with my delays in getting the boom box working!)
All the members of our team who helped pick up trash each day after the shoots concluded!
Cliff Nordham of the Atlanta Fashion Police for coming by and taking pictures!  
DragonCon's Music Stage Director and Chief of Security for reaching out to me, being very kind and supportive and for allowing our shoots to proceed as planned. 
Chris "Crispy" Lloyd
and
DragonCon TV
for including the Marvel Universe shoot in their coverage and facilitating the Groot dance with James Gunn!  (More on that later
)
And to THE Pat Loika for posting so many of our images on Comics Alliance!  Bonus pic: Here's Pat with the Marvel Universe! (and a few civilians in the front row!)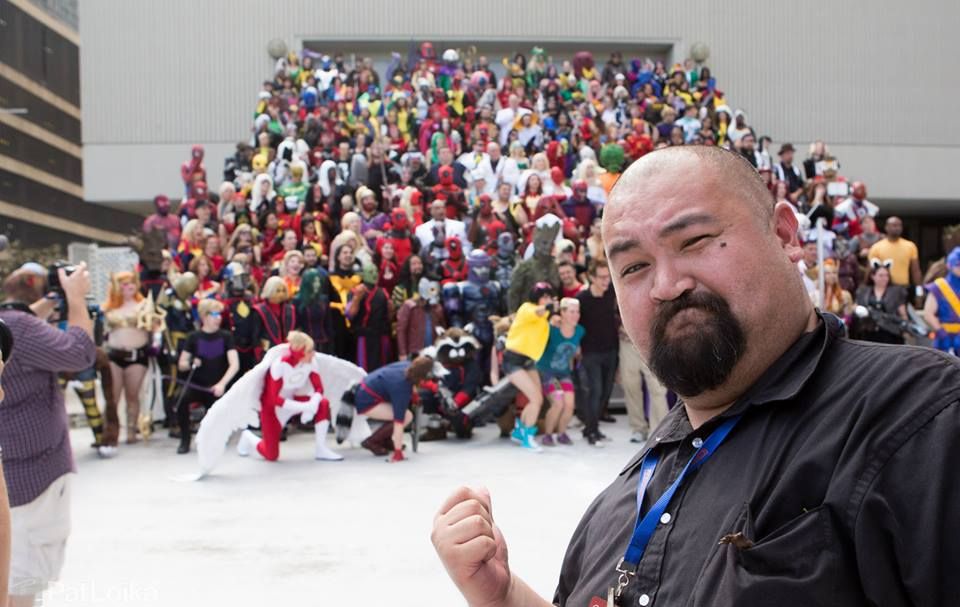 APOLOGIES
I'd like to offer my sincerest apologies:
To those directors and photographers whose subgroups were cut due to the construction and music stage.
To Our giant Iron Totoro costumer, Stephen Eide, for not being able to fit him in on the steps.  What a great costume! (& shown here with my good friend and Box Hero genius Stephen Larkworthy, with beer "prop")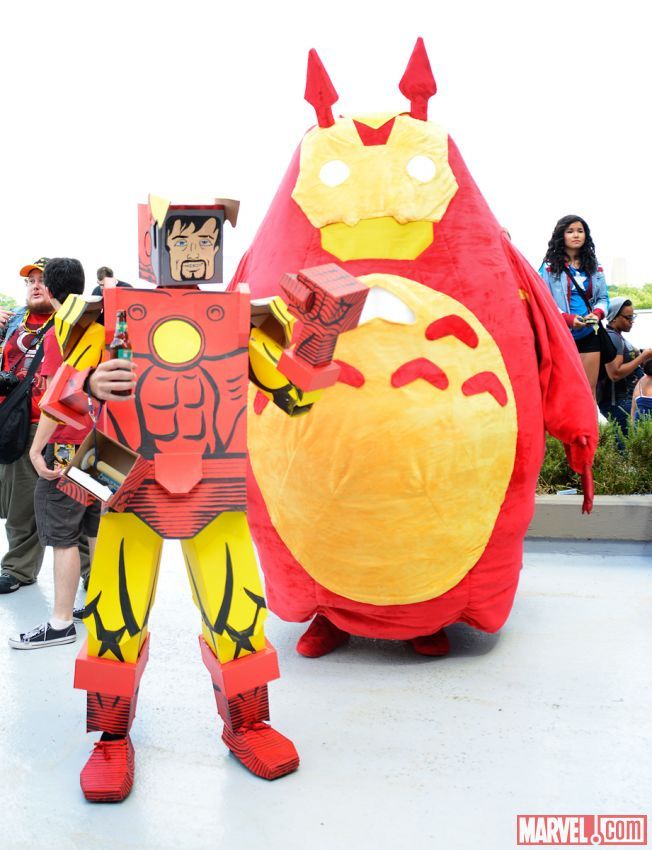 To everyone for the limited time of Marvel Universe subgroups this year.  We would have gone longer usually, but (unbeknownst to only a small few) I wasn't working on my time schedule - I was working on James Gunn's time schedule!  And it was a very, very tight schedule.
To all our costumers for this year's tight squeeze on the steps.  Thanks you everyone being so patient, understanding cooperative and kind!
To all our onlookers and unofficial photographers that we didn't have room for at the largest set of steps due to the large white construction wall.
To all the "Non-Canon" costumers when we split into two large group shots.  The shoots have grown to such an enormous size (and additionally, with the changes at the steps, that traffic control has become such a concern too) that it necessitated a splitting of the groups.  This was really a no-win situation, and there wasn't any other easy solution to the issue.  We simply can't fit everyone onto one set of steps anymore and this seemed the fairest and simplest way to evenly divide the groups - and as it was, both side of steps were packed!  I know those on the other side missed out on some of our fun stuff, and for that I am truly sorry.
____________________________________________________________________________________________________________________
FINAL THOUGHTS
Again, Thank You ALL.  I am humbled and honored to have had so much help from all of you over the years.  I deserve but only a little of the credit for all the success we've had together.  I choked up for a second saying goodbye at the end of the Marvel shoot, and when I did it was because I was thinking of all of the friendship and support I've received from all of you.  It really has meant the world to me.
You've all changed my life.  Thank you for helping make us all these special moments over the years.  
Eternally grateful and forever your friend,
Allen
P.S. I look forward to all the successes you'll have with Joy moving forward!
NEXT UP: YET MORE SPECIAL MOMENTS AND MORE THANKS TO GIVE!