Facebook Event Link:
https://www.facebook.com/events/1329715160372572/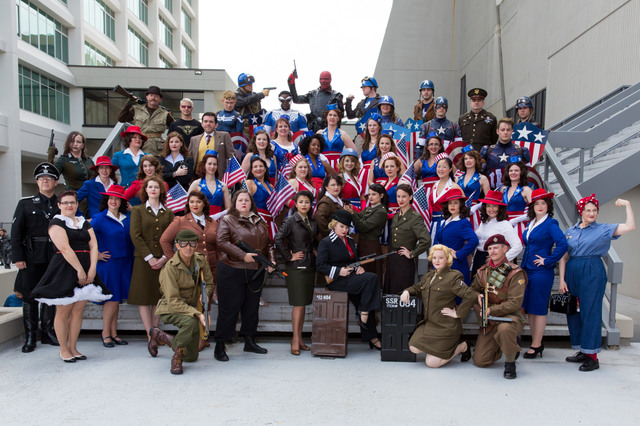 Dragon Con Group Photo for Captain America related cosplayers! Captain America Movie and Comics costumes, Captain America Dancing Girls, Agent Carter Cosplayers, Vintaage WWI Military and period costumers, American Dream, SHIELD, all are welcome! Spread the word!
DAY:
Saturday Sept 3 12:00 noon
LOCATION:
Hilton Patio Steps
MAP OF THE HILTON:
http://kay-dee.net/dcon-parade/hilton-map-uso.jpg
SATELLITE PHOTO OF THE NORTHERN PATIO STEPS WE WILL ATTEMPT TO USE IF NOT OCCUPIED
(Same location as last year):
http://kay-dee.net/dcon-parade/Hilton-steps-map2016.jpg

PATIO MAP - WE WILL TRY TO USE STAIR CASE #2:
http://kay-dee.net/dcon-parade/patio-map.jpg
Photo Shoot Organizer:
Kathy Kay Dee
Photographer:
David S (others are very welcome to come and photograph)
Schedule of photos to be taken:
11:45 - we'll begin gathering at the planters outside of the glass hallway that leads to the patio, to the left. Anyone who would like individual photos, this is a great time to take them while we are waiting for the larger group to arrive.
12:00 - Gather at Patio Steps of the Hilton and begin arranging the USO Girl Photo.
Roughly 12:15
1) Group photo is underway for USO Girls,
2) then the Captain Americas join in
3) Then a massive group photo with everyone who is a hero chracter.
4) If we have a Hydra infiltration, then we'll have them join in last.
5) After the largest all inclusive photo, we can break out The Agent Carter Group for a separate group photo, and any other groups (Captain Americas, etc) who want to stick around to get any group shots.
For those interested, here is a selection of photos taken by one of our photographers last year :)
http://imageevent.com/kay_dee/dragoncon2015/uso